Paradise regained
Phi Phi Island was declared uninhabitable after last year's tsunami. One year on and islanders have picked up the pieces
Even on a drizzly day, motoring around the southwest corner of Thailand's Phi Phi Island and into Ton Sai Bay on the ferry from Phuket is breathtaking. Ton Sai is one of two back-to-back bays whose inward arcs almost carve the island into two pieces, but for a sandy thread of land about 400m wide between the two bays that holds it together. The mirror curves of the two bays are fenced by tall limestone cliffs that throw quiet but ragged profiles against the sky, blocking out the rest of the world.
At about 10:30am on a weekday late last month, passengers stepping off the ferry from Phuket found themselves surrounded by about a dozen friendly people touting snorkeling tours, diving excursions and bungalows on the beach. Laid-back porters set off up the pier pulling two-wheeled metal carts full of luggage -- there are no cars on the island. In the village, built on that sandy strip of land between the bays, groups of tourists gather around boxes of dive gear, getting ready to head out for a day of leisure. It is heartbreaking to imagine that almost one year ago -- at almost exactly the same time of day and when similar scenes surely must have been taking place -- the first wave from last year's tsunami was about to hit the island.
On that morning, divemaster Caroline Lecky was working at the Visa Diving Center, near the pier on the edge of Ton Sai Bay, when the water in the bay began to slowly rise, like a bathtub filling with water, seeping into the shop. She and her colleagues were amused at first -- they didn't know what was going on. But moments later a bigger wave hit the island, slamming in from the other bay, crashing through the village's shops, restaurants and hotels. Lecky would end up floating out in Ton Sai Bay, 30m offshore, but alive.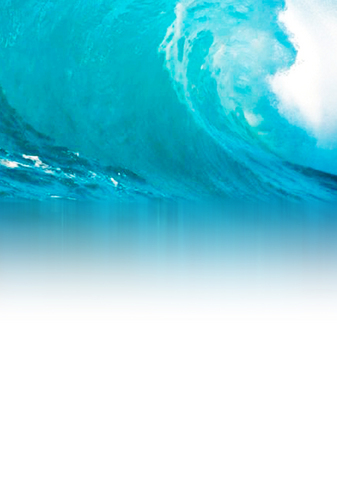 Almost 10,000km away, her colleague Sian Jones, of Newport, Wales, had just arrived back in the UK the night before to spend the holiday with her family. Over the next few days she would only know that most of her friends in the dive shop had survived by seeing them on the television news.
The first wave of the tsunami hit Phi Phi at 10:37am. Between 7,000 and 10,000 people are thought to have been on the island that day: tourists, business owners, workers, their families. Young and old. Foreign and Thai. In the minutes that the waves smashed through the village clustered on the strip of land between the two bays -- traveling at a speed somewhere between 50kph and 200kph at heights of 2m to 5.5m -- at least 850 people were killed. Thirteen-hundred are still missing.
In the days that followed after the thousands of survivors were evacuated, the island was declared uninhabitable. But for those who had called Phi Phi home, as they began to try to pick up the pieces there was a choice: start again elsewhere, or stay.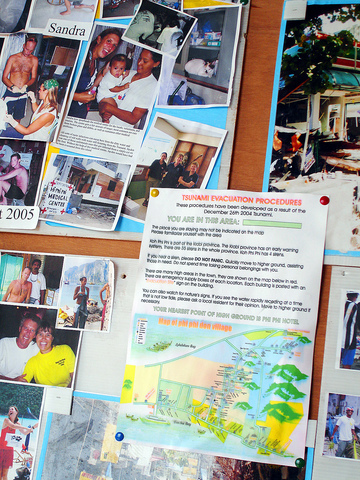 A poster pinned on top of a volunteers appreciation display explains tsunami evacuation procedures.
INITIAL SHOCK
In an interview late last month at the Carpe Diem cafe, on the edge of a peaceful and immaculate Ton Sai Bay, Jones and Lecky blend in with the young, tanned and seemingly carefree tourists that lope through the lanes of the village. But they are two of a loose network of people who have been instrumental in helping to bring the island back to life.
"The people who lived here couldn't leave it," Jones said.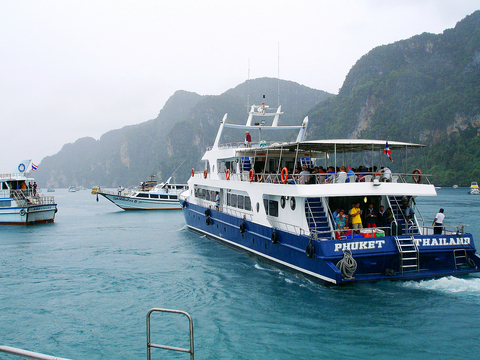 A ferry leaves the pier at Tonsai Bay to take passengers back to Phuket, about 45km away.
The feeling was, "Of course we come back. Of course we help," she said.
Jones, from Newport, Wales, had been working in the Visa Diving Center on the island for a year. She had fallen in love with the island and with Lee Meanwang, a Thai boat captain, who she has since married. For the first four days after the tsunami, she had no idea if he'd survived. Her calls to the dive center went unanswered. Finally, four days later a telephone call came through from Thailand: It was Lee, telling her that that the waves had crashed into their home, sweeping him into the toilet. In her relief, she says she laughed.
She returned to Thailand as soon as she could.
A street full of visitors and shops offering everything from tattoos and rock-climbing lessons to air travel booking shows that Phi Phi Island is definitely back in business.
Many of the local islanders had been evacuated to a mosque in the town of Krabi, on the mainland and the situation there was not good.
"People had nothing," Jones said, and they were in a state of shock.
Friends and family of Jones and Lecky had responded quickly and wanted to help, to send money.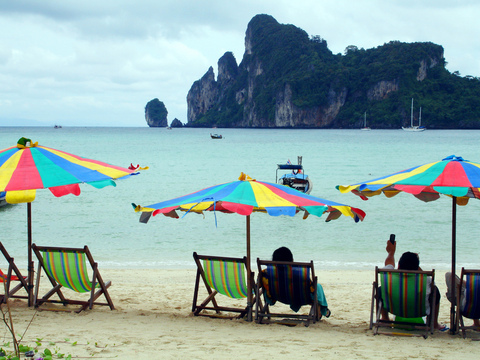 Visitors enjoy the view at Loh Dalum Bay.
Soon, the two women, Lee and five other ex-patriots who had been living on the island before the disaster decided to pool their resources, forming an group they called the Paradise Found Project.
"We just wanted to do something. They [the islanders] had lost every material possession. We hadn't," Lecky said. "And we felt we had access to resources that they didn't."
Initially the group helped buy basics such as fruit and water for the people gathered at the mosque, and gave out cash to those who had nothing.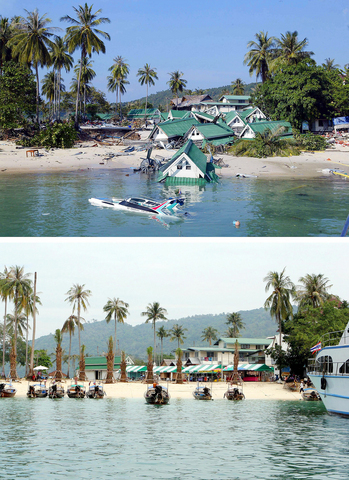 These photographs show Phi Phi Island on Dec. 27, last year (top) a day after the tsunami devastated the area and a picture taken nearly one year after showing long tail boats at the rebuilt shoreline of Phi Phi Island in southern Thailand.
PHOTO: AFP
By early January, it had decided to help fund the construction of a daycare center -- at the suggestion of the islanders -- on donated land near the mosque. The center would be for preschool children, so their parents could go find new work until the island reopened.
RUBBLE
Jones first returned to Phi Phi in February. About 70 percent of the buildings of the village had been smashed, and the streets and lanes were now plugged with debris -- mattresses, metal roofing, wood, suitcases and luggage, passports and IDs, and in some cases human remains, which would later be carefully removed and catalogued by volunteers, to aid in the search for the missing.
"At that time, I didn't think I'd be living here in a year, if ever," Jones said.
But a friend offered Jones and Lee a free place to stay, if they would look after it, and they decided to return. They joined forces with other groups doing work on the island, including Hi Phi Phi, a group that spearheaded much of the relief effort.
And from the beginning, Jones said, the volunteers just came, asking "What can we do."
Most of them were backpackers, taking time out from their trips, she said.
In the months since the tsunami, Hi Phi Phi estimates that 2,000 volunteers have passed through the island to lend a hand to the clean-up and rebuilding. Some stayed a few days, others weeks, and others changed their plans and flights several times -- staying on for months to lend a hand.
Fairly quickly, a routine took shape. At the daily 8am volunteer meetings coordinated by Hi Phi Phi, a list of jobs would be read out and delegated -- they included everything from basic manual labor to skilled work.
"The call would go out: `Who can drive a bulldozer?' and inevitably someone would raise their hand," Jones said.
"It was fun. A good thing to come out of such a devastating thing," she said.
Working together, the local residents and foreign volunteers slowly cleared the land, as well as the waters of the surrounding bays through a dive camp that lasted for six months -- another project the group helped to fund.
These efforts enabled over 200 businesses to reopen by August, according to Hi Phi Phi.
Since then, the Paradise Found group has continued to funnel funds where they could see a need.
One woman on the island who sold fruit had lost her cart, Jones said, so the group paid for a new one to replace it, custom made in Krabi.
"One hundred UK pounds [US$176] and she was back in business," Jones said.
Jones' husband Lee was also able to act as a link between the Thai community and the group, finding out who needed help.
And the group are also rebuilding their own lives. A Danish couple replaced Lee's long-tail boat, which had been lost in the waves. He and Jones have given it the Thai name Matt Nam Jai, or Matt's Flowing Heart, in memory of their friend and colleague at the dive center, Matt McComish, who died in the tsunami.
While its clear that those who were killed in the tsunami are not forgotten, the survivors seem to have coped by keeping their eyes on the future.
Jones and Lecky said the urgent need for volunteers has passed, but they encourage people to visit the island.
"Support local businesses. [Help people] get back to normal. Make something good" out of what happened, Jones said.
For more information on the people and story behind Phi Phi Island's recovery visit:
www.paradisefoundproject.net/

www.hiphiphi.com/links.htm
Flights from Taiwan
● The Taipei Times traveled to Phi Phi Island via Phuket. Thai Airways offers an 8:30am flight from Taipei to Bangkok. From Bangkok, there are frequent flights to Phuket. Flying time is about 90 minutes.
● A recent quote from a travel agent in Taipei priced flights to Phuket booked before Jan. 10 at NT$13,800. Prices rise to NT$15,800 after that date.
● Ferries from Phuket to Phi Phi Island leave from Phuket town in the morning and the afternoon every day. The journey takes about 90 minutes.
● Alternatively, if you have a bigger budget some of the top-end hotels on the island provide a pickup service from Phuket Airport and shuttle boat to the island. Check with individual hotels.
Day tripping
● It's possible to visit Phi Phi on a day trip from Phuket. Some of the ferries to the island also offer an all-day deal that stops first in Phi Phi. Passengers can disembark at that point or remain on the boat for a snorkeling and sightseeing tour. The boat returns to Phi Phi in the afternoon and allows a bit of time for sightseeing there before returning to Phuket.
Accommodation
● There is a variety of accommodation on the island, varying from cheaper bungalows for the backpacker crowd to five-star resorts. Prices for accommodation rise significantly in the high season of December and January. A shoulder-season or off-season visit can be rewarding, with fewer people and reduced prices, but do check on the weather before you go -- the dry season lasts from December until April, expect rain during the other months.
Comments will be moderated. Keep comments relevant to the article. Remarks containing abusive and obscene language, personal attacks of any kind or promotion will be removed and the user banned. Final decision will be at the discretion of the Taipei Times.