'An Unfinished Life' tells a grizzly tale
Lasse Hallstrom's latest flick wallows in its own faux profundity
High on the list of the year's corniest symbolic acts in a Hollywood movie is the freeing of a grizzly bear from its cage in the contemporary western An Unfinished Life. And what exactly does the liberation of the beast from a makeshift rural zoo signify? In this solemn, sentimental bore of a movie that suffocates in its own predictability and watered-down psychobabble, it presages Oprah-worthy healing and imminent family togetherness after years of strife.
If nothing else, the arrival of An Unfinished Life close on the heels of Werner Herzog's documentary Grizzly Man certifies this year as the year of the bear in Hollywood animal fashion. With all due compliments to Herzog's incisive portrait of a narcissistic nature boy out of touch with the natural world, An Unfinished Life suggests that the time has come to impose an immediate cinematic moratorium on these creatures, symbolic or otherwise, real or computerized. (This one, sometimes played by Bart the Bear, is both.)
Before its capture and release, the bear in question lurks on the Wyoming ranch where Einar Gilkyson (Robert Redford), a farmer and recovering alcoholic, has been stewing in bitterness over the death of his son, Griffin, 12 years earlier. Einar, who regularly visits Griffin's grave to mumble sweet nothings into the hereafter, shares the property with Mitch Bradley (Morgan Freeman), his farm hand of four decades who was seriously mauled by the animal a year before the story begins. Einar waits on Mitch hand and foot, massages his painful but fake-looking scars and administers his daily shots of morphine.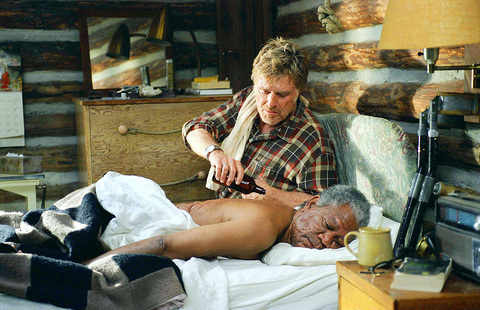 Bears may look quite sweet but saintly Morgan Freeman finds out just how dangerous they can be.
PHOTO COURTESY OF FOX MOVIES
Mitch, in turn, gently tries to rouse Einar from his funk. This is the latest film in which Freeman plays a saintly African-American sage, and the stereotype has become as grating as Sidney Poitier's Perfect Negro of the 1960s.
An Unfinished Life begins in Iowa, where Einar's daughter-in-law, Jean (Jennifer Lopez), beaten up by her abusive boyfriend, Gary (Damian Lewis), flees for Wyoming with her 11-year-old daughter, Griff (Becca Gardner). When she shows up on the Gilkyson homestead, she is less than welcome. Einar blames Jean for his son's death because she drove the car in the accident that killed him.
But until Jean appears, Einar doesn't know he has a granddaughter. During the rest of the movie, Einar's heart slowly thaws as he forms an attachment to Griff, whom he teaches how to throw a rope and to drive his battered pickup truck. Can a happy, bugs-in-a-rug family be far behind?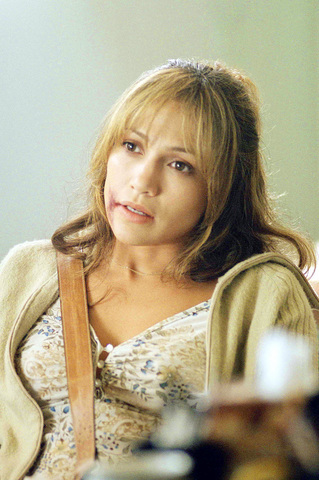 Jennifer Lopez has had plenty of practice playing the battered woman.
PHOTO COURTESY OF FOX MOVIES
An adaptation of Mark Spragg's novel of the same title, An Unfinished Life was directed by Lasse Hallstrom from a screenplay Spragg wrote with his wife, Virginia Korus Spragg. It is the latest Miramax film to be dumped into the marketplace as the studio empties its back catalog after the departure of the Weinstein brothers from the helm.
It also signifies the final descent into ponderous, cliche-ridden pseudo-profundity by a filmmaker who became the studio's go-to guy to direct Oscar-seeking middlebrow kitsch (Chocolat, The Shipping News). His gradual softening into a director of Hallmark-style sentimentality offers a cautionary case study of an artist succumbing to the bottom-line mentality of Hollywood.
That mentality must account for the presence of Lopez, who plays the same battered woman she did three years ago in Enough, but under a different name. In both movies, she finds an identical (and phony) balance of vulnerability and toughness. After an initial skirmish with her ratty boyfriend, Jean walks around with a nasty wound on her chin. But a couple of scenes later, it has all but disappeared, the better to allow Lopez to slink about in a sexy peasant blouse and be a Hollywood babe with perfect hair, creamy makeup and a rustic wardrobe.
Gary tracks Jean down to the Gilkyson homestead, and in the movie's most poorly written scenes explodes within seconds of seeing her. But the film provides Jean with a buffer and handy antidote to her suspicion of men in the person of the hunky local sheriff, Crane Curtis (Josh Lucas), who seems to have been hanging around all these years just waiting for her to show up. It also grants her sisterhood as she bonds with Nina (Camryn Manheim), a local waitress, who offers her shelter after a row with Einar.
Redford appears to have recovered from whatever happened to his face several years ago, when it looked as if a bad eye job had turned his expression into a sinister squint. He gives a careful, measured performance that avoids making Einar, at his worst, the sort of crazed misanthrope the character would be if viewed without rose-colored glasses. But we've also seen this performance before.
An Unfinished Life is further undermined by Christopher Young's relentless, folksy soundtrack. The musical equivalent of synthetic gingham (meters of it) strung up on a plastic clothesline, it brings you as close to the spirit of the West as a visit to a Ralph Lauren store.
Publication Notes
Film Notes:
An Unfinished Life Directed by: Lasse Hallstrom Starring: Robert Redford (Einar Gilkyson), Jennifer Lopez (Jean Gilkyson), Morgan Freeman (Mitch Bradley), Josh Lucas (Sheriff Crane Curtis), Damian Lewis (Gary Watson), Camryn Manheim (Nina) Running time: 107 minutes Taiwan Release: Today
Comments will be moderated. Keep comments relevant to the article. Remarks containing abusive and obscene language, personal attacks of any kind or promotion will be removed and the user banned. Final decision will be at the discretion of the Taipei Times.