Voodoo child
Three friends have started a company to spread the magic of exotic voodoo dolls
It was a dull day in Taipei but behind a Warner Village store window a colorful line of voodoo dolls were hanging on racks. There were mummified babies soaking in formaldehyde jars and voodoo dolls with stitched lips and needles through their hearts, as well as Lucifer, Frankenstein and other monster characters.
Despite the rain, business was good and groups of school-age boys and girls crowded the store. Their eyes gleamed as they pointed at the dolls and asked the store clerk to explain the cursing powers possessed by the figures.
Ethnic Voodoo was set up last October by three 20- to 30-somethings who decided to quit their corporate jobs and open a shop selling ethnic accessories and handmade items from Southeast Asian countries.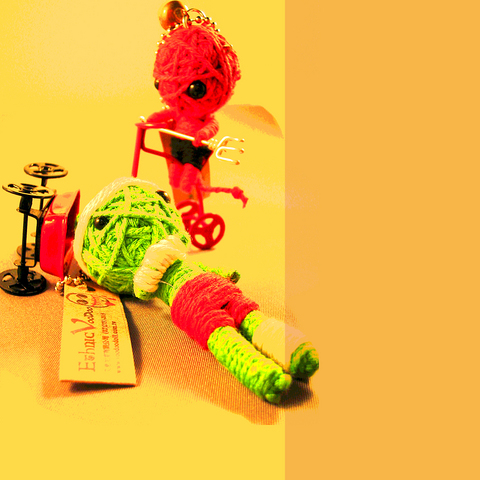 The store sounds similar to any one of the myriad of tiny shops that line the bustling alleys off Zhongxiao East Road, but Ethnic Voodoo's three young bosses think otherwise.
"Before we went into business, we spent lots of time and effort on planning and evaluating the location ... Each of us has expertise in different fields. Having worked at a consultancy firm for local enterprises, I have lots of experience of management. Jacky Tsai (蔡閔帆) takes care of marketing and PR, and Elaine Chen (陳佳鈺) is in charge of the creative design department. We established a system and structure first. It's one of the most important steps toward success," Ivan Chen (陳文政) said.
Their efforts seem to be paying off.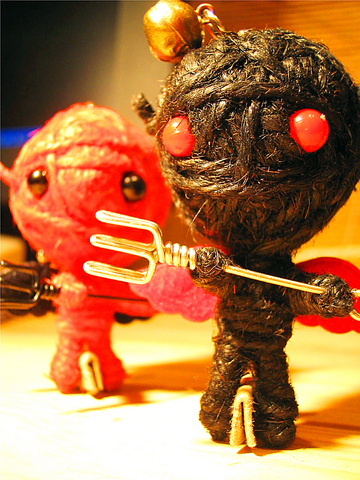 PHOTOS COURTESY OF ETHNIC CO LTD
Business picked up within months, and the outlet's success has attracted other entrepreneurs to set up a cluster of similar stores in the same alley, now colloquially known as "Indian Street."
To boost business the team developed new product lines, and discovered an independent design team in Thailand that employs traditional skills to create handmade voodoo dolls.
Ethnic Voodoo's bosses then signed a long-term contract with the design studio for exclusive patent rights in Taiwan. How did they know the dolls would sell?
"Like the Japanese, Taiwanese people have a fetish for collectable merchandise. The Hello Kitty craze taught us what local consumers like to collect. The voodoo dolls are new products not seen before in the market; each of them is given a unique look and characteristic and they are all interrelated under a big family tree. All these features make them highly collectable," Chen said.
The voodoo dolls come in several groups that cater to buyers with different needs. The love series is popular among young lovers and romantics searching for true love.
Little Cupids, Spirit of Love and Heart-Stealing Thief are said to ensure love messages reach their intended target.
The protection series includes a troupe of guardian angels that wards off evil spirits and bring their owners good luck.
Bat Man protects people who have to work at night, while Captain Hook safeguards those who travel frequently.
Ninja Doll is designed to ameliorate bad tempers and impatience, and Monkey King supposedly provides his owner with energy and creativity.
Each doll is woven out of a single section of flax rope, with no other manufacturing process such as gluing or sewing involved. The dolls are brought to life by their given identities.
Consumers are handed detailed information on the ideas behind the creation of the dolls, the powers they possess and their life stories.
The savvy entrepreneurs believe that image-building can enormously enhance their product's value.
"First you have to create a clear and lively image for your products and build up your brand which can separate you from competitors, then consumers are more likely to identify with the brand. From there, you can gradually build a loyal fan base" Chen said.
So far the team has developed nearly 80 variations of the dolls and new items are introduced on a monthly basis.
"The products are also practical, they can be used as key rings," Chen said.
"When asked if the dolls really have magic powers, we always emphasize the creativity of the product, rather than its actual effects. But lots of customers have come back to tell us how the dolls helped them to get their old lovers back or protected them from accidents. They seem to believe the dolls really work," Chen said with a smile, "that's how powerful the dolls can be."
Ethnic Voodoo

Where: 16-18, Songshou Rd, Taipei (台北市松壽路16-18號) and 168, Zhongxiao E Rd, Sec 4, Taipei (台北市忠孝東路四段168號).

For more information: Call (02) 2723 5420 for Songshou store and (02) 87731217 for Zhongxiao store. Or visit www.voodoodoll.com.tw
Comments will be moderated. Keep comments relevant to the article. Remarks containing abusive and obscene language, personal attacks of any kind or promotion will be removed and the user banned. Final decision will be at the discretion of the Taipei Times.