Restaurant: Su-Hang Snack Shop 蘇杭點心店
Address: 14 Roosevelt Rd, Sec 2, Taipei (臺北市羅斯福路二段14號)
Telephone: (02) 2394 3725
Open: 8am to 8pm
Average meal: NT$200
Details: No English menu. No credit cards accepted.
The Chinese saying "above are the heavens and on earth are Suzhou and Hangzhou" (上有天堂,下有蘇杭) can be traced to the Tang dynasty when Hangzhou was the largest city in the world and, according to contemporary accounts, had palaces unparalleled in their opulence and filled with the most beautiful women in the whole realm.
It's been many centuries since Hangzhou or Suzhou enjoyed any semblance of the glory of those days, but the cities' storied pasts live on through literature and the rich culinary tradition of Jiang-Zhe cuisine, named for Jiangsu and Zhejiang provinces where the cities are located.
The Su-Hang Snack Shop, on a rather drab section of Roosevelt Road near Guting MRT Station is far from the Jiang-Zhe region and not palatial. It is a small eatery where the simple wonders of this regional food are painstakingly upheld with the emphasis placed on taste over presentation or decor. Now in its third generation, the restaurant is one of those humble hole-in-the-wall institutions serving great food to locals in the know.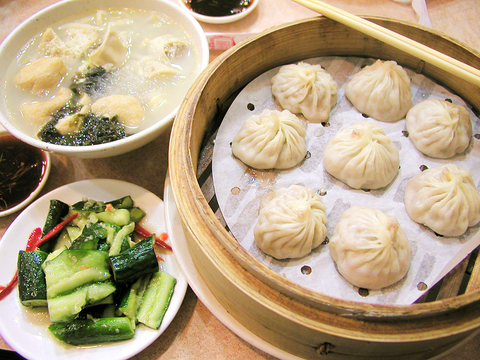 Su-Hang Snack Shop is more than just a humble hole-in-the-wall eatery.
PHOTO: MAX WOODWORTH, TAIPEI TIMES
One of the shop's most famous dishes is its tofu and pork vermicelli noodle soup. Its clear broth is light and bursting with flavor while a fistful of assorted greens adds some needed texture and color to this simple dish. The tofu is the highlight here, though, with two large chunks sliced into bite-size pieces that soak up the broth for a delicious combination of flavors.
The other major highlight of the shop is its Su-Hang-style steamed dumplings. There is stiff competition in Taipei for steamed dumplings, with world-rated restaurants Ting-Tai Feng and Kao Ji practically down the road, but Su-Hang holds its own in this category, with a strong, but thin dumpling skin and wonderfully juicy pork inside. The shrimp and pork dumplings are exceptional as well.
People also line up at the store for its hot and sour soup, which can be ordered with noodles. Though not always to everyone's taste, the hot and sour soup here hits a pleasing balance of these two tastes with a hint of sweetness to ease its bite.
Su-Hang Snack Shop is known as much for its above-average food as for its fair prices, which keeps its 24 seats occupied throughout most of the day and certainly at lunch and dinner times. But service is quick and turnover is high, so waiting a short while for a chance to try their food is well worth anyone's time.
Comments will be moderated. Keep comments relevant to the article. Remarks containing abusive and obscene language, personal attacks of any kind or promotion will be removed and the user banned. Final decision will be at the discretion of the Taipei Times.