The changing face of Taiwan Beer
The former monopoly Taiwan Tobacco and Liquor Corp now has to fight for local market share and young female representatives dressed in tiny outfits are leading the charge
The changing face of Taiwan Beer is epitomized by a beaming Joanne Tsai, who can be found most weekends serving up the local beverage at seafood restaurants in Taipei, kitted out in a tiny outfit.
Taiwan Beer girls dress in the company's green and white livery, with short skirts and exposed midriffs and scarves on their heads to prevent hair falling in patrons' meals and green wristbands that hold a bottle opener.
Not just anyone can be a Taiwan Beer girl. They must be reasonably tall, with a good appearance and strong academic background. They represent the new look of Taiwan Tobacco and Liquor Corp (TTL, 台灣菸酒公司) and as such there are strict rules to protect the company's image: Taiwan Beer girls may not accept tips, sit down with customers, or drink on duty. A TTL representative always accompanies them on assignments.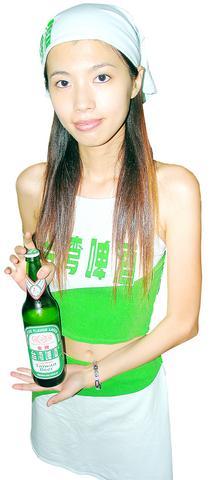 Hally Lin
While foreign beer companies like Budweiser, Coors and Heineken have long promoted their products by employing beer girls, it's a new marketing strategy for TTL, which used to have a monopoly on selling tobacco and alcohol, but now finds itself having to adapt to changed circumstances and fight for market share.
Part of this battle is about overhauling its image as the beverage of choice for middle-aged men with betel-nut stained teeth and trying to re-cast the drink to appeal to a younger generation of drinkers. Hence the Taiwan Beer girls.
The tobacco and wine monopoly bureau was established during Japanese colonial rule and was taken over by the Chinese Nationalist Party in 1945 and renamed the Taiwan Tobacco and Wine Monopoly Bureau (菸酒公賣局) in 1947.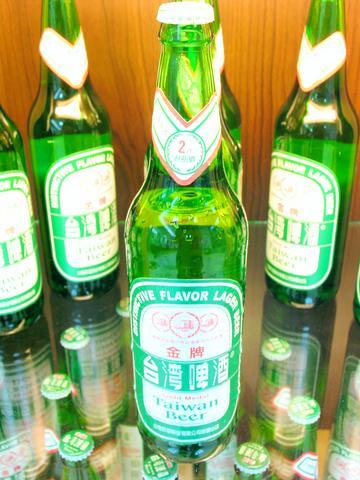 Until 1987, when the nation's beer market was opened to foreign imports, Taiwan Beer held 99 percent of the market, said Hsu An-hsuen (徐安旋), vice president of TTL's distribution department.
Foreign beers gradually increased their stake in the market and hit a peak at 26 percent in 2002, when the nation joined the WTO.
In that year, China was permitted to export beer to Taiwan and quickly snatched an 8 percent share, with the best-seller Tsingtao taking 6 percent.
But China's brewers were hurt by reports that its drinks contained the carcinogen methanol. Now, China's 13 beer brands account for just 3 percent of the local market, according to TTL's vice president Martin Tsai (蔡木霖).
Heineken is currently the best-selling foreign beer with 4 percent of the market, on the back of its aggressive marketing ploys aimed at young people in clubs and pubs. The world's number one DJ Tiesto, for example, was sponsored by Heinekin for his world tour which took in Taiwan.
In contrast, rock star Wu Bai (伍佰) has been the public face of Taiwan Beer since 1998. "He has successfully conveyed the fresh image of the products and consolidated the company's middle-aged customers," Tsai said.
TTL Chairman Morgan Hwang (黃營杉) took over the reigns of the company when the state-run monopoly was corporatized in July 2002. A planned privatization set for next month will not happen because of strong opposition from employees. It will eventually go ahead, he said, although a new timetable has not been finalized.
Hwang said that as a result of the company's marketing strategies, TTL had regained market share since 2002. "Last year's revenues were NT$21.8 billion, or 82.8 percent of the nation's beer market, and we look to expand to NT$24.4 billion by December [this year]."
Gold Medal Taiwan Beer was introduced last April, with a 330ml bottle version of the drink launched around the same time, so that it could compete with foreign beers in the critical pub and club markets.
A lot rests on Gold Medal because it was designed to appeal to younger drinkers and in May this year, 144 young women were hired to promote the beer.
Initially, the girls were sent out to seafood restaurants and small pubs to consolidate TTL's customer base. "This is the first step to produce publicity and create issues for our new product," said Martin Tsai. "The restaurant owners told me when our Taiwan Beer girls are around, their business goes up by 10 percent to 20 percent."
While Taiwan Beer girl Joanne Tsai rushed around a restaurant last weekend near the intersection of Songjiang and Minquan roads in Taipei, a table of publicity representatives from TTL extolled the virtues of Gold Medal.
"It's fresh," the reps kept repeating "and a touch spicy" they offered. "And charming," they continued, "just like our beer girls."
"Most of our customers are families and the betel-nut guys after 10pm," the reps said. "But pubs are the battlefield" they added, explaining that night clubs are where most young people drink. So far, however, Taiwan Beer has not been able to make much of an impression on the pub and club scene.
There are plans to remedy this situation. In addition to Taiwan Beer girls being sent out to fashionable pubs and club, TTL intends to hire young male pop idols as spokesmen for Gold Medal. It also plans to organize several major events in the next few months and has signed on as a co-sponsor of the Ho-Hai-Yan Rock Festival at Fulung beach in Tapei County next month.
A limited-edition set of Gold Medal cans featuring sea monsters and the music festival's logo have been specially produced for the event.
In August, TTL will sponsor an outdoor TV broadcast with further special edition Gold Medal cans for the Athens Olympic Games. Also, cultural events are being organized for Chinese Valentine's Day on Aug. 22.
TTL will also tap into the younger market by introducing new drinks such as alcopops, with mixes of vodka and juice.
Alan Hsia, a part owner of Luxy nighclub in Taipei who has a degree in international marketing, said Taiwan Beer's image was changing but more work needed to be done.
"They haven't called me yet, but I've been waiting. I'd definitely be willing to look into it and support the local brand. They're changing their image really quickly but they need to do more to appeal to our customers.
"They need to go beyond the betel nut rock bands that have been giving them their gravy ... But to change preconceived ideas is difficult and it does take time. The best thing they could do, perhaps, is sponsor a Japanese superstar DJ, to get an edge. It's not too far-fetched."
For Taiwan Beer girls like Joanne Tsai on the front lines, the battle for market dominance rages on. But more will need to be done to fend off foreign competitors -- particularly from China -- and secure the loyalty of Taiwan's future beer drinkers.
Meet Taiwan Beer girl Joanne Tsai

Joanne Tsai (蔡旻微)

Age : 24

Born : Taipei

Career : Joanne graduated last year from National Taipei University in public administration. She has had marketing jobs before, promoting beer and working in restaurants, or as a barmaid. "I guess this job suits a little bit of my personality," she says.
Joanne intends to study in England as part of a Christian fellowship and is presently attending cram school to improve her English. She says that she did not believe in Christ before, but is beginning to do so. "It must be destiny," she says.
Assets: Joanne says she was one of 20 girls who turned up for the interview to be a Taiwan Beer girl and won because of her height, experience and because she is polite, confident and personable.
Hobbies: Joanne says her main pastime is looking after her appearance. She takes special care of her skin. The rest of the time, she likes to hang out with her friends.
Meet Taiwan Beer girl Hally Lin>

Hally Lin (林芷羽)

Age : 24

Born :Taipei

Career : Hally graduated this year from Tamkang University in chemistry and is planning to continue her studies specializing in biochemistry, "because this is a trend."
Assets: Hally applied for the Taiwan Beer girl position after seeing an ad on a Web forum. Her younger sister had a similar job and her family is supportive of what she does. She was selected after a photo shoot and says she was instructed how to talk with customers, introduce the products and always be polite. "The company said we have to be loyal to our products. So if I'm a Taiwan Beer girl, I must not be a Heineken girl at the same time," she says.
Hobbies: Hally is a quiet girl and says she leads an easy life. She enjoys surfing the Internet, watching TV and sleeping.
Comments will be moderated. Keep comments relevant to the article. Remarks containing abusive and obscene language, personal attacks of any kind or promotion will be removed and the user banned. Final decision will be at the discretion of the Taipei Times.