Clinton's back, in book form
As if eight years of the real thing weren't enough, the former US president has written a 950-page memoir
The New York Times on Sunday criticized former US president Bill Clinton's upcoming memoirs as too much like their author, an unfocused policy wonk. \nBut My Life remains the most highly anticipated memoir to be released since that last summer of Clinton's wife, Senator Hillary Rodham Clinton. \nAhead of its release today, My Life has rocketed to the top of the bestseller list at amazon.com on the promise of sex, war, humiliation and triumph, starting with Clinton's hard-scrabble childhood in Arkansas, which was marked by abuse, to his eight years as leader of the world's only remaining superpower, which was notable for a sex scandal that nearly cost Clinton the presidency to his failed efforts to ink an Israeli-Palestinian peace deal and the first rumblings of the war on terrorism. \nDan Rather, a television journalist granted the first interview with Clinton, compared the book to the memoirs of former president and Civil War general Ulysses S. Grant, which have been praised for their vividness and insightfulness. But the Times' review of Clinton's book was less than complimentary. \n"The book, which weighs in at more than 950 pages, is sloppy, self-indulgent and often eye-crossingly dull -- the sound of one man prattling away, not for the reader, but for himself and some distant recording angel of history", the newspaper wrote, saying it adds little that the public didn't already now about the man who was president from 1993 to 2001. \nNewsweek concurred -- to a point. \n"Every facet of Clinton's complex, nuanced and sometimes maddening personality is on display," it said. "He is by turns introspective and wilfully obtuse, expansive and curt. One moment, he forces the reader on a joyless march through an arid policy debate. The next, he offers up a raw, confessional moment that almost makes the book seem worth the US$35 price of admission." \nMy Life, for which Clinton reportedly received a US$10 million advance, does contain some revelations about his youth and post-sex scandal relations with his wife, but the Times said is glosses over some major events, including his dispatching of an aircraft carrier to the Taiwan Strait to deter China from conducting missile tests before a Taiwan election and his administration's collossal failure to implement health-care reform at the beginning of his presidency. \nClinton, whose father died shortly after his son's birth, acknowledges that he repeatedly saw his alcoholic stepfather beat his mother and abuse his stepbrother, Roger, and once saw him fire a gun at his mother's head. \nHe said he learned to hide his family's abuse, living what he called "parallel lives," outgoing and optimistic on the outside and insecure and torn by weakness on the inside. \nHe implied that these "old demons" prompted his affair with White House intern Monica Lewinsky, which nearly cost him the presidency and his marriage, and caused him to lie about it for months to the public and his family. \nClinton said when he confessed the affair to his wife, she looked as if she had been punched in the stomach. He said it was even worse for him to confess to his daughter, Chelsea, believing that his affair had cost him her love and respect. \nHe said he slept on a couch in the White House for months after the confession, but he and his wife underwent a year of counselling to save their marriage, which he said Hillary Clinton had been reluctant to engage in in the first place, having hesitated to accept his marriage proposal. \nDespite the juicy personal details, the Times and Newsweek said Clinton is haphazard in chronicling other important parts of his life -- denying he sexually harassed Arkansas state employee Paula Jones but failing to give his side of what happened as well as his role in other scandals during his administration, like the Whitewater real-estate deal and illegal campaign fund raising. \nInstead, he choses to detail meals he ate, remark on Arkansas policy debates and list stops on the campaign trial. \n"By the time Clinton finally becomes president on page 476, a little of the steam has gone out of the telling," Newsweek wrote. \n"Chapters often pass in a blur of policies, people and trips abroad." \nHowever, he does devote substantial space to terrorism and his growing alarm over the al-Qaeda network as well as his efforts to get the Israelis and Palestinians to agree on a peace deal. \nAnd unlike the current occupant of the White House, Clinton was forthcoming on what he believes to be his biggest mistake as president: appointing a special prosecutor to investigate scandals surrounding his presidency. \nHe wrote that Hillary Clinton disagreed with him, but that he, the harborer of a lifetime of secrets, replied, "I have nothing to hide." \nAnd while Clinton admits one of his life goals is "becoming a good person," accepting responsibility for his failings, letting go of anger and learning to forgive, he uses his memoirs to settle some scores. \nHe goes after his political enemies, most notably special prosecutor Kenneth Star. He also attacks Louis Freeh, saying the onetime director of the Federal Bureau of Investigation was incompetent and turned against the White House to distract the public from lapses at his own agency. \nAs the book demonstrates and as Clinton himself once said, "Character is a journey not a destination."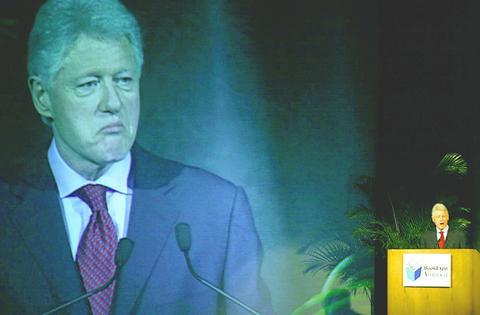 Former US President Bill Clinton delivers the keynote address at the Book Expo 2004 in the Grand Ballroom of McCormick Place in Chicago. Clinton's autobiography is to be released today.
PHOTO: NY TIMES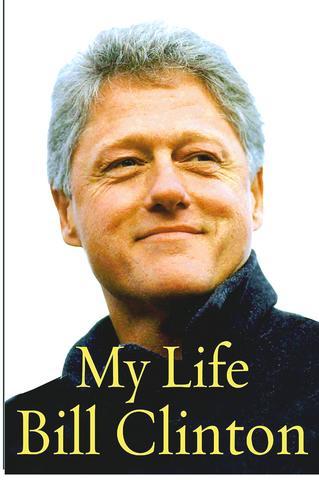 Bill Clinton's memoir, My Life.
PHOTO: NY TIMES
Comments will be moderated. Keep comments relevant to the article. Remarks containing abusive and obscene language, personal attacks of any kind or promotion will be removed and the user banned. Final decision will be at the discretion of the Taipei Times.