Life on the road selling flowers
In the final instalment of a five-part series on unusual jobs contributing reporter Diana Freundl tells the story of the yulan flower seller
As the traffic light turns red and the sea of vehicles slows to a complete stop, Mrs. Lee steps out onto the freeway armed with determination and a basket of flowers she hopes to sell before the light changes color. \nHer livelihood, like other elderly in Taipei, rests on a wire string of yulan flowers (玉蘭花) sold for NT$10 in some of the city's busiest intersections. Traffic pollution, careless drivers and relentless weather are a lot to combat for a job that isn't even legal in Taiwan. But as Lee, who preferred to only give her surname, pointed out that it's difficult for old people to find work and selling yulan flowers is one job that doesn't discriminate against age. \nThe yulan belongs to the magnolia family and in addition to being a popular subject of Chinese watercolor paintings, the fragrant flower is often used as an air-freshener and for offerings to deities in temples. Yulan trees are visible around the island, but thrive in the south where the blossoms are picked and delivered daily to flower markets in Taipei. \nAs the sun beat down on a cloudless Saturday afternoon, Lee trotted up and down the freeway with a sign in one hand and flowers in the other stopping at the windows of air-conditioned cars to exchange hours of labor for a few dollars. \nShe and her husband, Mr. Wang, began selling yulan flowers after a metal factory they worked at relocated to China. After she lost her job, Lee learned how to string yulan flowers while helping her neighbor. The man, in his late seventies, fell ill and suggested Lee and her husband take over his location near the Grand Hotel in Taipei. Now, nearly four years later, the two make an early morning trek from their home in Sanchung to Yuanshan every day. \nThey arrive at the flower market in Neihu at 6am to buy NT$900 worth of the small white blossoms. From there they take the materials to a nearby park and spend three hours threading the petals onto wire strings. Anytime after 9am, Lee heads into the traffic while Wang mans the roadside stall submerging the flowers in containers of water to keep them from drying out in the heat. It takes the pair five to seven hours to sell some 200 bunches earning a shared profit of NT$1,000, approximately half of what they earned at their previous job, Lee said. \nTo make up for the loss in wages, the couple works everyday regardless of how hot or cold the temperature. "No day off, no rest except when the rain is very heavy, then we will stay home. But if we miss a day, then we must sell more the next day," she said walking towards her husband after the light turned green and the cars began to move. \nGiven the volume and speed of the traffic, one would expect to see Lee dodging cars and trucks as they accelerate to make the light. She claimed, however to have sustained no injuries marching up and down the busy intersection. Following her with a camera and some serious reservations was far less hazardous than it looked from the side of the road. \n"I've never had a problem. They [the drivers] are good, they slow down when they see me. I'm not afraid of being hit. I am more afraid of the sun when it's too hot," she said putting on her hat and pulling up her arm covers before stepping out onto the street. \nSelling yulan flowers in the street was banned throughout Taiwan in 1968. According to the Taipei City Government's transportation bureau, the law was introduced to prevent the obstruction of traffic, avoid accidents and protect the lives of the merchants as the number of vehicles increased in city centers. Although it has been revised several times, the current regulation states that a pedestrian caught selling yulan flowers could be fined up to NT$760. \nThere is a special permit for the vending of goods available to persons with a disability, but even then the vendor is limited to particular areas of the city. Both Lee and Wang are ineligible for such permits and have paid their share of fines over the past few years. Most police officers, however, recognize this as the couple's livelihood and let them off with a warning, Lee said. \nDespite employment problems faced by elderly people in Taiwan, such as the growing number of factories relocating to China, Wang's impression is that the number of yulan sellers is decreasing. One reason, he believes, might be emerging casual cleaning jobs in the city's mounting office buildings. In the future yulan sellers may all but disappear from the streets of Taipei, but it won't necessarily mean the underlying social problems have been resolved. \nHow long does the pair plan to make a living on the compassion of commuters and pedestrians willing to part with a few dollars? \n"We will keep doing it forever, until we are too old and can't do it anymore," Wang said.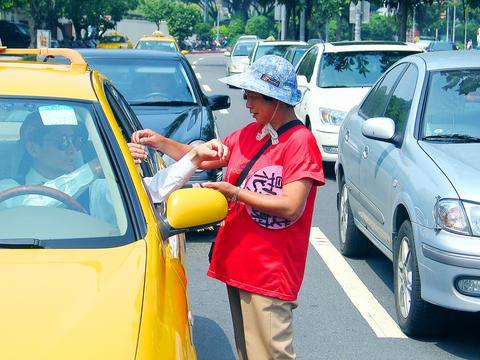 Mrs. Lee strides up and down the freeway on a hot afternoon stopping at car windows with a sign in one hand and flowers (NT$10 a bunch) in the other. Below, Lee takes a break while her husband fills a bag of flowers.
PHOTOS: DIANA FREUNDL, TAIPEI TIMES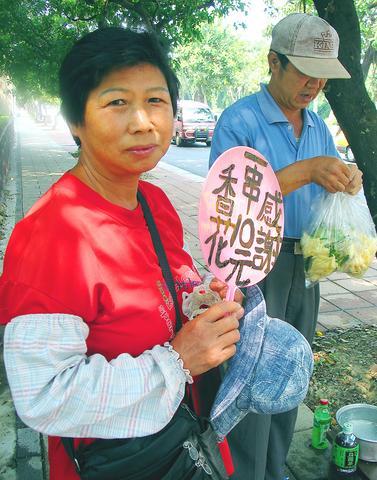 Comments will be moderated. Keep comments relevant to the article. Remarks containing abusive and obscene language, personal attacks of any kind or promotion will be removed and the user banned. Final decision will be at the discretion of the Taipei Times.