Following in the wake of Zheng He
A journey that recreates the historical voyage of the Chinese sea captain 600 years ago is being organized by a Taiwanese group
In July 1405, Admiral Zheng He (鄭和) of the Ming Dynasty (明朝) in China, led a fleet of 200 ships, with 27,800 people on a voyage to the seas west of China. In 28 years he went on eight voyages, to the South China Sea, the Strait of Malacca, the Indian Ocean, the Red Sea, the Arabian Sea and to the east coast of Africa.
Six hundred years later, in July next year, Zheng's voyage will be recreated, with volunteers from Chinese societies. The expedition team is called "Gazing at Zheng He's Era, 600 years After, 2005 to 2008 (鄭和八下西洋探險隊, 2005 -- 2008).
"We want to commemorate Zheng as the first hero in the history of Chinese sea exploration. And we want to look for the kind of adventurous spirit and the peace-loving mind and generosity which was demonstrated in Zheng's journeys," said Alan Hsu (徐海鵬), director of the Society of Extreme Exploration, Taiwan (山河探險協會, SEE Taiwan).

After the Taipei press conference on Dec. 19, the society held another press conference in Beijing, announcing its recruiting project. "We want people from the four regions of Chinese society to come join us," Hsu said.
At the preliminary stage, the society will choose 30 members and 10 substitute members. After a few months of training, the team will be wittled down to 10 people, as the final number of team members.
"Ideally, we hope to have four from Taiwan, four from China, one from Hong Kong and one from Macao," Hsu said.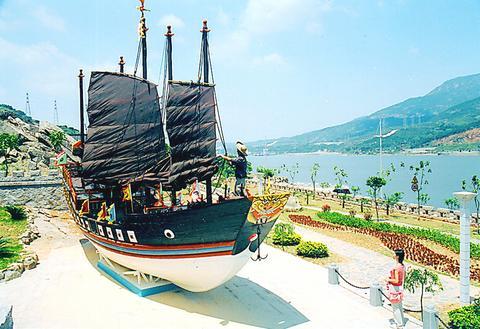 If all goes well, "Gazing at Zheng He's Era" will be a rare sea adventure in the Chinese-speaking world. In previous years, in Taiwan and China, there have been various events sponsored by the public and private sectors to commemorate Zheng's historical achievement.
July 11 has been set by the Taiwan government as "Sailing Day" (航海節) since 1955, but few Taiwanese know that the origin of the date was to commemorate Zheng.
In China, museums, monuments and academic research institutes that celebrate Zheng's achievements have been launched.
Last May, Taitsang City -- the original port of departure for his journeys -- held the first Zheng He Sailing Festival.
But the first adventure event celebrating the 600th anniversary of Zheng's voyage was started by a Taiwanese non-profit organization.
"Anyone over 20 years old, from any of the four regions, are eligible to apply. This will be an unforgettable experience and achievement for anyone involved in the project," Hsu said.
One particular attraction of the trip is that it will painstakingly recreate the conditions and tools of the time. After two years of research, SEE Taiwan has found junk-building masters from Fujian, Zhejiang and Jiansu provinces.
The society is still looking for a suitable shipbuilding plant and it is estimated that it will take about 10 months to a year to finish building. The cost, according to Hsu, willl be around NT$90 million. The boat will be 25m long, 5.5m wide and about 60 tonnes to 70 tonnes, Hsu said -- several times smaller than the size of the giant junks used in the Ming dynasty.
The replica junk will be installed with an engine and modern navigation technologies such as a GPRS navigation system, weather maps and a computer system. It is, according to Hsu, a motorized junk.
In Zheng's time, of course, the fleet was entirely dependent on wind. The fleet set off from Taitsang and stopped at the ports of Changle City (長樂市), Fujian Province, and waited for the northeast trade winds for three months. According to historical texts, the team set off from Changle in November.
For the journey next year wind power will be harnessed. "We will use the engine only when necessary, for example, to avoid boats when entering a port, or when confronting bad weathers or waves," Hsu said.
According to SEE Taiwan's plan, after about 33 months of voyaging, the team will stop at Taiwan's Kaohsiung and Keelung ports for a few days, and then return to Taitsang City in June, for a closing press conference in Beijing in July. The date will coincide with the opening of the 2008 Olympics Games in Beijing.
But, during the three years of the voyage, what will team members be doing? Zheng He exacted tributes from China's neighbors, participated in religious ceremonies (Zheng was a Muslim) and helped open up trade routes to the Middle East.
This time round, the team members will revisit the relics and monuments Zheng left in countries such as Malaysia, Indonesia, Sri Lanka, India, Yemen and Saudi Arabia. Also, history researchers from the Chinese Social Science Academy will do field research during the journey. One of the team members will be responsible for making a documentary film about the three-year voyage.
"And don't forget, we have to be careful about the pirates on the sea," said Peter Yu (余世豪), a member of SEE Taiwan, who said he was particularly concerned about the Malacca Strait as a potential safety threat.
Established in 1999, SEE Taiwan's first exploration activity was "Trekking Without Genghis Khan, 800 Years Later" (尋找成吉思汗). A team of six young Taiwanese went on the trek in April 1999, revisiting Genghis Khan's expedition route to the of West. This trek of 11,000km, mainly by foot and occasionally on camels, took them 21 months and just three people managed to complete the entire journey.
Alan Hsu, the initiator and organizer of SEE Taiwan, is himself a fanatic for adventure. From 1985 to 1987, Hsu and three companions went on a trek of 15,000km around the globe, becoming the first four Taiwanese to walk around the world.
After being a journalist concentrating on outdoor and exploration activities for 10 years, Hsu decided to quit the job and started his Society of Extreme Exploration.
"It's not only just my personal interest. I think in each country or culture, there is a need for the spirit of exploration and adventure. This is particularly deficient in Taiwan," he said.
For more information to apply for the expedition team:

Contact the Society of Extreme Exploration by calling (02) 2933 6075
www.zheng-he.org http://www.zheng-he.org
Comments will be moderated. Keep comments relevant to the article. Remarks containing abusive and obscene language, personal attacks of any kind or promotion will be removed and the user banned. Final decision will be at the discretion of the Taipei Times.