Not another chick flick?
Julia Roberts does not want her new film to put off men, she thinks strong female films have a message for everyone
Mention the phrase "chick flick" to Julia Roberts or any member of the largely female cast of her newest film, Mona Lisa Smile, which is set in a girl's school and you are more likely to get a frozen frown rather than an enigmatic smile.
"I don't think we made a chick flick. We just made a movie," quipped Roberts, 36, during a news conference to promote the film about an independent-minded art history teacher who joins the faculty of elite Wellesley College, steeped in the conformity in the 1950s.
Roberts, who co-produced the drama that opens in the US this month, said she was fascinated by the period because it "was right on the cusp of the revolution of the woman's voice in society".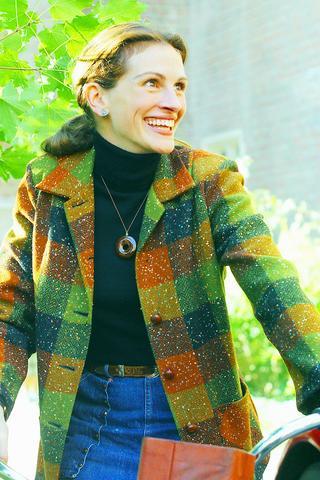 Julia Roberts is shown in a scene from her new film Mona Lisa Smile. The film, set in the 1950s, is about an independent-minded teacher and her students.
PHOTO: REUTERS
But even without seeing the movie, some people have already poked fun at it, dubbing it the "Dead Housewives' Society", an unflattering comparison to the 1989 Oscar-nominated Dead Poets Society, starring Robin Williams as a professor who encourages his male students to go against the status quo.
In a year when more women than ever are running Hollywood studios and there has been a plethora of well-received movies directed by females about females, like Thirteen, Lost in Translation, Sylvia, and Under the Tuscan Sun, the label "chick flick" still haunts films about women, provoking shudders among serious-minded actresses.
"What is a chick flick?" asked Julia Stiles, another star of Mona Lisa Smile. "It's weird, because Master and Commander is not `a guy flick,' is it?," she said, referring to Russell Crowe's latest film about bravery on the high seas.
Stiles is one of four up-and-coming actresses in the film who play students struggling to define themselves at a time when an engagement ring is considered a bigger accomplishment than a university degree. The other students are played by Kirsten Dunst, Maggie Gyllenhaal and Ginnifer Goodwin.
GUY DIRECTOR
Mona Lisa Smile, was actually directed by a male. London-born Mike Newell, whose credits include Four Weddings and a Funeral, and who is on board to film the next Harry Potter film. He said he was intrigued by the film's exploration of a time when individuality was frowned upon.
"There was a great deal of debate in the story about what women should and shouldn't do with their lives, most of which had never been publicly discussed before," said Newell, who made the cast attend a "charm school" for the film.
While the "chick flick" label clearly offended many of the film's stars, some like Oscar-winner Marcia Gay Harden, who plays an elocution teacher embodying the staid conservatism of the time, approached it more philosophically.
"When people say `chick flick' it seems like people are talking about movies about slumber parties and girls in cute little negligees," Harden said.
"This is not that. It's just a movie that may appeal and hopefully will appeal to women, but that does not mean it won't appeal to men. No audience should be eliminated," she said.
Indeed, Roberts, said the film's validation of women is applicable to both sexes. "This movie is about the struggle of the individual, male or female. Everyone is looking to find their proper place in life, where they can serve the most and be at their best," she said.
Indeed, Roberts, whose million-dollar smile has helped her earn north of US$20 million per film, seemed to be content with her place in Hollywood and at home, which she shares with her husband Danny Moder.
AFTER `PRETTY WOMAN'
The Georgia-born actress said she made a stand after taking the world by storm with her breakout success in the 1990 film Pretty Woman, and decided to choose her roles carefully.
"After Pretty Woman and the success of that movie, just a lot of scripts that I read, I felt were really uninteresting and sort of tedious and not well-written, fully realized parts," Roberts said.
"I started just passing on everything, and what started off as just me thinking, well, I'll just wait for something good, turned into an over-two-year wait," she says.
The next film turned out to be Alan Pakula's The Pelican Brief in 1993. "It was a great reintroduction into movies," said the actress, who has starred in many films since then, a few of them clinkers, but went on to earn an Oscar for her performance as a crusading legal assistant in the 2000 film, Erin Brockovich.
Roberts, who has said she would like to soon have a child, said she finds juggling career and marriage relatively easy.
"In my experience, there's a real ease to it. But I think that's in part because I've been able to have a lot of great career opportunities and have been able to build on them over a long period of time. So the kind of attention, maintenance and focus that I give to my career, as it were, can be sporadic and of my choosing," she said.
"I'm very fortunate and I can really devote myself to my family," she said.
Comments will be moderated. Keep comments relevant to the article. Remarks containing abusive and obscene language, personal attacks of any kind or promotion will be removed and the user banned. Final decision will be at the discretion of the Taipei Times.