Tech reviews
Dear Santa,
I have worked hard, eaten my vegetables and been kind to animals
all year, and now I'm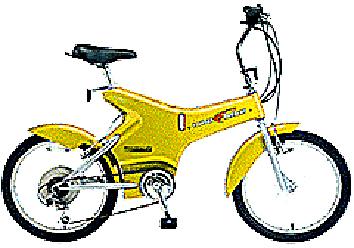 really excited about Christmas! I started thinking about it in September and promptly went out and bought myself an iPod portable MP3 player (reviewed here on Sept. 27), so
you don't need to get
me one of those, thanks. Instead, here's a list of my other favorite tech toys of the year. Other gadget-heads on your list of good girls and boys might enjoy these as well. Of course I don't need them all, but I think you'll agree that there are some pretty compelling reasons for each one.
Mini E-Bike
NT$16,000
If I had a Mini E-Bike, I could get to work really early and be more productive, all while reducing my burden on Mother Nature. This pedal-assisted bicycle uses a 36-volt lithium battery to provide riders with "power-on-demand" instant acceleration. Hit the throttle and E-Bike will let you cruise at up to 24kph for as far as 35km. The battery recharges in four hours, or as you peddle the bicycle. Designed in California, but made right here in Taiwan, this version of the E-Bike folds in half to store easily in the trunk of your car or go inside for safekeeping. At 22kg, it's even light enough to be taken on the bus or MRT. The seven-speed model comes with front-wheel suspension and Shimano deraileurs.
The US Consumer Product Safety Commission issued a recall of 2,000 Mini E-Bike lithium batteries in September of this year after three of the batteries reportedly caught fire. Company representatives said that the problem is now fixed and have offered a free replacement battery and an automatic six-month extension of the one-year warranty.
Plantraco Indoor Microblimp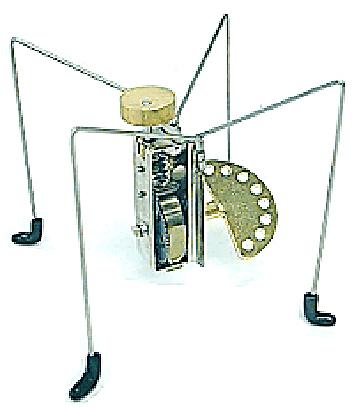 US$70
Plantraco's indoor blimp literally takes remote-controlled toys to another level. It has three small fans mounted to the bottom of a mylar balloon -- either a 132cm white blimp, as pictured here, or a 96cm silver UFO-shaped balloon -- and is "ready to go in three minutes," according to the package. Just add helium (oh yeah, that part).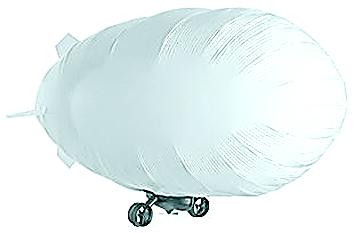 I first saw one of these years ago at a consumer electronics show when a company hung a sign on one advertising their product and flew it around the convention center. They had more inquiries about the blimp than they did about their product.
The Microblimp might be as much fun as you can have without leaving your chair. In fact, the company's Web site boasts that "for the bedridden person, piloting Plantraco's airships might actually be therapeutic!" Maybe, until it's time to add more helium.
Buy two and have "aerial sumo races" or, to add real fun to your flying adventures, Plantraco offers a wireless video camera system that mounts to the front of the airship (US$120) and broadcasts to any television set within 45m.
Pioneer PDP4330HD Plasma Display

NT$370,000
Speaking of TVs, this Christmas-list item is definitely as much fun as you can have without leaving your chair. The 43-inch (109cm) PDP-4330HD is the world's first high-definition plasma display of its size.
Plasma screens differ from other display systems in that red, green and blue light is created in every pixel. Electrodes between glass panels charge tiny pockets of inert gas, causing ultraviolet light to be produced. Unlike
traditional displays, where the image is scanned across the screen, in plasma displays all pixels are "lit" together. Without any electron beam, back lighting or polarization, the image is sharper, brighter and undistorted from side to side. There's also no radiation involved so it's healthier than a traditional screen.
When you're playing a movie, the PureCinema II function recreates each frame, so the video looks more like film. You can also plug your Mac or PC into the media receiver, which includes dual NTSC tuners that allow you to split the screen and watch two programs at once, or use half the screen as your computer monitor -- or monitor your Microblimp! You'll never leave home again!
Roomba Automated Vacuum
NT$9,000
With a plasma-screen TV, not only will you never leave home again, you'll likely never leave your chair. Good idea then to add a robotic vacuum cleaner to the Christmas list.
Roomba is a joint venture between Taiwan's Acer Inc and Massachusetts Institute of Technology spin-off, iRobot Corp. About the size of a 12-inch deep-dish pizza, Roomba works on hardwood, carpets or tile floors, and is great at picking up pet fur, according to the manufacturer.
Just tell the vacuum the size of the room it is about to clean, then go back to playing with your indoor Microblimp. Artificial-intelligence technology allows the vacuum to navigate obstacles, and when it's done, Roomba shuts itself off automatically. For all the advanced technology put into this little housework wonder, though, it still scares the bejesus out of pets.
Roomba was first released in the US in September, and was made available in Taiwan starting Dec. 1. It can only be purchased over the Internet through Web Point Co.
Katita wind-up gadget
NT$580
Since you won't have to vacuum the floor anymore, you can brainlessly idle away your hours with Katita. Katita is a stainless steel, spring-loaded gismo that bobbles around when you wind it up. That's it. It's part of a series of stripped-down, wind-up gadgets designed by Brazilian artist Chico Bicalho. None of them serve any purpose -- and you might think poorly of a wind-up toy in a world with remote-control Microblimps and proactive vacuums -- but if you see one, you'll want one.
Katita is named after a heroic dog that saved a boy's life and you'll have an affinity for the little guy as soon as you start diddling around with him -- Katita, that is, not the boy. Its wind-up companions include Critter, Bonga, Spinney, Zecar and Sparklz and while they don't come with cool stories about their origins, you'll want to collect all of them anyway. Five minutes after I first saw them on the shelf, I had the entire collection crawling, rolling, jumping and bobbling around on the store floor. The saleswoman sold two of them to passersby within the next 15 minutes (yes, I spent nearly a half hour researching the whole line of wind-up toys -- good work if you can get it!)
Comments will be moderated. Keep comments relevant to the article. Remarks containing abusive and obscene language, personal attacks of any kind or promotion will be removed and the user banned. Final decision will be at the discretion of the Taipei Times.