Taiwan's brightest film stars struggle to shine
Two of Taiwan's most familiar screen faces talk to 'Taipei Times' about stardom and the plight actors face in the local film industry
It was at the film set of Lin Cheng-sheng's (林正盛) new film Robinson Crusoe (working title), in a small lane off bustling Chunghsiao E. Rd. in Taipei. Technicians were setting up the lighting at a noodle stand next to a temple. Lin, the winner of Berlin Film Festival's best director award in 2001, looked very laid-back waiting for the set to be ready for shooting. He was eating a bowl of pork stew, squatting beside the temple chatting with his crew. I grabbed the chance to talk to the film's lead actors, Chen Hsiang-chyi (陳湘琪) and Leon Dai (戴立忍), two of the most familiar faces in Taiwanese movies. \n"Of course it's a hard environment for us. There are scarce opportunities," said Chen, the leading actress and lonely woman who wandered Paris in Tsai Ming-liang's (蔡明亮) What Time is it There? (你那邊幾點?). She spoke while digging through her lunch box. Chen is often seen at international film festivals, having also starred in Edward Yang's (楊德昌) A Confucian Confusion (獨立時代) and A Brighter Summer Day (牯嶺街少年殺人事件). She was once even nicknamed Taiwan's Audrey Hepburn for her performances in those two films. \nAn actress for more than 10 years, Chen has only appeared in seven movies. The small number of opportunities is one reason -- consider that Taiwan produced only 16 films last year -- but Chen also has personal reasons for having limited her screen roles. She was away from the business for three years studying theater performance in New York and now teaches acting at Taiwan Arts University, as well. \n"We have never felt much of the pain in the whole process, perhaps because we've never tasted the sweetness, either. For us, the hardship is always normal," said Dai, who plays Chen's onscreen boyfriend and was her real-life classmate at the college where she now teaches. \nFor a year in which he had no acting opportunities, Dai hosted at a call-in show on a cable channel. \nBut he hasn't had to worry about a lack of opportunities lately. Dai has averaged three film contracts a year for the past three years, making him one of the highest-profile actors in Taiwan. He appeared as a gang member in Lin's Betelnut Beauty (愛你愛我), played the jealous gay lover in Fleeting by Night (夜奔), and was again a gang member in A Chance to Die (想死趁現在) by Chen Yi-wen (陳以文). A Chance earned him a Golden Horse for best supporting actor. He most recently finished a film called Double Vision (雙瞳) produced by Columbia Asia. \n"My screen time and screen exposure have exceeded the amount for big movie stars in the 1970s, a prosperous era for Taiwan's film industry," said Dai. \n"Does Taiwan not have any movie stars?" I ask them. When we discuss the question, Dai seems a little more agitated than Chen. \nIn the late 1980s, a group of directors presented a new film language to voice Taiwan's social reality, a wave now called New Taiwan Cinema (台灣新電影). \n"The directors at that time figured highly and it became the trend. So the spotlight [continues] to shine on the directors, not the actors. They are more like the stars. ... To establish a screen image for Taiwanese audiences is something I've been trying to achieve," Dai said. "I work hard and I'm responsible for every role I take," he said. \nLacking stardom is a symptom of Taiwan's barely surviving movie industry. Dai lights a cigarette and explains why. \n"In Hollywood, the marketing and publicity arms of a [production company] will do everything they can to publicize the actors' faces. But here, nobody is spending money to promote us," he said. \n"Marketing in Taiwan's film industry is so weak that the promotional budget for a local film is far less than that of a pop music album," Dai said. The industry struggles to brighten the star of even an actor with three contracts a year, let alone less exposed actors. \nBut there is always hope and passion, at least in Lin's newest project. Dai will play Robinson, a real-estate salesman who is surrounded by several women and the troubles of his loathsome job. "It will be a love story with modern feelings," said Lin. \nStardom for Chen is an old concept. "We cannot go back to the glory days of the 1970s, why not try something new?" she said after finishing her make-up. Chen has been accompanying Tsai on his nation-wide lecture tour of college campuses for the film What Time Is It There?. Using this new means of promotion, the film has garnered nearly NT$2 million at the box office. \n"There will always be a huge gap between us and Hollywood. We don't have to chase them. We should be walking our own roads. It may be hard, but we should try as we can," said Chen. \nDai agreed. "Hollywood is not the only standard. We [referring to himself and Chen] joined this business at a time when we already knew about the weakened environment. Nobody forced us. I have this working philosophy that as long as I'm happy with what I do, I will continue. In this is business, you shouldn't struggle with reluctance and complaints, because you can always leave," he said. \nAnd for now the two actors are happy with what they do.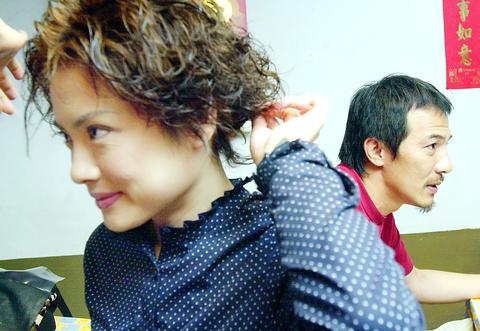 Chen Hsiang-chyi, left and Leon Dai talk with Taipei Times on the set of Lin Cheng-sheng's latest film about a real estate salesman, the troubles with his job and the many women in his life.
PHOTO: CHIANG YING-YING, TAIPEI TIMES
Comments will be moderated. Keep comments relevant to the article. Remarks containing abusive and obscene language, personal attacks of any kind or promotion will be removed and the user banned. Final decision will be at the discretion of the Taipei Times.