The making of a literary superstar
Linking Publishing's (聯經出版公司) booth at the Taipei International Book Exhibition (台北國際書展, TIBE) was jam packed with people wanting to buy books by Gao Xingjian (高行健). "Hurry! Today is the last day for discounts on Gao Xingjian books!" announces from behind the counter. \n"Quick, let me buy Gao's books for you," a middle-aged woman said to her son, explaining, "He's a Nobel Prize winner. He's famous." And as a result of the huge hype that has surrounded Gao's visit to Taiwan, he has become a household name. \nBut this is not Gao's first visit by any means. Prior to this trip, which was timed to coincide with the TIBE and was a consequence of his entry into the elite Nobel club, he had visited Taiwan on six previous occasions. During these visits, he had made a few friends with such literary luminaries as Chang Ta-chun (張大春), Li Ang (李昂), and actor Feng Yi-kang (馮翊綱), and held several exhibitions of his ink wash paintings in Taipei. Moreover, Soul Mountain was first published in Chinese in Taipei five years ago. \nThe contrast between Gao's virtual no-name status prior to the announcement of his Nobel Prize five months ago and the massive and still-growing hype surrounding his current visit couldn't be more drastic. \nOver the past five years, the Chinese edition of Soul Mountain sold less than 1,000 copies. Two years ago, Linking Publishing listed the book for clearance sale, off loading stock at half price. Over the last four months, after the announcement of Gao's Nobel Prize, sales for the book skyrocketed, reaching 120,000 copies. One Man's Bible, Gao's other major literary work, has also sold nearly 90,000 copies over the same period. Gao's other works, including five essay and drama collections have together sold more than 30,000 copies, according to Chen Chiu-ling (陳秋玲), marketing director of Linking. \n"This year at TIBE, our sales business has grown five fold. Gao accounted for more than 70 percent of our sales," she said. \nAs his book sales have grown, so has the number of Gao's "old friends." \nOver 70 literary heavyweights and artists turned up at a reception held in Gao's honor at Taipei's Grand Hotel last week. Although many had only recently become aquatinted with Gao, many gave him an affectionate hug, a form of demonstrative affection uncommon among Taiwanese writers. \nSpeaking to the Chinese media, author Li Ang recalled how Gao was treated last year by these "friends." "Last year when he visited, he was put up at a university guest house, not even a hotel. And when he tried to gather friends for a dinner, [Gao] Xingjian made 20 more calls but only eight people showed up," Li said. \nFeng Yi-kang, founder of the Comedian's Workshop (相聲瓦舍), also recalled an unsuccessful exhibition Gao held seven years ago in Taipei. "He stayed at my home, with lots of unsold paintings that he'd have to take back to Paris with him. He asked me to pick one as a gift," said Feng. This painting was used as the backdrop for a reading of Gao's play The Night Walker, which was put on by Comedian's Workshop to a warm reception last Sunday. \nThis change has been brought about partly due to the massive support of two of Taiwan's leading dailies, the United Daily News (聯合報) and China Times (中國時報). Each paper organized a public lecture for Gao, then made him the subject of consecutive front-page stories in their paper. United Daily Group, which owns four Chinese-language dailies in Taiwan, also happens to own Linking Publishing. \nWith reporters now dogging his every move, Gao's celebrity status may have curtailed his personal freedom, which is ironic for someone who has spent most of his life and literary career living quietly in his own corner.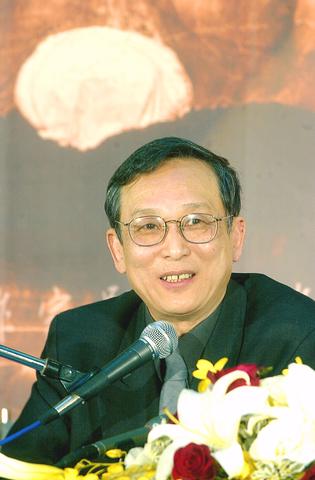 Gao Xingjian appears at a press conference held Thursday by the Taipei City Government, which was Gao's official host.
PHOTO: CHEN CHENG-CHANG, TAIPEI TIMES
Comments will be moderated. Keep comments relevant to the article. Remarks containing abusive and obscene language, personal attacks of any kind or promotion will be removed and the user banned. Final decision will be at the discretion of the Taipei Times.