The A-bian Family
First Lady Wu Shu-chen tells the story of two opposites who fell in love with each other and with the struggle for democracy in taiwan. Their journey to the Presidential Office has left the family physically and mentally scarred, yet amazingly upbeat
President Chen Shui-bian's (陳水扁) Minsheng E. Road residence doesn't have the regal splendor one might expect in a president's house. The color is simple; the decor is unadorned, poised and clean. And just like with many middle-class families, .there is a family dog, named Honey.
But this ordinary lifestyle cannot hide the extraordinary lives of Chen Shui-bian and Wu Shu-chen, (吳淑珍), whose story is filled with the stuff soap operas are made of. Theirs is the marriage between an assiduous, frugal man from an utterly destitute family and the spoiled daughter of a south Taiwan aristocrat. The story involves his political imprisonment and her politically motivated hit-and-run car attack that leaves her paralyzed. With two children, they persevered to become the youngest first family in Taiwan.
Sound like an FTV melodrama? Well, it will be. At least three TV channels have or are preparing versions of Chen's story, with the first being San-lih channel's "A-bian and A-chen" (阿扁與阿珍), released soon after the inauguration. But in an interview with the Taipei Times, First Lady Wu Shu-chen, noted that although their story may seem ripe with romantic intrigue, the leading man is indeed, "an unromantic, sometimes boring man."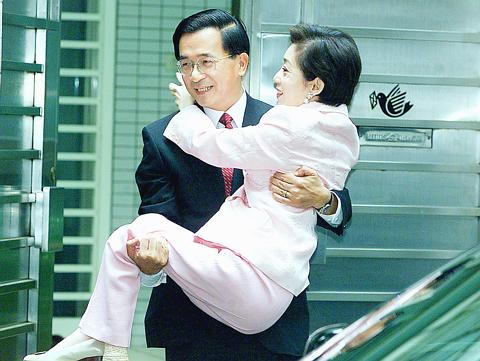 Chen Shui-bian carries his disabled wife Wu Shu-chen out of their Taipei home into the car that will take him to his presidential inauguration ceremony. Wu, a former legislator, was hit by a car and partially paralyzed in a politically-motivated attack.
PHOTO: REUTERS
The First Lady's early memories of Chen trace back to their school days in Tainan County. She remembers a dark, thin, small boy -- in other words, unimpressive -- from her elementary school who always earned top commendations from teachers. Many years later, during Chen's college years, Wu was still nonplussed, but nevertheless agreed to a date with the curious, bookish man with Coke-bottle glasses. During this first date, perhaps with the hope of impressing her with his academic prowess, Chen gave Wu "a tedious law textbook" as a present.
Despite such clumsiness at wining and dining, Chen had a patience and determination to be the best thing that ever happened to Wu.
In her biography, Walking Out of Silver Spoon (走出金枝玉葉), Wu said the turning point of their relationship was when Chen waited five hours for her at a train station. "My train was delayed due to an accident, but he was still there waiting for me," Wu recalled in the book.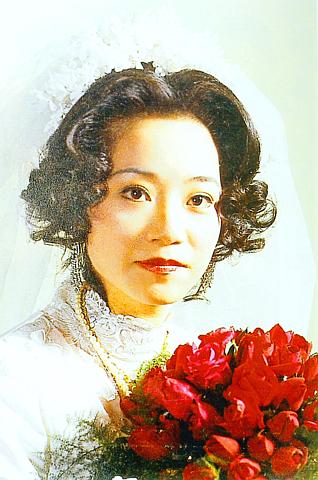 Wu Shu-chen
She would later encounter more of the man's deep commitment to those he loved. After getting his license to practice law during his third year of university, Chen ventured into maritime law and made the beginnings of a small fortune early in his career. But he gave most of his earnings to his impoverished family and paid off the family debts. "It wasn't until that time that I realized Chen's family was in such a difficult position," she said last week.
As Chen and Wu grew closer, the latter's arrogance and stubbornness occasionally irritated Chen. "Don't take me as one of your servants," Chen once said, according to Wu. But these were also qualities that aided their decision to get married in the face of stiff resistance from her well-heeled family. "The more my father objected to this marriage the more I wanted to marry him," she said. He wanted his daughter to marry a doctor; Wu left home and married the young lawyer instead.
It was also Wu's stubbornness, combined with a strong sense of justice, that helped push Chen into the world of politics. It was Wu who persuaded Chen, at the time a successful lawyer, to join the defense team for the eight accused of inciting the Kaohsiung Incident (美麗島事件) in 1979, a human rights rally denounced by the Chiang regime as a seditious demonstration. "I thought we had enough fortune and that it was time to give something back. But I did not know politics could be this sinister. And when I realized it, it was already too late," Wu said.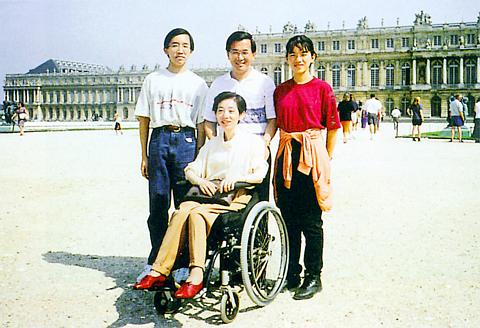 Chen, Wu and their two children, Chen Chih-chung, left, and Chen Hsing-yu, right, in front of the Versailles Palace, France, during a family vacation.
PHOTO: COURTESY OF WU SHU-CHEN
In November 1974, Chen lost his bid for the Tainan County magistrate by a narrow margin. During a thank-you campaign for his supporters, Wu was walking along with the campaign staff when a truck hit her. Hardly an accident, the truck backed up to run over her two more times, leaving Wu lying on the street, blood mingling with her red dress. "I just felt sluggish all over, like I was dying, and my lower body was all numb," Wu recalled.
Although Wu survived, barely, she was paralyzed from the chest down. "I saw A-bian running back with a pale face, holding his wife, hands shivering. But Shu-chen was very calm the whole time, shedding no tears, just weakly telling Chen some important family affairs in case she could not hold onto her life," said Chen Chun-ying (陳俊英), Wu's sister in law said, recalling the incident. At the time, the couple's children, daughter Chen Hsing-yu (陳幸妤) and son Chen Chih-chung (陳致中), were only 9 and 6 years old.
The attack was believed to be politically motivated. "I believe it was related to local factions which were affected by the election result," said Wu. But the attack, contrary to its intended purpose of scaring Chen out of politics, assured his political involvement and cemented the couple's relationship. "The more difficult the situation, the more determined he is. The more you pressure him, the stronger his reaction. So if the KMT did not push him this hard maybe we would not have today's Chen Shui-bian" she said.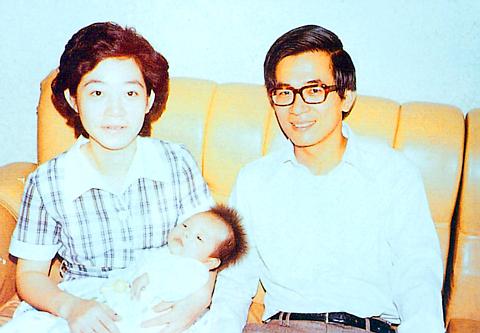 Chen and Wu with their newborn son Chen Chih-chung.
PHOTO COURTESY OF WU SHU-CHEN
The three sequential misfortunes in 1974 -- an election defeat, the car attack and his later imprisonment immediately after Wu was discharged from the hospital -- became an unmitigated motivation for success. "We have been step-by-step striving to reach our goals, and in the process, we've also paid a huge price throughout the years with our involvement in politics," Wu said.
One of the sacrifices was the humiliation of a public airing of the couple's sex life. In previous elections, rumors about Chen having mistresses or prostitutes because of Wu's physical condition made for sensationalistic headlines. "As Chen Shui-bian's wife, I had to explain to the public how our sex life is," she said. And again she refuted the rumors. "With basic medical knowledge you would know there can be a sex life for a spine-injured person. And you know that for such a busy, tight-scheduled politician he [Chen] does not have so much energy for a lot of sex. So in a way we match well in this matter," she said.
Wu sometimes thinks that if not for the incident, President Chen may have had more domestic problems -- just slightly more intimate in nature. "Very often he goes to sleep immediately after coming home, because he is too exhausted from work," she said. "I'm a forthright person and I'm not scared of talking about sex. But this matter takes time and atmosphere. It's not like a James Bond movie, where you can have intimacy at any dangerous moment."
But even when they are intimate, President Chen still finds it hard to put politics second. "We talk about politics in bed," Wu conceded. "He usually proudly shows me what praises he received from media that day, or how foreign media have commented on him." And even in the middle of the night, Chen is sometimes more concerned about his political performance. "Even with only underwear on at midnight, he would sometimes get up to check poll results from the fax machine," said Wu.
However, the new president isn't always so serious. The First Lady revealed that President Chen likes to play kissing games with Honey, the "First Dog." How's that for romantic?
Comments will be moderated. Keep comments relevant to the article. Remarks containing abusive and obscene language, personal attacks of any kind or promotion will be removed and the user banned. Final decision will be at the discretion of the Taipei Times.