Ryan Hass On Taiwan: Taiwan is a partner with the United States, not an asset
Since the end of World War II, there have been periods when prominent American voices have argued that Taiwan is a strategic asset for the United States that must be kept from China. In the early 1950s, General Douglas MacArthur described Taiwan as an "unsinkable aircraft carrier" that would be critical to America's ability to project force in the Pacific. Later, in the 1950s and 1960s, American leaders came to view Taiwan as a strategic liability, fearing that Chiang Kai-shek (蔣介石) would drag the United States into war with China. Then, in America's post-Cold War unipolar moment, a group of neoconservatives urged the United States to do whatever it took to prevent Taiwan from unifying with the People's Republic of China. Today, a similar set of arguments is reemerging in America's debates over its policy toward Taiwan.
The US Office of Naval Intelligence (ONI) is the latest to make the case. In an unclassified report, ONI reportedly said, "If China was to win control of Taiwan, it would be disastrous for the US, even if China did not use military force." In other words, Taiwan is a critical node that must be kept on America's side in its great power rivalry with China.
Notwithstanding the fact that ONI's job is to offer analysis to policymakers, not policy prescriptions, this line of reasoning is becoming more common in American policy debates. For some in Taiwan, such expressions of American conviction might sound reassuring. Even so, be careful what you wish for. The more Taiwan comes to be seen in American policy debates as an asset, the greater the risk that American policymakers will seek to instrumentalize Taiwan to advance American strategic objectives, whether they align with Taiwan's interests or not.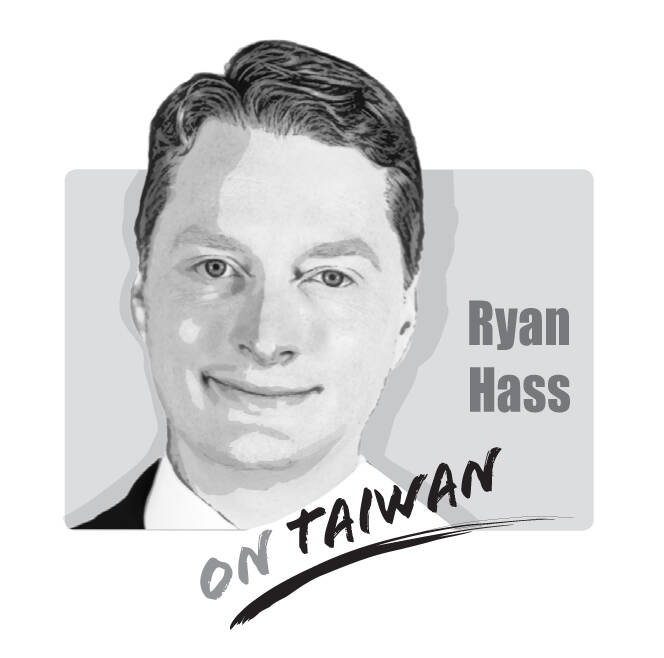 This is not just an idle academic concern. There already is evidence of such a dynamic at work. For example, Congressman Seth Moulton, a rising star in Democratic Party foreign policy circles, recently expressed openness to blowing up Taiwan's leading semiconductor company, TSMC, if China appeared to be moving to assert control over Taiwan. He suggested bombing the world's most important company was an "interesting idea" for deterring China.
It is not the job of American officials to determine Taiwan's future. The people of Taiwan have voice to insist that Taiwan be respected as a vibrant democracy and key partner of the United States, and not merely as a pawn in a great power contest.
To their credit, President Tsai Ing-wen (蔡英文) and her deputies have exercised such agency to push back against statements by American officials they judged ran counter to their interests. For example, the Tsai administration rejected calls by Senator Josh Hawley and others to abandon Ukraine to focus resources and attention on Taiwan's security. Instead, they argued forcefully and publicly that Ukraine's success is important for Taiwan's security.
The Tsai administration engineered a productive meeting for President Tsai with House Speaker Kevin McCarthy and a bipartisan group of legislators during Tsai's April transit of the United States. This meeting enabled Speaker McCarthy to postpone plans to visit Taiwan, thus sidestepping a repeat of the escalatory spiral following then-Speaker Pelosi's August 2022 visit to Taiwan.
The Tsai administration also lobbied the Biden administration to stop arguing that the United States' dependence on Taiwan for semiconductor chips is "unsafe and untenable." Such rhetoric has cooled considerably since Taiwan's quiet interventions with key American officials.
Such give-and-take is how a healthy relationship of mutual respect ought to operate between two governments. Both sides should speak and act with an understanding of the other's top priorities and concerns, even as each side pursues its own interests.
The most valuable contribution Taiwan can make to the United States would be to become the best version of itself. The more Taiwan thrives economically and strengthens its democratic institutions, the better it is for the United States. The more Taiwan's leaders demonstrate openness to addressing differences with counterparts in Beijing through direct dialogue, without Beijing setting preconditions, the better it is for the United States.
For Washington, the topmost priority is ensuring that Taiwan is healthy, resilient, and confident in its own future. Since the end of World War II, America's focus has been on preserving peace and stability in the Taiwan Strait. Washington's goal has been to keep a path open for an eventual resolution of cross-Strait differences, and to insist that any resolution be reached peacefully and in a manner that reflects the views of the people of Taiwan.
Viewing Taiwan as a strategic asset is inconsistent with these goals. Doing so forecloses paths to eventual resolution of cross-Strait differences on terms acceptable to Taiwan, rather than keeping them open. Instead, such thinking acts as an accelerant to conflict by positioning Taiwan as a prize to be fought over by the United States and China. That is part of the reason why advocates of treating Taiwan as a strategic asset have always ended up on the losing side of America's policy debates. And why they will continue to do so.
Ryan Hass is a senior fellow and the Chen-Fu and Cecilia Yen Koo Chair in Taiwan Studies at the Brookings Institution, where he also holds the Michael H. Armacost Chair in the Foreign Policy program.
Comments will be moderated. Keep comments relevant to the article. Remarks containing abusive and obscene language, personal attacks of any kind or promotion will be removed and the user banned. Final decision will be at the discretion of the Taipei Times.