Is China the new colonial power in Africa?
As Beijing hosts an African summit, its economic involvement in the continent is coming under harsh scrutiny
Once the targets of rioting and insurrection in Africa were European colonial overlords. Today, though, jet-setting Chinese businessmen, arriving in ever greater numbers, are causing a backlash in the world's poorest continent.
Zambia was the scene of the latest trouble early last month, when Chinese shopkeepers in the capital Lusaka were forced to use barricades to protect themselves from looters at the culmination of a bitter election contest fought largely on the issue of China's alleged "exploitation" of the southern African country.
Opposition leader Michael Sata won nearly a third of the vote after accusing the Chinese of making Zambia a "dumping ground for their human beings," and across Africa there is growing alarm, as well as excitement, at China's burgeoning financial and political involvement.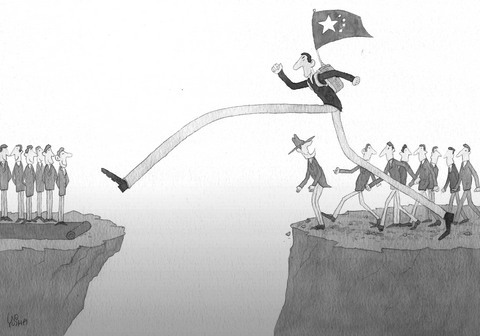 The perils and rewards of Beijing's engagement with Africa are well illustrated in Zambia, where Lusaka's community of Chinese entrepreneurs, diplomats and technicians has grown tenfold to about 30,000 in the past decade.
Investment from China has resurrected the country's moribund Chambishi copper mine, raising the promise of vital revenue. But miners have protested over poor pay and dangerous working conditions, which led to dozens of deaths in an industrial accident earlier this year.
As China aggressively seeks new markets for its exports and new raw materials to feed its explosive economic growth, its involvement in Africa is increasingly the subject of heated international debate.
Just two weeks ago, Paul Wolfowitz, president of the World Bank, criticized China for ignoring human rights and environmental standards when lending to other developing countries.
Beijing, however, shows no signs of being deterred. Today and tomorrow it is hosting leaders from 48 African countries at a summit designed to cement its influence. China's trade with Africa has grown at an astonishing rate, from about US$10 billion in 2000 to an estimated US$50 billion this year.
Wei Jianguo (魏建國), a government minister, rejected Wolfowitz's criticism, arguing that China's investments were "like sending firewood in the snow" and would provide some of the world's poorest countries with the infrastructure development that they really needed.
He has a point. Chinese investors and state agencies have spent billions on roadbuilding in Kenya, a hydroelectric dam in Ghana and a mobile phone network in Ethiopia. Nigeria, where China has been snapping up oil assets, has a Mandarin-language newspaper serving 50,000 readers -- a community greater in number than the British ever were, even at the height of Empire.
Chinese investment in Africa has overtaken Britain's, and stands only behind that of France and the US.
The opening of new trade and investment corridors between developing countries -- confirmed as a growing phenomenon in UN figures released last week -- is a disconcerting sight for the old powers.
China claims with some credibility to be the champion of developing countries, and Africans are rightly suspicious of finger-wagging lectures from their former colonial masters.
Even so, it is fair to say Beijing is not up with the latest thinking on development. Like Wolfowitz, Bob Geldof, the Live 8 campaigner, has warned that attempts to stamp out corruption in Africa risk being undermined by soft loans and naked mercantilism from China.
The country's banks do not adhere to Western banks' environmentally-conscious "Equator Principles" of lending, and its companies are not required to be transparent about their deals with African dictators.
Beijing cynically sold arms to both sides in the war between Eritrea and Ethiopia. It has swooped on investment opportunities in countries shunned by the West, such as Zimbabwe and Sudan. Its close relationship with Khartoum appears to have played a role in the UN's failure to take serious action against Sudan in relation to massacres in Darfur.
Human Rights Watch has condemned Beijing's attitude.
"China can't continue to protect human rights abusers at the expense of civilians just because it is profitable to do so," says Peter Takirambudde, the group's Africa director.
It is also claimed that some local industries are being snuffed out by cheap Chinese imports. Overall, however, Africa's annual GDP growth is a healthy 6 percent, and some experts suggest the economic benefits that China brings outweigh even the political risks.
"Chinese companies are building roads and hospitals, and generally going where Western companies do not dare to go," says Feng Zhang, an analyst at the Foreign Policy Center think tank in London.
"I understand the concern over human rights but so far China's interest has been very good for Africa," he says.
Comments will be moderated. Keep comments relevant to the article. Remarks containing abusive and obscene language, personal attacks of any kind or promotion will be removed and the user banned. Final decision will be at the discretion of the Taipei Times.