TSMC mulls next-gen chip fab in Japan
COMPELLING ADVANTAGES: Japan's expertise in raw materials for semiconductors and machinery makes the country attractive for TSMC's expansion, an expert said
Taiwan Semiconductor Manufacturing Co (TSMC, 台積電) is considering building a third plant in Japan that would make advanced 3-nanometer chips, people familiar with the matter said, potentially turning the East Asian nation into a major global chipmaking hub.
The go-to chipmaker for Nvidia Corp and Apple Inc has told its supply chain partners it is mulling construction of a third factory, code-named TSMC Fab-23 Phase 3, in the southern Japanese prefecture of Kumamoto, the people said, asking not to be named as the information is not public.
TSMC is in the process of building one fab in Japan for less advanced chips, and plans for a second facility have been reported earlier. It is unclear yet when the company would start construction of the third fab.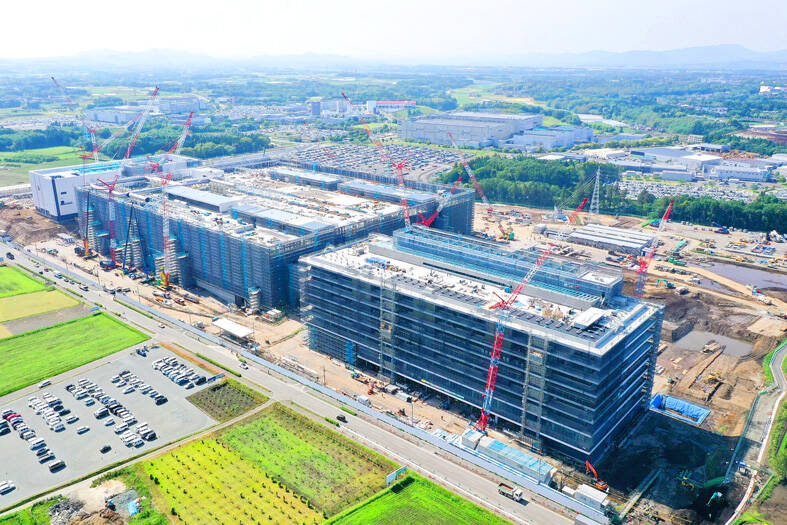 Construction crews build Taiwan Semiconductor Manufacturing Co's factory in Kikuyo, Japan, on May 8.
Photo: Bloomberg
The 3-nanometer process is the most cutting-edge chipmaking technology commercially available, although by the time TSMC's potential fab is up and running, the technology would likely be one to two generations behind that.
Japanese Prime Minister Fumio Kishida's administration has been providing trillions of yen in subsidies to lure investments from domestic and foreign semiconductor companies. In addition to TSMC, Tokyo has secured investments from Micron Technology Inc, Samsung Electronics Co and Powerchip Semiconductor Manufacturing Corp (力積電). Japanese officials are also helping domestic start-up Rapidus Corp set up production lines for cutting-edge 2-nanometer chips in Hokkaido.
Tokyo has moved more quickly in building up a domestic semiconductor ecosystem than Washington, which is also trying to build domestic capabilities for economic and national security reasons. The Japanese government has handed out subsidies to firms while US President Joe Biden's administration has yet to distribute a dime to any company from the CHIPS and Science Act that earmarked more than US$50 billion for the semiconductor industry.
A 3-nanometer fab is likely to cost about US$20 billion, including the machines for production, although precise expenses would depend on when the facility is built and how it acquires land and other materials. It is not yet clear how much TSMC anticipates spending on the third fab. Japan typically covers about 50 percent of the costs of such facilities.
"TSMC is investing where necessary to support customers' needs," the company said in an e-mailed statement. "In Japan, we are currently focused on evaluating the possibility of building a second fab and we do not have further information to share at this time."
While few Japanese firms now need the most advanced chips, the country would soon require them for next-generation technologies, including artificial intelligence applications and autonomous driving.
Japan's economy would face significant risks if the country relies completely on imports for these critical components, local officials have argued.
TSMC is building a plant in Kumamoto, with investments from Sony Group Corp and Denso Corp, that is expected to start making chips as advanced as 12 nanometers in late next year.
TSMC would also build a second fab, close to its first plant in Kumamoto, that is expected to start making 5-nanometer chips in 2025, some of the people said.
When TSMC first planned to create a manufacturing presence in Japan, its initial blueprint included multiple plants so it could best utilize ancillary facilities it has to build for its campus in Kumamoto, the sources said.
The Taiwanese chipmaker might even build a fourth plant, possibly in a prefecture to the north of Kumamoto due to a shortage of land, several of them said.
Japan's expertise in chip materials and machinery makes the country an attractive location for TSMC's expansion, said Joanne Chiao (喬安), an analyst with Taipei-based research firm TrendForce Corp (集邦科技).
"Japan's critical role in semiconductor and raw materials, combined with collaboration with Sony, offers compelling advantages for TSMC as its investment in the country is expected to help with its access to advanced materials and specialized image sensor technologies," she said.
In return, Japan would benefit significantly from TSMC's presence. The GDP of Kyushu region, which includes Kumamoto, is estimated to expand to ¥75 trillion (US$507.75 billion) in 2035 from the current scale of ¥50 trillion, SMBC Nikko Securities Inc analyst Ryosuke Katsura said.
In addition to Japan, TSMC has also pledged to build two plants in the US and one in Germany as its customers want more diversified supplies in the face of growing uncertainties in the Taiwan Strait.
Comments will be moderated. Keep comments relevant to the article. Remarks containing abusive and obscene language, personal attacks of any kind or promotion will be removed and the user banned. Final decision will be at the discretion of the Taipei Times.