Global slowdown snaps export rebound
WOBBLE: Conservative sentiment hit all product categories except for information and communications technology products, the Department of Statistics head said
Exports last month fell 4.5 percent to US$38.11 billion, snapping a rebound in September, as the global economic slowdown curtailed demand for tech as well as non-tech products, offsetting strong demand for devices used in artificial intelligence, the Ministry of Finance said yesterday.
The economic gauge could resume a modest uptick of 3 to 6 percent this month, as shipments of electronics could emerge from inventory adjustments and move toward a recovery, Department of Statistics Director-General Beatrice Tsai (蔡美娜) said.
"That may happen this month or in January of next year at the latest," Tsai said, adding that recent guidance by Taiwan Semiconductor Manufacturing Co (TSMC, 台積電), the world's largest contract chipmaker, lent support to the observation.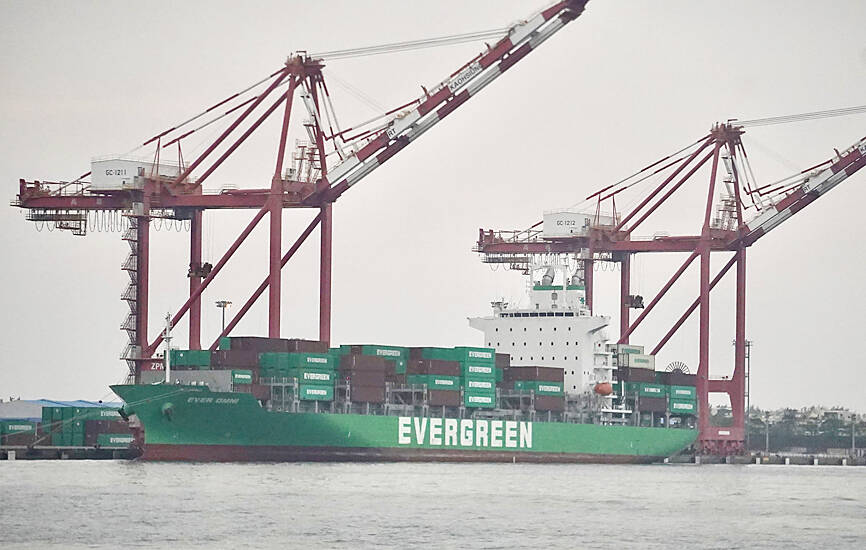 An Evergreen Marine Corp cargo ship docks at the Port of Kaohsiung yesterday.
Photo: CNA
TSMC said last month it has spotted early signs of stabilization in demand for personal computers and smartphones following several quarters of inventory adjustments, which suggest healthy business for next year.
Exports of electronics, which accounted for 41 percent of all outbound shipments, decreased 7.4 percent year-on-year to US$15.64 billion, as firms remained cautious in dealing with sticky inflation, monetary tightening and intensifying geopolitical tensions, Tsai said.
Conservative sentiment hit all product categories except for information and communications technology (ICT) products, which surged 37.6 percent from a year earlier to US$9 billion, thanks to exploding artificial intelligence applications in the US, she said.
That explained why shipments bound for the US market spiked 12.1 percent to a new high of US$7.19 billion, Tsai said, adding that the picture was not bright elsewhere.
Exports tumbled 22.7 percent to Japan, softened 16.8 percent to Europe and decreased 3.6 percent to China, consistent with their lackluster economic showings, Tsai said.
Shipments to ASEAN markets squeezed out a 1.5 percent increase, also on the back of ICT products, the ministry found.
Imports retreated at a faster pace of 12.3 percent to US$32.34 billion, falling for 12 months in a row, it said. The data gave Taiwan a trade surplus of US$5.77 billion, an increase of 91.2 percent from a year earlier, Tsai said.
Taiwanese firms bought US$8.85 billion worth of electronics that would later be turned into exports, another sign that a recovery might be just around the corner, she said.
However, imports of capital equipment plunged 32 percent to US$4.9 billion, with imports of semiconductor equipment diving 54.6 percent to US$1.69 billion, the ministry said.
Vanguard International Semiconductor Corp (世界先進) yesterday trimmed its capital spending for the third time to NT$9 billion (US$279.5 million) this year, citing poor sales and order visibility.
In the first 10 months, exports fell 12.9 percent to US$355.09 billion, while imports decreased 19 percent to US$295.44 billion, the ministry said.
Tsai said exports for the whole of this year are bound to weaken 10 percent from last year.
Comments will be moderated. Keep comments relevant to the article. Remarks containing abusive and obscene language, personal attacks of any kind or promotion will be removed and the user banned. Final decision will be at the discretion of the Taipei Times.