Number of furloughed workers rises to 11,738
The effects of weak global demand on the export-oriented manufacturing sector saw the number of furloughed workers on formal unpaid leave programs in Taiwan rise by 848 to 11,738 from Sept. 7 to Friday last week, the Ministry of Labor said yesterday.
According to the ministry, 712 of the 848 newly furloughed people who worked in the manufacturing sector, for a total of 9,879 workers on unpaid leave programs as of Friday.
The number of employers with furlough programs in place also increased from 601 to 642, with manufacturers accounting for 296 of the total, the ministry said.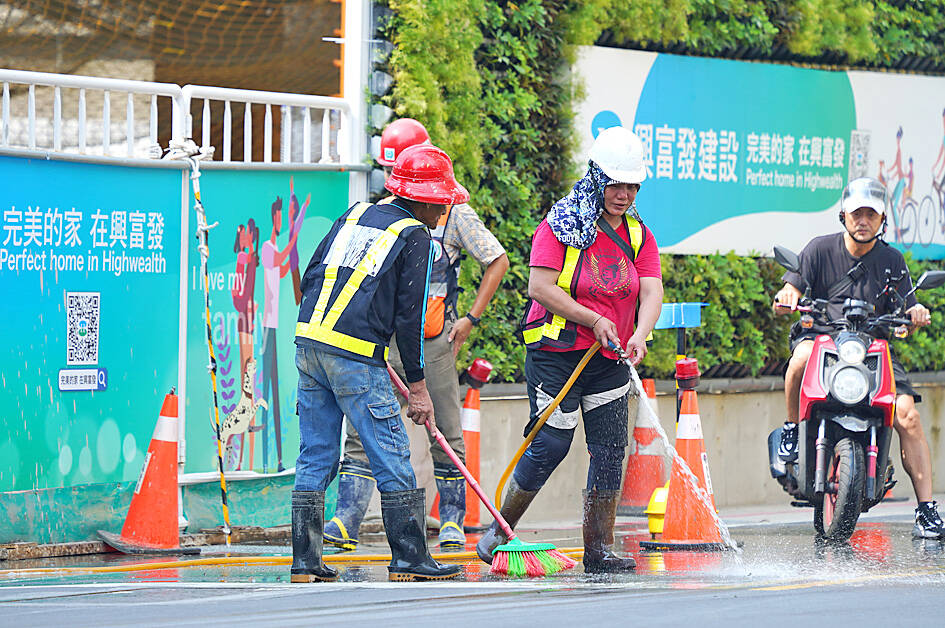 Workers flush a road outside a construction site in Taipei's Beitou District yesterday.
Photo: CNA
Labor Conditions and Equal Employment Division Deputy Director Wang Chin-jung (王金蓉) said the metal and electric machinery industry reported an additional 629 workers on unpaid leave programs in the week.
Aa bicycle component maker implemented a furlough program for the first time, Wang said, putting 140 workers on unpaid leave, while a vacuum equipment manufacturer added 170 workers to a total of 180 on unpaid leave.
The two manufacturers cited declining orders as the reason for implementing furlough programs, she said.
Despite the increase in furloughed workers in the industry as a whole, a lamp producer stopped its unpaid leave plan ahead of schedule by putting about 150 workers back on production lines in the week as the company received short-term orders, Wang said.
However, it was too early to say whether the lamp maker's improved operations would continue, she added.
In the information technology and electronics industry, the number of furloughed workers rose by 151 in the week, with an optoelectronics maker reporting that it had placed about 70 workers on unpaid leave, Wang said.
The labor ministry has provided the latest furlough data in the manufacturing sector to the Ministry of Economic Affairs to help the ministry better understand industry conditions, she said.
On the other hand, the service sector has remained resilient and experienced slight fluctuations in furlough worker numbers amid strong domestic demand in the post-COVID-19 pandemic era, Wang said.
The number of furloughed workers in the retail and wholesale industry rose to 941 as of Friday from 820 on Sept. 7, while the number in the lodging and food and beverage industry has stayed unchanged at 75, the ministry said.
The support service industry, which is comprised of travel agencies, also reported 497 furloughed workers, down from 501 a week earlier, the labor ministry added.
Comments will be moderated. Keep comments relevant to the article. Remarks containing abusive and obscene language, personal attacks of any kind or promotion will be removed and the user banned. Final decision will be at the discretion of the Taipei Times.