Arm touts strategic shift in IPO pitch
TAIWAN INTEREST: TSMC is backing Arm's IPO, with its board of directors approving an investment of up to US$100 million, while MediaTek's name is on the IPO prospectus
Arm Holdings PLC CEO Rene Haas, gearing up for the biggest initial public offering (IPO) of the year, is pitching investors on a pivot.
His message to potential shareholders is that Arm is poised to become a bigger and more profitable business — not just because of the industrywide boom in cloud computing and artificial intelligence, but also due to a major change in how it operates.
"We made a significant shift in our strategy," Haas said in a video presentation for prospective investors seen by Bloomberg.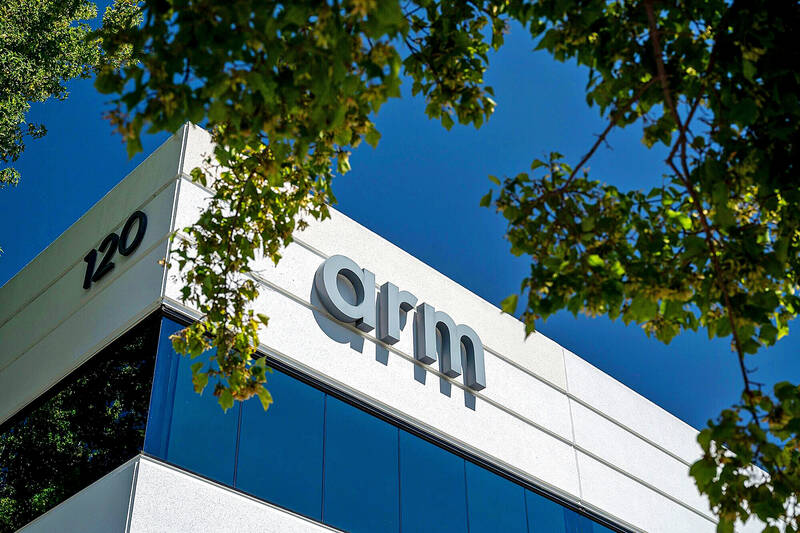 Arm Holdings PLC's US headquarters in San Jose, California, are pictured on Wednesday last week.
Photo: Bloomberg
For most of its history, Arm's main focus has been designing chips for smartphones and other electronics, and then selling that technology for pennies per chip to companies such as Qualcomm Inc.
However, Arm is now doing complex design work focused on specific products, tailored for what it sees as key areas of growth.
It is a "purpose-built approach" addressing the urgent needs of companies making mobile devices, cloud computing, vehicle electronics and Internet-connected technology, Haas said in the presentation.
Getting that message across is key to the lofty valuation.
Arm had said that it is seeking as much as US$54.5 billion in its IPO this week, although it is proving so popular with investors that the company might raise the price range for the shares.
The listing is oversubscribed by 10 times, and bankers were planning to stop taking orders by yesterday afternoon, a day early, people familiar with the matter had said.
Taiwan Semiconductor Manufacturing Co (TSMC, 台積電), the world's largest contract chipmaker, is backing Arm's IPO and plans to be a strategic investor.
The company's board of directors has approved a maximum investment of US$100 million to subscribe to Arm's American depositary shares, TSMC said yesterday.
By investing in Arm TSMC aims to gain an advantage for itself, as well as its customers and supply chain partners, the company said in a statement.
"Since chip designing is a highly competitive sector, it is crucial to prevent Arm from being acquired entirely by a rival," an industry analyst, who asked to remain anonymous, told the Taipei Times yesterday.
MediaTek Inc (聯發科) is one of Arm's top five customers and TSMC's major customers almost all use Arm-based architecture.
MediaTek has yet to disclose what it plans to invest in Arm, although the firm's name is on the IPO prospectus.
Chipmakers such as Qualcomm and Broadcom Inc have licensed Arm's partial designs and computer code and put them in their own chips. The products adhere to industry standards, making it easy for software makers to ensure that various forms of technology are compatible. That is why Arm's designs are in nearly every mobile phone made today.
Haas has flipped Arm's emphasis, saying more is not necessarily better.
He has pushed the company to move beyond licensing the basic building blocks of chips, and instead provide customers with blueprints they can take straight to the factory and put into production.
Now Arm is charging much higher royalty rates per device, because it offers customers more complete designs that are more technologically capable.
While Arm might get paid a low-single-digit dollar figure on a US$30 main chip in a smartphone, the potential inside the kind of processor that is at the heart of a cloud data center is much greater. In that kind of environment, chips can have more than 100 computing cores, or mini processors, and Arm can charge more than US$1 per core.
The revenue opportunity in cloud computing would grow to US$28 billion by 2025, expanding at a rate of 17 percent per year from now, Arm chief financial officer Jason Childs said in the video presentation.
Additional reporting by Lisa Wang
Comments will be moderated. Keep comments relevant to the article. Remarks containing abusive and obscene language, personal attacks of any kind or promotion will be removed and the user banned. Final decision will be at the discretion of the Taipei Times.