Microsoft to add Bing to OpenAI's ChatGPT bot
BIGGEST INVESTOR: Microsoft made Bing a part of the premium ChatGPT Plus service, saying that it would be available for the bot's regular version soon
Microsoft Corp is bringing its Bing search engine to OpenAI Inc's ChatGPT, further tightening ties with the artificial intelligence (AI) start-up in a bid to challenge Google.
Bing would be part of the premium ChatGPT Plus service starting yesterday, Microsoft said, and the search engine would come to the regular version of the chatbot soon.
Using Bing lets customers get up-to-the-minute information, whereas ChatGPT has been trained only on data through Sept. 20, 2021.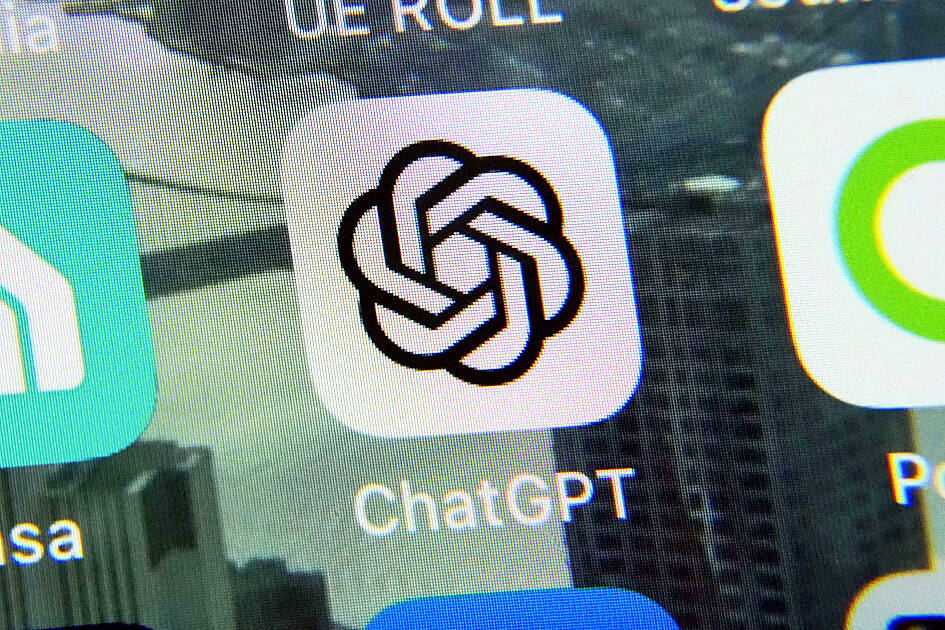 The ChatGPT app is displayed on an iPhone in New York on Thursday last week.
Photo: AP
Microsoft is OpenAI's biggest investor and a key partner, giving it an edge in the race to weave artificial intelligence into more software products. The start-up, whose chatbot became a viral hit in the past year, has helped Microsoft attract customers to a cloud-based service that lets its Azure clients use OpenAI products.
Azure OpenAI has 4,500 customers, including Volvo AB, IKEA, Mercedes-Benz Group AG and Shell PLC. That is up from 2,500 customers at the end of last quarter.
Microsoft unveiled the Bing ChatGPT update yesterday at a developer conference in Seattle. Earlier this month, OpenAI started adding Web browsing as an optional capability to its paid Plus tier. That relied partly on Bing, although the arrangement was not disclosed at the time.
Microsoft chief executive officer Satya Nadella has been refocusing Microsoft's products around AI programs called copilots — assistants that help users perform tasks in Bing and Office, as well as security and finance software, based on OpenAI's GPT-4 technology.
The software maker is trying to boost sales, attract more cloud-computing business and better compete with Google in search. So far, the OpenAI partnership has helped Microsoft position itself at the forefront of a rapidly churning market for new types of AI tools.
With the proliferation of AI-generated information, Microsoft said it would watermark such content so people know it is not human-made.
The company also said it would make those same tools available to developers to use.
"We're giving you a bunch of amazing media provenance tools that will help users understand when they are seeing generated content or not," Microsoft chief technology officer Kevin Scott told attendees at the conference.
Scott did not elaborate on the technological underpinnings of these tools, except to say that they are "cryptographic" watermarks.
Microsoft is also letting outside software developers and companies write programs that tie into its OpenAI-based artificial intelligence software.
As part of that push, Instacart Inc, Redfin Corp, Zillow Group Inc and Kayak Software Corp would work with Bing's AI, Microsoft said.
Meanwhile, Adobe Inc and Atlassian Corp would release features for Microsoft's corporate AI software that can be used with the Office suite.
To let other companies write features and programs that make use of these AI products, OpenAI is allowing them to develop so-called plugins to work with ChatGPT.
Microsoft yesterday said that it would use a similar model. Companies and programmers can use the same plugins across ChatGPT and Microsoft's own consumer and corporate AI software.
Comments will be moderated. Keep comments relevant to the article. Remarks containing abusive and obscene language, personal attacks of any kind or promotion will be removed and the user banned. Final decision will be at the discretion of the Taipei Times.