Chunghwa Telecom's net profit soars amid 5G trend
Chunghwa Telecom Co's (中華電信) net profits last month rose by a double-digit percentage, as more people sign up for 5G services and services beyond the traditional telecom businesses, the nation's largest telecom said.
Net profits last month expanded 14.4 percent annually to NT$3.22 billion (US$105.56 million) from NT$2.82 billion in March last year, the company said in a statement on Tuesday.
That brought first-quarter net profit to NT$9.64 billion, up 6.4 percent from NT$9.06 billion in the same period last year.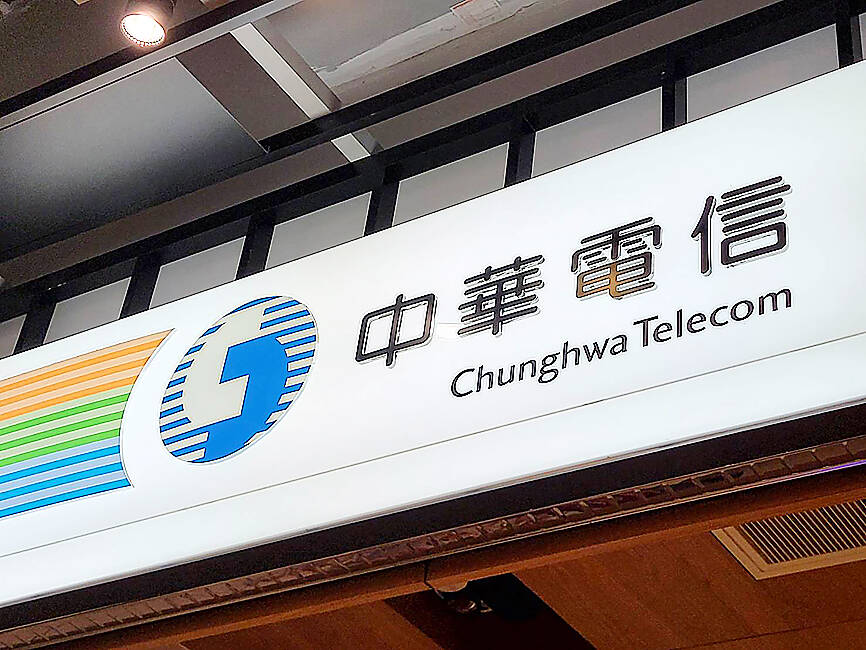 Chunghwa Telecom Co signage is pictured at an outlet in Taipei on March 10 last year.
Photo: CNA
Earnings per share (EPS) rose to NT$1.24 from NT$1.17 in first quarter of last year, making Chunghwa Telecom the most profitable telecom in Taiwan.
First-quarter revenue expanded 5.7 percent year-on-year to NT$54.21 billion, the company said, adding that the results exceeded its expectations.
Its average revenue per post-paid mobile subscriber climbed 5.3 percent year-on-year last month, the telecom said, attributing the trend to more 5G subscriptions.
Last month's robust performance came amid 50 percent annual growth in revenue from its nontraditional telecom services, including Internet data center leasing, cloud-based services, artificial intelligence of things services and private networking, it said.
Meanwhile, Taiwan Mobile Co's (台灣大哥大) net profit fell 0.3 percent to NT$2.72 billion in the first quarter, with earnings per share dropping to NT$0.96, the company said yesterday, adding that its bottom line was affected by unfavorable foreign exchange rates.
However the company's average revenue per post-paid mobile subscriber last month rose 3.5 percent annually to NT$664, marking 22 straight months of growth, it said.
First-quarter revenue increased 8.1 percent annually to NT$43.02 billion from NT$39.79 billion, it said.
About 58 percent of last quarter's revenue came from its e-commerce subsidiary Momo.com Inc (富邦媒體), it added.
Separately, Far EasTone Telecommunications Co (遠傳電信) said that its first-quarter net profit surged 18.4 percent annually to NT$2.75 billion, with EPS of NT$0.85, both surpassing the company's expectations.
Revenue in the first quarter expanded 1.8 percent to NT$22.31 billion from a year earlier.
Far EasTone attributed the robust growth to its number of mobile users expanding to 7.17 million last month, while its average revenue per user increased 2.3 percent, marking the best performance in about 25 months, it said.
Comments will be moderated. Keep comments relevant to the article. Remarks containing abusive and obscene language, personal attacks of any kind or promotion will be removed and the user banned. Final decision will be at the discretion of the Taipei Times.