TSMC customer billed NT$529bn
BREAKING RECORDS: Revenue from a sole customer, thought to be Apple Inc, accounted for 23 percent of total sales last year, down from 26 percent a year earlier
Taiwan Semiconductor Manufacturing Co's (TSMC, 台積電) revenue from its biggest customer last year rose 30.64 percent from the previous year, financial data released by the company on Friday showed.
While the world's largest contract chipmaker did not identify the customer, it was widely believed to be Apple Inc.
TSMC's revenue from the customer totaled about NT$529.65 billion (US$17.32 billion) last year, the data showed.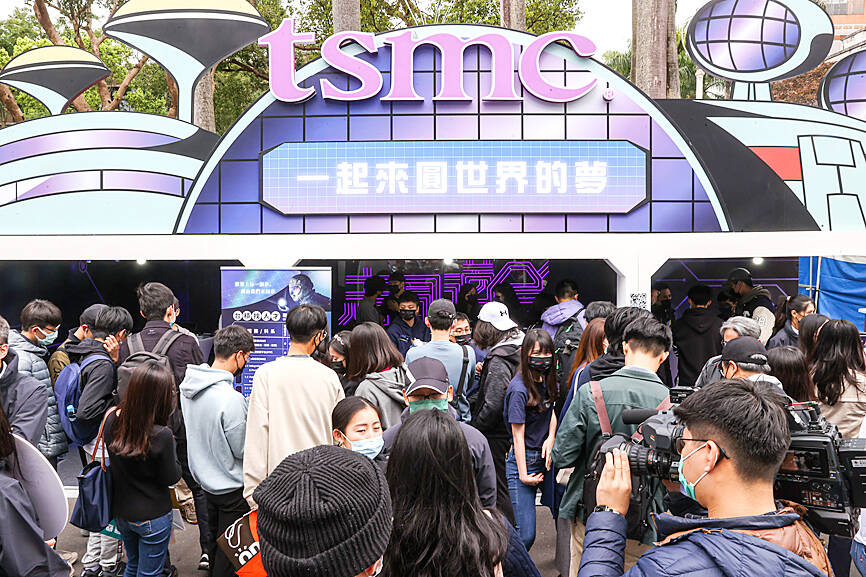 People visit the booth of Taiwan Semiconductor Manufacturing Co at a job fair at National Taiwan University in Taipei on Saturday.
Photo: CNA
It was the first time a single customer contributed more than NT$500 billion to TSMC's annual revenue.
However, the revenue generated by the customer accounted for 23 percent of TSMC's total sales, down from 26 percent in 2021.
The chipmaker's second-largest customer in terms of sales, thought to be US chip designer Advanced Micro Devices Inc (AMD), also saw its contribution fall below 10 percent of TSMC's total sales, but no further details were released.
Analysts said TSMC's automotive chip sales last year rose 74 percent from 2021, beating the 59 percent and 28 percent growth in sales of chips used in high-performance computing devices and smartphones respectively, which explains the declines in Apple and AMD's contributions to TSMC's sales.
TSMC's biggest source of revenue last year was the US market, which accounted for 65.96 percent of its total sales at NT$1.49 trillion.
It was followed by China (10.82 percent) at NT$245.17 billion, Taiwan (9.29 percent) at NT$210.47 billion and Japan (5.26 percent) at NT$119.099 billion.
TSMC last year posted a net profit of more than NT$1 trillion for the first time in its history, with net income rising 70.4 percent to NT$1.01 trillion, and earnings per share growing from NT$23.01 to NT$39.2.
Comments will be moderated. Keep comments relevant to the article. Remarks containing abusive and obscene language, personal attacks of any kind or promotion will be removed and the user banned. Final decision will be at the discretion of the Taipei Times.