Samsung begins India assembly of flagship phones
Samsung Electronics Co has begun making its fold and flip smartphones as well as its latest Galaxy S23 flagship in India, renewing its focus on a key growth market where Chinese devices have eaten into its sales.
The South Korean giant's Indian unit previously imported some of its premium flip and fold devices into the world's second-biggest smartphone market, but it is now assembling its entire phone portfolio locally, said Raju Pullan, the head of Samsung's Indian mobile business.
"That also builds on our strong commitment to growing the India market," Pullan said yesterday, declining to comment on whether the locally assembled flagship devices would be priced lower than the imported ones.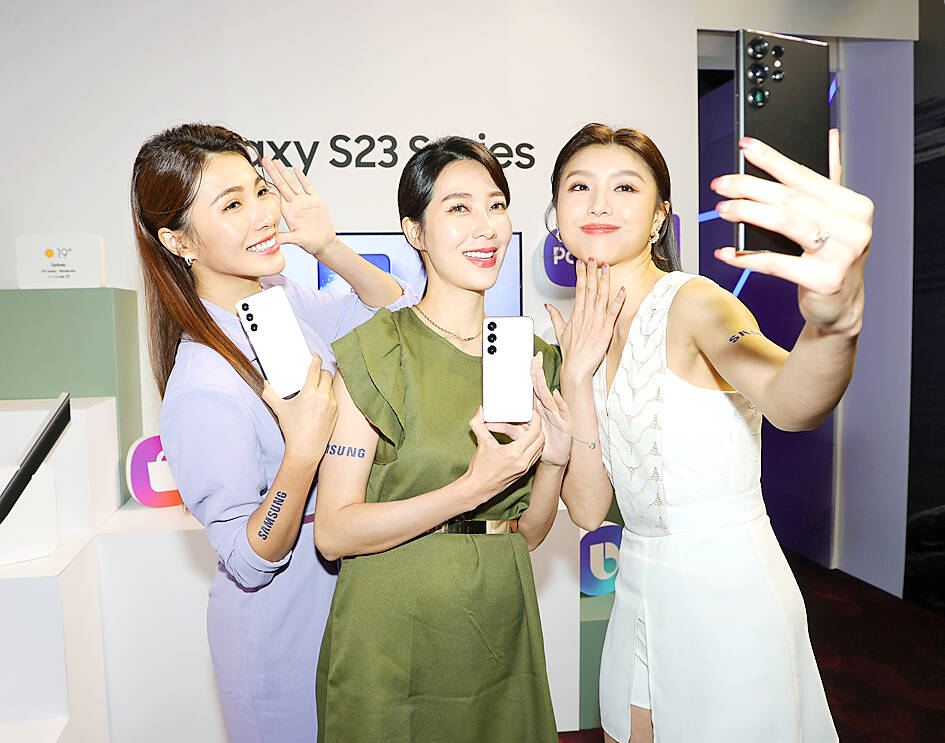 Models pose with Samsung Electronics Co's Galaxy S23 smartphones at a launch event in Taipei yesterday.
Photo: CNA
Global smartphone leader Samsung has faced stiff competition from Chinese rivals in an Indian market characterized by cost-conscious shoppers.
China's Xiaomi Corp (小米) was India's biggest smartphone vendor last year with a market share of 20 percent, while Samsung was a close second at 19 percent, research firm Canalys said.
For years, lower prices, bigger batteries and a marketing blitz resting on cricket and Bollywood have helped Chinese device makers outsell Samsung.
Samsung has been slow to learn, but is gradually catching up by launching more affordable devices, tying up with banks for credit card offers and rolling out a consumer credit program that helped it sell devices worth US$1 billion last year, Pullan said.
Like rival Apple Inc, Samsung is also participating in Indian Prime Minister Narendra Modi's manufacturing drive that aims to turn India into an export hub.
Still, Samsung has struggled to collect some of the financial incentives it has sought from the Modi administration, even as manufacturers including Apple supplier Foxconn Technology Group (富士康科技集團) have succeeded with their claims.
Samsung, which last week unveiled its latest iPhone-rivaling Galaxy S23 line, received orders for nearly 140,000 units worth about 14 billion rupees (US$169.3 million) in India in the 24 hours after the launch, Pullan said.
That is double the orders Samsung received for the previous generation of Galaxy devices on the first day.
The company is increasing the number of stores where it sells the Galaxy devices, and investing more in sales and marketing, Pullan said.
Comments will be moderated. Keep comments relevant to the article. Remarks containing abusive and obscene language, personal attacks of any kind or promotion will be removed and the user banned. Final decision will be at the discretion of the Taipei Times.