IBM loses top patent spot after decades as US No. 1
International Business Machines Corp (IBM) dropped from the top spot for US patents last year, the first time in decades that the company has not claimed the most patents in a year, signaling a strategy shift at the long-time intellectual property leader.
IBM's patent count declined 44 percent to 4,743, falling to No. 2 behind Samsung Electronics Co's 8,513, Harrity LLP's Patent 300 list showed.
Technologies such as semiconductors and hardware memory saw the largest drop in IBM patents, although the reduction was across all major types.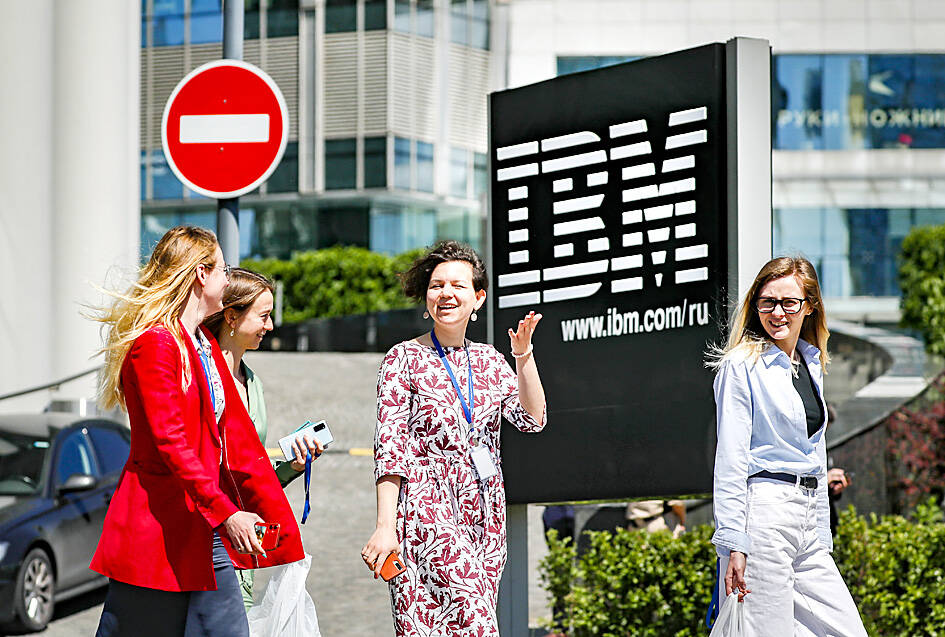 People walk past an IBM office in Moscow on June 8 last year.
Photo: EPA-EFE
The decline reflects a strategy shift that began in 2020 to focus the patent portfolio on IBM's core businesses and free engineers from the time-consuming patent process, IBM research head Dario Gil said in an interview.
"We decided to no longer pursue numeric patent leadership, but remain an intellectual property powerhouse and continue to have one of the strongest portfolios in the world in our priority technologies," he said.
The Armonk, New York-based company has long prided itself on patent leadership, saying it had the highest number of filings for the past 29 years.
Intellectual property licensing and development has also been lucrative.
IBM has generated more than US$27 billion in income from patents since 1996, company filings showed.
However, that money has in the past few years slowed down as some companies have resisted licensing fees.
However, IBM is not done monetizing its intellectual property, Gil said.
"On the priority areas — hybrid cloud, AI [artificial intelligence], semiconductors, cybersecurity, quantum — we will continue to patent and defend that aggressively," Gil added.
The shift mirrors IBM's broader transformation away from hardware and legacy infrastructure toward cloud services and software.
Under IBM CEO Arvind Krishna, the company has made more than 25 acquisitions since April 2020, including AI software powerhouse Red Hat Inc.
IBM in November 2021 spun off a large portion of its infrastructure services business into a company called Kyndryl Holdings Inc.
The spinoff was not a reason for the patent decline last year, Gil said.
IBM has been a relative haven in the tech market meltdown, rallying 5.4 percent last year, compared with a 33 percent dip in the NASDAQ 100.
In the most recent earnings report, the company beat sales estimates and affirmed its cash flow forecast.
SAMSUNG, CHINESE FIRMS
Samsung has long been the runner-up before last year, being issued more than 8,000 new patents a year since 2017, Harrity's list showed.
It was often awarded patents on visual display systems and voice communication.
Chinese technology firms such as TikTok parent ByteDance Ltd (字節跳動) and Internet firm Baidu Inc (百度) saw some of the steepest increases in patent issuance on the list.
For example, ByteDance has applied for a patent on a method of adding special effects to human bodies on video, commonly used in TikTok filters.
Tencent Holdings Ltd (騰訊) and Alibaba Group Holding Ltd (阿里巴巴) also saw large increases.
"Patent filings in China have been exploding for years," Harrity analytics chief Rocky Berndsen said. "So as more of these companies do business in the US, we would expect the numbers to increase here as well."
Comments will be moderated. Keep comments relevant to the article. Remarks containing abusive and obscene language, personal attacks of any kind or promotion will be removed and the user banned. Final decision will be at the discretion of the Taipei Times.