Mortgage burden rises as housing prices stay firm
Housing affordability deteriorated in the second quarter, with the mortgage burden picking up 1.27 percent to 39.62 percent nationwide, while housing prices climbed to 9.69 times household income, a survey released by the Ministry of the Interior on Sunday showed.
The uptrend in unaffordability came after median house prices in the nation rose 0.46 percent to NT$8.5 million (US$269,260) per unit from NT$8.4 million in the first quarter, while interest rates on new mortgages climbed from 1.358 percent to 1.592 percent, the ministry said.
The readings likely evolved in the same direction last quarter after the central bank last month announced another rate hike of 0.125 percentage points, while housing prices held firm amid rising building material and labor prices, it said.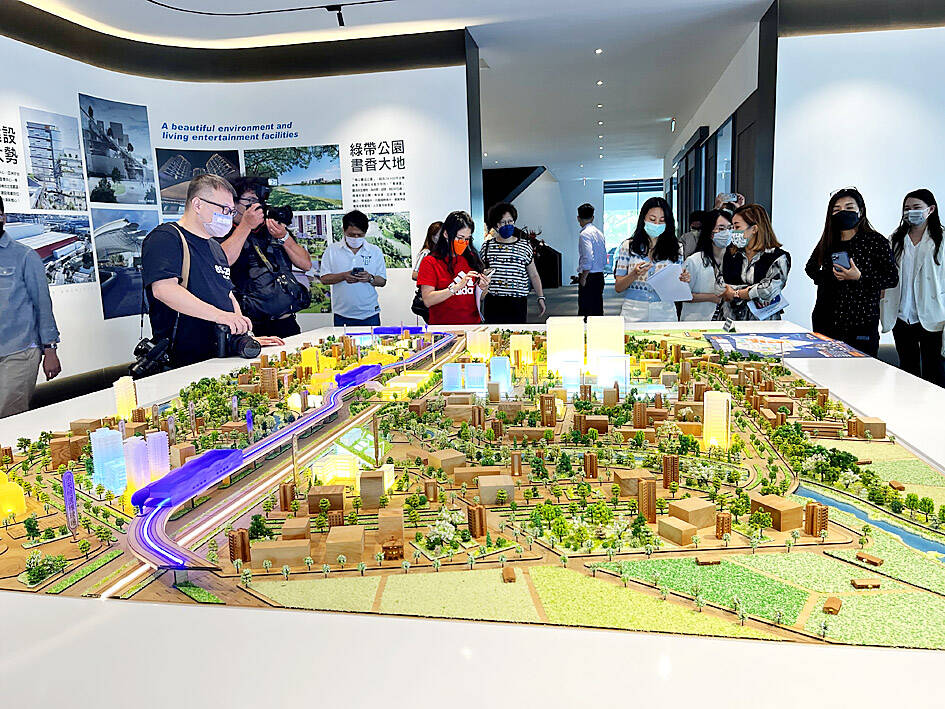 Prospective homebuyers visit a real-estate showroom in Taoyuan's Jhongli District on Thursday last week.
Photo: Hsu Yi-ping, Taipei Times
The ministry classifies mortgage burdens of more than 50 percent of income as "extremely high," between 40 and 50 percent as "high," and less than 30 percent as "reasonable."
The unaffordability reading was much sharper in Taipei, with housing prices equivalent to 16.17 times average household income and 66.12 percent of the money going to mortgage payments, the ministry said.
Housing prices amounted to 12.82 times household income in New Taipei City, with mortgage burdens taking up 52.41 percent, it said.
Mortgage burdens in Taichung climbed to 45.54 percent of household income, and constituted 38.26 percent and 38.17 percent of household income in Tainan and Kaohsiung respectively, the ministry said.
Taoyuan had a relatively reasonable mortgage burden of 32.01 percent — the lowest among the six special municipalities — as housing prices stood at 7.83 times household income, it said.
By absolute value, housing prices in Keelung, Chiayi, Yunlin and Pingtung met the reasonable test of less than 30 percent of household income, it said.
The ministry urged people to exercise caution, as long-term mortgages are vulnerable to interest rate adjustments.
Comments will be moderated. Keep comments relevant to the article. Remarks containing abusive and obscene language, personal attacks of any kind or promotion will be removed and the user banned. Final decision will be at the discretion of the Taipei Times.