Powerchip Semiconductor wary of 'US export curbs'
SUPPLY DISRUPTIONS: Taiwanese companies would need a year to seek alternative solutions should the US expand curbs on chip exports to China, Frank Huang said
As Taiwan plays a key role in global supply chains, local semiconductor companies should be cautious in responding to US plans to further curb exports of advanced chips to China, Powerchip Semiconductor Manufacturing Corp (力積電) chairman Frank Huang (黃崇仁) said yesterday.
Huang's comments came in the wake of media reports that US President Joe Biden's administration is considering broadening its ban on US exports of artificial intelligence chips and semiconductor equipment to China, aiming to obstruct Beijing's progress in enhancing its chip development and manufacturing capabilities.
"The whole world needs chip supply from Taiwan. The supply chain cannot be disrupted abruptly," Huang said. "Besides, Taiwan maintains a complementary relationship with China."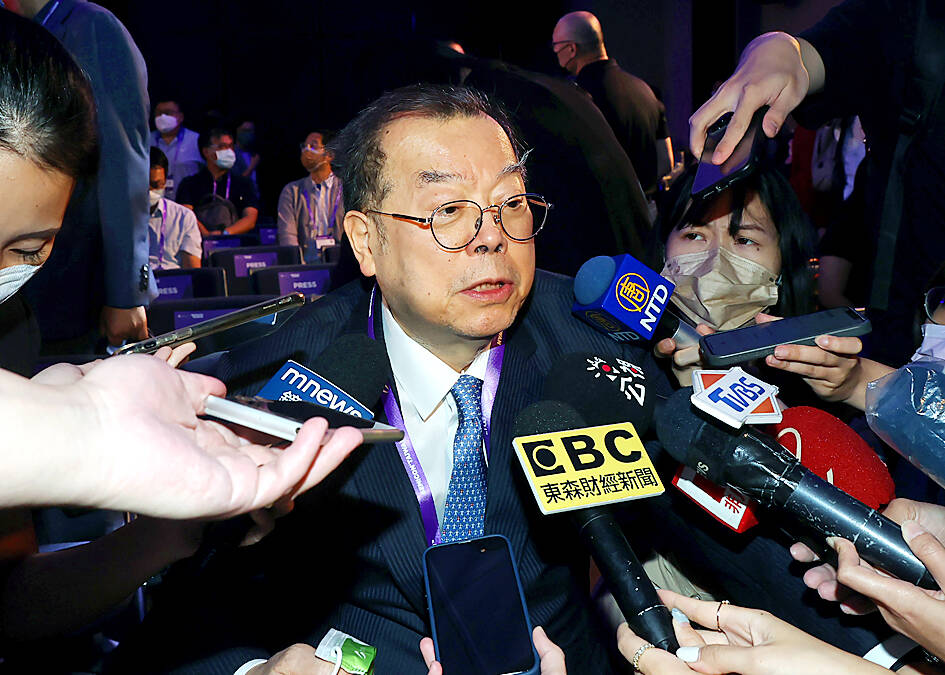 Powerchip Semiconductor Manufacturing Corp chairman Frank Huang speaks to reporters on the sidelines of Semicon Taiwan trade show in Taipei yesterday.
Photo: CNA
Taiwanese manufacturers such as Quanta Computer Inc (廣達電腦) and Wistron Corp (緯創) assemble computers in China, but the chips they use are from Taiwan, he said.
Likewise, Apple Inc purchases Taiwan-made chips to manufacture iPhones in China, he added.
The US restrictions would have a mixed impact on Taiwanese companies, Huang said.
Taiwanese firms would obey US rules and its curbs on shipping advanced chips and sensitive technologies to China, but they would need a grace period of a year to seek alternative solutions, he said.
Under such a complex geopolitical environment, Taiwanese companies should carefully evaluate the pros and cons before making a decision and find solutions to prevent supply chain disruptions, he said.
Commenting on the latest inventory-driven semiconductor slowdown, Huang said investors have "overly reacted" to the ups and downs of the industry.
Semiconductor demand has come down from a peak driven by strong demand for PCs to cope with new work and lifestyles due to the COVID-19 pandemic in the past two to three years, he said.
Powerchip shares have tumbled amid a spate of corporate warnings about slowing demand for chips. The stock yesterday ended down 1.25 percent at NT$31.60 in Taipei trading.
The company, which makes power management ICs, dismissed the rumors, saying that most customers were adjusting their inventories.
Powerchip's revenue surged about 40 percent to NT$55.71 billion (US$1.79 billion) in the first eight months of the year, compared with NT$39.82 billion in the same period last year.
The semiconductor industry would experience a mild recovery after supply chain inventory drops to a reasonable level through December and a brief dip caused by surging inflation, Huang said, adding that he was confident about the local semiconductor industry's long-term prospects.
The production value of the local semiconductor industry surpassed NT$4 trillion for the first time last year, rising 26.7 percent from a year earlier to NT$4.1 trillion, Vice Premier Shen Jong-chin (沈榮津) said yesterday at the opening ceremony of the Semicon Taiwan trade show at the Taipei Nangang Exhibition Center's Hall 1.
Taiwan has played a critical role in the global semiconductor industry on the back of a well-built industry cluster and its lead in advanced processes, Shen said.
Comments will be moderated. Keep comments relevant to the article. Remarks containing abusive and obscene language, personal attacks of any kind or promotion will be removed and the user banned. Final decision will be at the discretion of the Taipei Times.