Global finance leaders back stimulus
FRAGILE RECOVERY: Governments must stay focused on their healthcare responses to COVID-19 and must not withdraw stimulus prematurely, IMF's head said
Global finance leaders on Tuesday said the world economy had so far escaped a collapse triggered by the COVID-19 pandemic, but warned that failure to conquer the outbreak, maintain stimulus and tackle mounting debt among poor nations could crush a fragile recovery.
At the start of the annual meetings of the IMF and World Bank, the fund issued slightly improved growth forecasts spurred by unexpectedly stronger rebounds from COVID-19 lockdowns in the wealthiest countries and China.
The IMF now forecasts world GDP would shrink 4.4 percent this year, compared with the 5.2 percent drop seen in June, according to the World Economic Outlook released on Tuesday.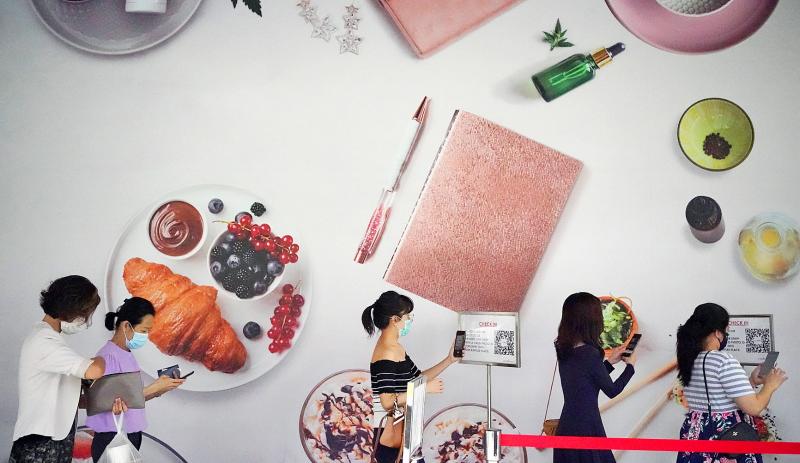 People line up to scan contact tracing QR codes to enter a building in the Central Business District of Singapore yesterday.
Photo: EPA-EFE
For next year, the IMF sees growth of 5.2 percent, down from 5.4 percent.
The report includes revisions to June's forecasts and other historical data to reflect updated country weightings.
"The story is less dire than we thought three months ago, but dire nonetheless," IMF managing director Kristalina Georgieva said during a panel discussion that was held virtually.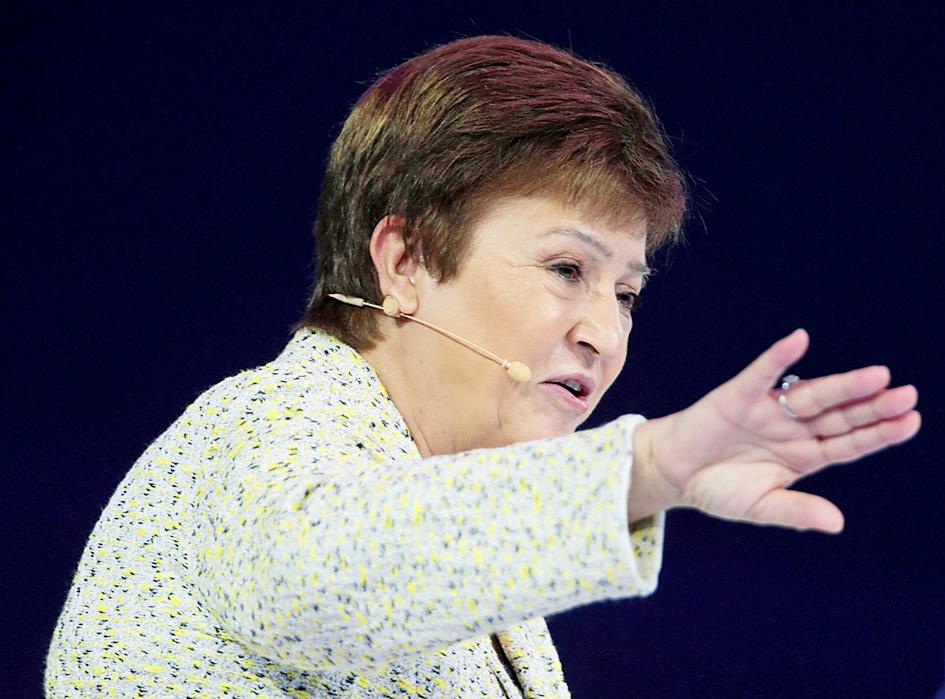 IMF managing director Kristalina Georgieva speaks at the Global Women's Forum in Dubai, United Arab Emirates, on Feb. 16.
Photo: Reuters
Georgieva said governments needed to stay focused on their healthcare responses to COVID-19 and must not withdraw stimulus prematurely.
"If we cut these lifelines that have been extended to families and businesses before we are out of the health crisis, this could be catastrophic in terms of bankruptcies, unemployment and undoing all that has been done so far," she said.
The upward revision in the IMF's growth forecast for this year reflects in particular better-than-projected second-quarter growth in the US and the eurozone, a stronger-than-expected return to growth in China and signs of a more rapid recovery in the third quarter.
The US economy is projected to contract 4.3 percent this year, compared with a previous 8 percent estimate, the most-improved forecast among major economies.
However, that does not factor in potential additional fiscal stimulus, as US President Donald Trump and Democrats continue to wrangle over measures.
Growth is pegged at 3.1 percent next year, down from a prior forecast of 4.5 percent.
The eurozone is estimated to shrink 8.3 percent this year, compared with the previous 10.2 percent projection, before expanding 5.2 percent next year, down from 6 percent.
Advanced economies overall are seen declining 5.8 percent this year, compared with 8.1 percent previously.
By contrast, the outlook for emerging markets, some with rising infections, has worsened slightly, with a 3.3 percent contraction anticipated for this year, compared with 3.1 percent previously.
China remains the lone major economy estimated to expand, by 1.9 percent this year and 8.2 percent next year.
India saw the steepest forecast reduction, with a 10.3 percent contraction seen for this year, compared with just 4.5 percent previously, after a larger-than-expected second-quarter contraction.
The G20 major economies, in a draft communique seen by Reuters, said the outlook was "less negative" due to the positive impacts from actions already taken, but the recovery would be "uneven, highly uncertain and subject to elevated downside risk."
"We will sustain and strengthen as necessary our policy response, considering the different stages of the crisis, to secure a stable and sustainable recovery," G20 finance ministers and central bank governors said in the draft ahead of a meeting yesterday.
The draft also said the G20 would agree to extend a freeze on the servicing of official bilateral debt for poor countries for another six months beyond the end of this year.
That is well short of the year-long extension sought by the IMF, the World Bank and many emerging market nations, but the G20 agreed to review the debt situation in April next year to determine whether another six-month extension would be warranted.
The freeze aims to free up billions of dollars that poor countries can divert to their pandemic health and economic responses.
Additional reporting by Bloomberg
Comments will be moderated. Keep comments relevant to the article. Remarks containing abusive and obscene language, personal attacks of any kind or promotion will be removed and the user banned. Final decision will be at the discretion of the Taipei Times.