Asus doubles down on 2-in-1 devices
GLOBAL INFLUENCE: TrendForce said Asus' notebook shipments accounted for 11 percent of the market last year, putting it in fourth place among global providers
Asustek Computer Inc (華碩) yesterday launched its new Transformer Book Chi series as part of an effort to double shipments of its two-in-one detachable devices to 6 million units this year, a company executive said yesterday.
"As of recently, our Transformer Book T100 launched in October 2013 has shipped more than 3 million units and we have confidence that the shipment of the new Transformer Book Chi series will outperform T100's record," Asustek chief executive officer Jerry Shen (沈振來) said at the product launch in Taipei.
Shen said the Transformer Book T100 served as a key growth driver for the company last year, adding that not only did the product make impressive sales, it also accounted for 20 percent of the firm's total revenue.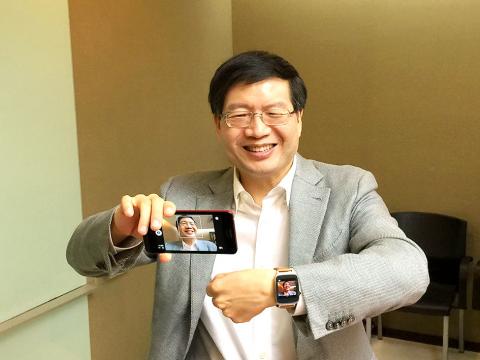 This is a file photo of Asustek chief executive officer Jerry Shen.
Photo: CNA
"We hope the revenue of tablet-notebook hybrid devices will increase by 20 percent to 30 percent this year, with the launch of the new Transformer Book Chi series product line," Shen said.
Asustek also launched two new ZenBook models — Asus ZenBook UX305 and ZenBook Pro UX501.
Shen said the functionality and efficiency of the two models are better than rival Apple Inc's MacBook Pro.
Shen said he nicknamed the 15.6-inch ZenBook Pro UX501 a "high-performance monster," as the product is 2.06cm thick, but has an ultra-high-resolution — or 4K — display with an Intel Core i7 processor and gaming-grade graphics.
Asustek is upbeat that its PC segment will put up a strong performance this year, driven by sales of the new two-in-one devices, the ZenBook series, its Chromebook and its low-cost EeeBook, Shen said.
The company is set to launch a new Chromebook in the next quarter, Shen added.
Asustek's goal is to achieve 15 percent growth in PC-related product shipments every year and to double PC-related product shipments within five years, Shen said.
According to market researcher TrendForce's latest report, Asustek's notebook shipments accounted for 11 percent of the market, or 19.3 million units, last year, ranking it fourth in terms of global notebook shipments, beating its rival Acer Inc (宏碁).
Separately, Shen said chipmaker Qualcomm being fined US$975 million by the Chinese government for violating antimonopoly laws is positive news for Asustek.
However, he declined to comment further on the news for the time being, saying that he would talk more about it at an investors' conference set for Friday.
Asustek's smartphone brand Pegasus, which launched a smartphone in China last month, uses Qualcomm's processor.
Comments will be moderated. Keep comments relevant to the article. Remarks containing abusive and obscene language, personal attacks of any kind or promotion will be removed and the user banned. Final decision will be at the discretion of the Taipei Times.