Asustek rebuts Intel forecast on low cost of Ultrabooks series
Asustek Computer Inc (華碩), the world's No. 5 PC brand, yesterday said its upcoming UX series Ultrabook platform would fail to carry price tags of less than US$1,000, as claimed by Intel Corp.
"Unless we use Intel Core i3 chips [the Ultrabooks will not be less than US$1,000]. The price tags will have to go beyond US$1,000 if [more advanced] i5 and i7 chips go into the notebooks," a person familiar with UX development said.
The UX series will mainly use i5 and i7 to boost performance, he said.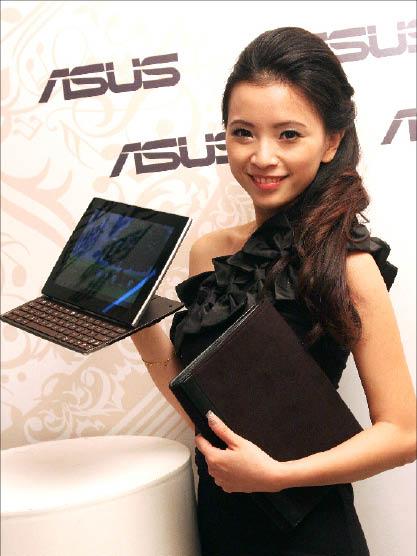 A model displays an ASUS Eee Pad Slider laptop computer in this undated photo provided by Asustek. The device will hit the market at the Taipei Computer Applications Show scheduled at Hall 1 of the Taipei World Trade Center from Thursday to next Monday.
Photo Courtsey of ASUS
The i5 and i7 chips, which are more expensive, plus the operating system and solid-state hard drives would account for about 50 percent of the cost of the ultraslim notebooks, thus driving up the price of the UX series to between US$1,000 and US$2,000, he said.
The UX series, showcased by Asustek at the Computex tech trade fair in late May, aims to rival MacBook Air from Apple Inc.
The UX series has two models — one is 11.6 inches and weighs 1.1kg, while the other is 13.3 inches and weighs 1.3kg.
Intel touted the Ultrabook platform at Computex, saying it would make notebooks thinner, lighter and more affordable, with price tags of less than US$1,000, while adding that battery life would last longer than 10 hours.
Asustek is likely to be the first vendor to debut Ultrabooks. The person said it was on track for a debut in Taiwan in late September.
Other companies, such as Acer Inc (宏碁) and Hewlett-Packard Co, reportedly plan to roll out Ultrabooks by the end of the year.
The person's comments echoed those of Asustek general sales manager Kevin Lin (林福能), who said earlier this month that the price tags for the UX series would go above US$1,000 based on various specs.
Daiwa Capital Market's analyst Calvin Huang (黃文堯) said on July 13 that Intel was merely cutting prices for its low-voltage processors to help thin and light notebooks make a comeback.
However, in Huang's view, Intel's help might not be enough because to make an Ultrabook, other more advanced and expensive components — such as ultrathin panels, solid-state hard drives, metal casings, high-density interconnect and polymer batteries — are required to make it comparable to the MacBook Air.
Separately, Fitch Ratings yesterday upgraded Asustek's long-term foreign currency issuer default rating to "BBB" from "BB+" and its national long-term rating to "A+(twn)" from "A-(twn)," with a stable outlook.
"The upgrade reflects Asustek's increase in market share and significant improvements to its -financial profile. The company's focus on quality and innovation is gradually translating into market share gains and growing customer loyalty," Fitch analyst Kevin Chang (張崇人) said in an e-mailed statement.
Asustek, which pioneered the mini-size notebook PC — also known as a netbook — market in 2009, is also the world's largest provider of PC motherboards and graphic cards.
Comments will be moderated. Keep comments relevant to the article. Remarks containing abusive and obscene language, personal attacks of any kind or promotion will be removed and the user banned. Final decision will be at the discretion of the Taipei Times.