Netbooks won't go the way of the dodo, Acer says
Despite a rising threat from tablet PCs, netbooks are here to stay, said Scott Lin (林顯郎), president of Acer Inc's (宏碁) Taiwan operations, yesterday.
"When netbooks were launched in 2007, I was asked the same question about whether they would replace traditional notebooks," Lin told reporters yesterday. "Notebooks still exist today."
He said "brand new star products" — such as the Eee PC introduced in 2007 by Asustek Computer Inc (華碩電腦) and the iPad from Apple Inc — would grab the public's attention who would develop a fondness for them.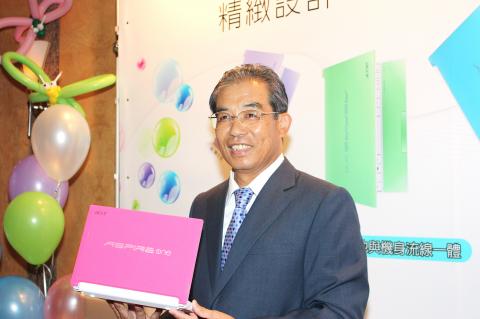 Acer Taiwan president Scott Lin displays his firm's new Aspire One dual-core netbook at a product launch in Taipei yesterday.
PHOTO: CHUO I-CHUN, TAIPEI TIMES
Competition will increase, but tablets won't be able to eat away at the whole netbook pie, he said.
Citing statistics from Gartner Inc, Lin said worldwide netbook shipments this year would post 9 percent growth from last year to 35.6 million units and that number will approach 50 million in 2014.
Acer, the world's second--largest PC brand, is the largest netbook brand and will ship about 10 million netbooks worldwide this year, he said.
However, Lin kept mum on the launch date for the company's -tablet PC, only saying the company would launch products that will "wow the market with a strong selling point."
Supply chain sources have said Acer is set to test the waters in Europe and the US by rolling out its first tablet model, which runs on a Windows operating system, this month.
The company yesterday -unveiled the industry's first slew of netbooks with dual-core processors. The new "Happy" Aspire One netbooks feature dual operating systems — Android and Windows 7 Starter — and have a built-in 250GB hard drive, a specification that exceeds the maximum 160GB offered by the earlier generation.
The price tag is NT$13,800 (US$431) and they will be available in Taiwan this month.
Comments will be moderated. Keep comments relevant to the article. Remarks containing abusive and obscene language, personal attacks of any kind or promotion will be removed and the user banned. Final decision will be at the discretion of the Taipei Times.