Co-founder of Yahoo returns to Taiwan
SEARCH-ENGINE GURU Jerry Yang, a native of Taiwan who helped to create the world's largest Internet portal in 1994, outlined his vision for the future of his company
Jerry Yang (楊致遠), a co-founder of Yahoo Inc in 1994, was born in Taiwan and raised in California. Talking to the local media while on a short visit to his hometown yesterday, he shared his plans for navigating the world's largest Internet portal through cyberspace.
Question: Can you talk about your competition with Google, which is now the world's most-used search engine?
Jerry Yang: I think so far, there is no search engine, regardless of it being Yahoo, Google, MSN or AOL, which is capable of providing a perfect search solution. Currently, 50 percent of search results fail to match the search parameters. Technology is the key to closing that gap. Thus, we have been constantly investing in and improving our search technology. The buy-out of Overture Services Inc last year is an example of our efforts, as it helped us to enhance search technology and expand the pay-for-performance search business. Besides, as Microsoft also uses our technology, it means that nearly 50 percent of all searches in the world use Yahoo technology. This coverage gives us the advantage of learning more about consumer behavior and what they want to find, which is a foundation for us to improve ourselves on.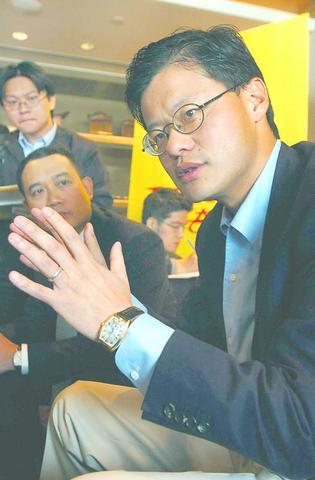 Jerry Yang, a co-founder and board member of Yahoo Inc, gestures during an interview in Taipei yesterday.
PHOTO: CHIANG YING-YING, TAIPEI TIMES
Q: What is the biggest challenge for Yahoo? What is the next step for Internet portal operators such as Yahoo?
Yang: As the rate of Internet use keeps growing, it is becoming a daily necessity for the younger generations, rather than something new as it is to people my age. This will entail a fundamental change of the Internet environment derived from higher expectations. Therefore, we need to come up with more products and services to meet users' needs. One of our plans, which is also a trend for the portal business, is personalization. By providing personalized service, we can integrate users' applications such as search, e-mail, online shopping and others, making it more users friendly.
Q: What did Yahoo and the Internet industry learn from the Internet bubble in 2000? Is there another bubble in the future that may pop?
Yang: One lesson we learned from the bubble is that we shouldn't try to do everything. Now we focus on e-commerce, search and content and try our best to enhance these three divisions to serve our users. We try not to hastily jump into a fad until we see a critical mass to support the business. I think as long as a market is rapidly growing, there will always be bubbles out there. To avoid another burst is to create a good business model, based on a long-term view and commitment to the industry, which is what I'm doing now.
Q: Yahoo performed well in Taiwan after merging with Kimo in 2001. However, you seem to be falling behind your competitors in China. What is the major reason for the setback?
Yang: Internet portal businesses in China didn't start to thrive until last year, when the wireless model (sending short messages from Internet portals) boosted up the sector. To catch up with other players, last year we acquired Beijing 3721 Technology Co (北京三七二一科技) -- a portal that 90 percent of Chinese Internet users access -- to increase our market presence, and forged an auction joint venture with sina.com (新浪).
I think China is a massive market that can accommodate more than one player. With our technology and partnership, I believe we'll be competitive in the market.
Q: Do you consider the gaming and short message service (SMS) sectors to be the stars of the industry?
Yang: Yahoo now acts as a distributor for online game developers, which enables our users to order gaming products and form social networks. As for the SMS sector, we have worked with local telecommunication carriers to provide the service, but Taiwan charges high rates for SMS, so I think we will work with telecom providers in other fields such as data transfer, auctions, e-mail and instant messaging, in the view that the wireless Global Packet Radio Services (GPRS) is likely to be widely adopted by local cellphone users soon.
Q: Are you satisfied with Yahoo's online advertising income since online ads are considered a powerful marketing tool?
Yang: I'm pleased with the cash brought in by online ads, but there is still huge room for growth. The coverage of the Internet is so high that consumers on average spend 20 percent to 30 percent of their time on the Web. However, advertisers outlay merely 2 percent to 3 percent of their advertising budgets on the Internet.
So we will keep boosting this sector. One achievement is bringing in more small and medium sized enterprises to use our Web-search advertising, which posts advertisers' Web sites alongside search results and charges by the number of hits they receive.
Q: Spam has become a major nuisance in cyberspace. How do you perceive this problem?
Yang: I think the issue needs to be sorted out by technology. Several companies have invested in developing anti-spam software. Second, the industry needs to seek help from law enforcement, from both local governments and national governments, since it is an international issue. Yahoo and major Internet companies including Microsoft Corp, Time Warner Inc and America Online on Wednesday filed lawsuits against hundreds of spammers in the US under a new law. I hope the pattern will soon be adopted in other regions.
Q: What do you plan to do after you retire from Yahoo?
Yang: I think I will be a Yahoo lifer, since I still have a lot of passion for it. The Internet is becoming the most important medium, because it is unrestricted from time and space. The Internet revolution has, and will continue, to bring profound influence on people's life and culture, making it more potential than the time I established Yahoo. Therefore, I will keep contributing to this field to explore the potential of this technology, as well as my own brainchild, until I'm too old to move.
Comments will be moderated. Keep comments relevant to the article. Remarks containing abusive and obscene language, personal attacks of any kind or promotion will be removed and the user banned. Final decision will be at the discretion of the Taipei Times.