US Treasury to cut price tag for bailout program
CHEAPER TARP The administration estimates that the Troubled Asset Relief Program will cost US$141 billion rather than US$341 prediction made four months ago
The Obama administration plans to cut its estimate of the projected costs of the government bailout program by more than US$200 billion, a US Treasury official said on Sunday.
The official said the administration now believes the cost of the program would be at least US$200 billion below the US$341 billion estimate it made in August.
The official, who spoke on condition of anonymity because the new projection has not been presented to Congress, said the reduced cost estimate reflected faster repayments by big banks and less spending on some of the programs.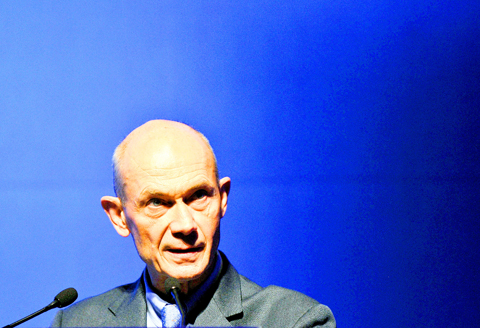 WTO Director General Pascal Lamy addresses an economic forum in Seoul, South Korea, yesterday.
PHOTO: AFP
The administration's estimate that the US$700 billion financial rescue program will cost at most US$141 billion is down sharply from the estimate of US$341 billion made in the administration's mid-session budget review in August.
The official said the new estimate will become part of the administration's new budget, which US President Barack Obama will present to Congress in February.
The US$700 billion financial rescue program, known as the Troubled Asset Relief Program (TARP), was passed by Congress in October last year at the height of the worst financial crisis to hit the country since the 1930s.
Obama is scheduled to give a speech on the economy today and it is possible that he will raise the idea of using repaid TARP funds for increased efforts to help the unemployed.
Republicans have voiced opposition to this approach, arguing that the money should be used to lower the government's ballooning deficits.
US Treasury Secretary Timothy Geithner has told Congress he hopes to end the bailout program as soon as possible.
He has indicated a preference for using a portion of the TARP resources to pay down the national debt, which is being pushed higher by record deficits.
Lowering the estimated cost of TARP will also lower the administration's projections for budget deficits. The deficit for the 2009 budget year, which ended in September, hit a record US$1.42 trillion and the administration in August projected a slightly higher deficit for the current year.
Banks have already repaid about US$70 billion in support they have received from the bailout fund, and Bank of America recently announced it was returning the US$45 billion in government support it had received.
Comments will be moderated. Keep comments relevant to the article. Remarks containing abusive and obscene language, personal attacks of any kind or promotion will be removed and the user banned. Final decision will be at the discretion of the Taipei Times.