Nobel laureates meet in Hiroshima
PEACE LEADERS: The mayor of Hiroshima called for strong demand for a world without nuclear weapons so that leaders would find the will to eliminate them
The Dalai Lama and other Nobel Peace laureates met yesterday for a summit on nuclear disarmament in Hiroshima, the first Japanese city destroyed by a US atomic bomb.
The gathering was also expected to draw attention to those unable to attend the annual World Summit of Nobel Peace Laureates, including this year's jailed Peace Prize winner, Liu Xiaobo (劉曉波).
Former Chinese student leader Wuer Kaixi (吾爾開希), who was involved in the 1989 Tiananmen Square protests, was expected to join the summit on behalf of Liu, according to organizers.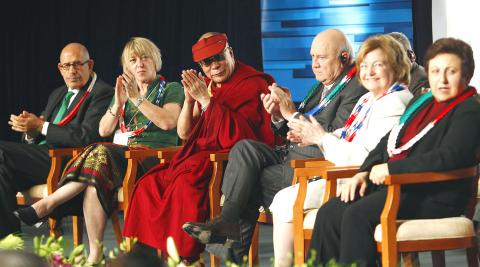 From left to right, Nobel Peace laureates Mohamed ElBaradei, Jody Williams, Tibetan spiritual leader the Dalai Lama, F.W. de Klerk, Mairead Corrigan and Shirin Ebadi attend the opening ceremony of the 11th World Summit of Nobel Peace Laureates yesterday in Hiroshima, Japan.
Photo: REUTERS
Liu, who was sentenced to 11 years in prison last December on subversion charges after co--authoring a manifesto calling for political reform in China, was announced as winner of the Nobel Peace Prize last month, enraging Beijing.
US President Barack Obama, who was awarded last year's Nobel Peace Prize partly for his commitment to nuclear disarmament, missed the meeting because of a scheduling conflict with the G20 meeting in Seoul and an APEC gathering in Japan.
Former Soviet president Mikhail Gorbachev also canceled his visit for health reasons.
"This World Summit of Nobel Peace Laureates in Hiroshima carries enormous significance. You are the peace leaders who can create the global awareness we need," Hiroshima mayor Tadatoshi Akiba said in his opening speech.
On Aug. 6, 1945, the US B-29 bomber Enola Gay dropped an atomic bomb that instantly killed tens of thousands in Hiroshima.
"Little Boy," the name of the 4 tonne -uranium bomb detonated over the city, caused a blinding flash and a fireball hot enough to melt sand into glass and vaporize every human within a radius of 1,500m.
The demand for a world without nuclear arms "must be so strong that world leaders, including those in the nuclear weapon states, will finally find the political will to find ... a way to rid the world of this plague," Akiba said.
The presence of the Tibetan spiritual leader and a China democracy activist in Japan this weekend will coincide with Chinese President Hu Jintao's (胡錦濤) trip to the APEC forum in Yokohama, just south of Tokyo.
Their visits risk stoking a diplomatic row between Tokyo and Beijing stemming from the arrest of a Chinese trawler captain, whose boat collided with Japanese patrol ships near disputed islands in the East China Sea in September.
The captain's arrest, near the uninhabited islands known as the Diaoyutais (釣魚台) in Taiwan, the Senkaku in Japan and the Diaoyu Islands in China, sparked a barrage of protests from Beijing that -continued after Japan released him, sending relations to their lowest point in years.
Asia's top two economies are looking to mend ties after their prime ministers, Naoto Kan and Wen Jiabao (溫家寶), failed at recent summits in Brussels and Hanoi to hold formal talks.
In addition to the Dalai Lama, five other Nobel Peace laureates are taking part in the three-day Hiroshima meeting.
Former chief of the UN atomic energy body Mohamed ElBaradei will be joined by the founding coordinator of an anti-landmine NGO, Jody Williams.
Former South African president F.W. de Klerk, credited with ending apartheid in the nation and Mairead Corrigan, who led a campaign against violence in Northern Ireland, will also attend. They will be joined by Shirin Ebadi, a lawyer promoting human rights in Iran.
Comments will be moderated. Keep comments relevant to the article. Remarks containing abusive and obscene language, personal attacks of any kind or promotion will be removed and the user banned. Final decision will be at the discretion of the Taipei Times.