FEATURE : Russian brain freezer seeks eternal life
"I don't ever want to die ... It wouldn't suit me," Innokenty Osadchy said.
Fortunately, the 35-year-old investment banker is certain he has found a loophole out of death.
Osadchy is ready to pay a small fortune to freeze his brain until future technology allows him to continue his life — after being transplanted into a new body and resuscitated.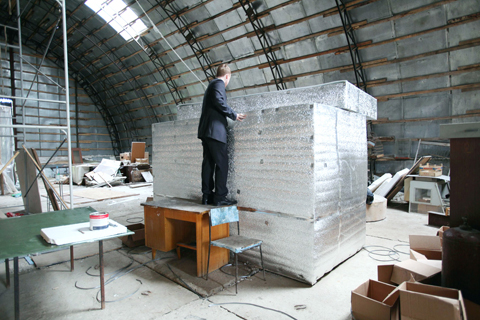 Head of Russian cryonics firm KrioRus Danila Medvedev looks inside a liquid nitrogen-filled human storage unit on June 17 outside Moscow.
PHOTO: AFP
"Why do I have to die in a couple decades? I don't see any logic in this," Osadchy said. "It won't be another life, it'll be the continuation of my life. I don't ever want to die, ever. Not in a year, not in a million years."
Osadchy and other clients of Russian cryonics company ­KrioRus believe the brain operates like a computer hard-drive and its contents can be frozen and stored for the future.
"We know that the personality is stored in the brain. So when a person's body is old, there's no reason to keep it," said Danila Medvedev, who runs KrioRus, the first cryonics outfit outside the US.
"We tell our clients it's cheaper, safer and probably better preservation just to freeze the brain," said Medvedev, a smart executive sporting a suit and an iPad.
Cryonics — or the freezing of humans in the hope of future ­resuscitation — is illegal in France and much of the world, but ­KrioRus has stored four full bodies and eight people's heads in liquid nitrogen-filled metal vats.
While a few are kept at home by their client's relatives, most are lumped together in containers at the firm's rusting warehouse, where an old desk now serves as a step to allow visitors to peer into the icy mist where the bodies are stored.
"You would just need to launch their hearts ... then you have a person who is living again," Medvedev said, counting on the swift progress of nanotechnology and medicine to help reverse the initial cause of death. "Once you can do that kind of nano-surgery at the cellular level ... you can take a person from cryo-stasis; warm him up gradually and then he will be alive."
Since its 2005 launch, KrioRus has been building new vats, in anticipation of the 30 clients, like Osadchy, with whom it already has contracts.
The fee is US$10,000 for a brain freeze and US$30,000 for the full body — all upfront — because, "when you have a person who is dead as your client, you set up to allow people to pre-pay," Medvedev said.
"In the case of death, the only chance now is cryo-storage," Osadchy said.
"It was always clear to me that vampires, heaven and hell, and everything godly and supernatural, wasn't real," he said.
Comments will be moderated. Keep comments relevant to the article. Remarks containing abusive and obscene language, personal attacks of any kind or promotion will be removed and the user banned. Final decision will be at the discretion of the Taipei Times.