Tehran describes nuclear program as 'irreversible'
'NEFARIOUS INTENTIONS' The US hopes Iran's 'third generation' centrifuge for enriching uranium will add impetus to its push for further internationlal sanctions
Iranian President Mahmoud Ahmadinejad, taunting the US for trying to halt Iran's nuclear program, showcased an improved centrifuge on Friday that officials said would enrich uranium faster than existing models.
US President Barack Obama, who is seeking tougher UN sanctions against Tehran, acknowledged that such measures would not necessarily work, but said sustained world pressure could prompt Iran to revise its nuclear calculations over time.
Ahmadinejad, in a speech to mark Iran's annual nuclear day, called the nuclear arms reduction treaty that Obama signed with Russia this week "a masquerade" which hid his true intentions.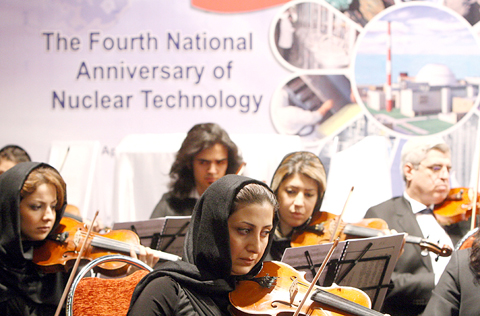 Musicians perform during a special ceremony marking the annual national Nuclear Day in Tehran, Iran, on Friday.
PHOTO: EPA
"We consider nuclear weapons to be against humanity," he said.
"Iran's nuclear path is irreversible. The Iranian nation has reached a new point where no power can deter it from moving full speed ahead to reach peaceful nuclear energy," he said at a ceremony where he unveiled the centrifuge model from behind a white curtain.
Western nations fear Iran is trying to develop nuclear weapons but Tehran says its program is entirely peaceful.
In Washington, US State Department spokesman Philip Crowley said Iran's latest "chest thumping" about its nuclear capabilities could strengthen the push for UN sanctions. He said a peaceful nuclear program would have no need for faster centrifuges.
"We have to conclude that Iran has nefarious intentions with its nuclear program and that's expressly why we continue to work with the international community on additional measures, sanctions, to show Iran that there is a consequence for its failure to meet its obligations," he said.
The head of Iran's Atomic Energy Organization, Ali Akbar Salehi, said the latest "third generation" centrifuges had a separation power of 10, six times that of the first generation.
But it was not clear when the new machines would be introduced into full-scale enrichment.
"In the near future we will be ready to inject gas into this [third generation] centrifuge," Salehi told Iranian state TV.
The centrifuges Iran uses now are adapted from a 1970s design and have been prone to breakdowns. Tehran has been testing new models for several years at a site which is under the watch of the International Atomic Energy Agency (IAEA).
"This is not unexpected and given what Obama is doing, I think they are really trying to show that they are getting past the sanctions," said David Albright, director of the Institute for Science and International Security in Washington.
"The real issue is, are they able to build these in the thousands or ... in the tens, and when are they going to be installed?" he said. "The other question is, do they work well?"
Western analysts say Iran has exaggerated progress in the past to bolster domestic pride about its nuclear program and to improve its bargaining position with major powers.
Diplomats close to the IAEA said it was unclear why Iran had not chosen to reveal a more significant advance, and questioned whether it was having technical problems or being cautious due to the current spotlight on the nuclear program.
Western countries are seeking the support of Russia and China for a fourth round of UN sanctions against Tehran.
Obama, who hosts a nuclear security summit next week, wants them to back further measures to deter Iran from pursuing what the West believes is a covert drive to develop nuclear weapons.
Obama said there was no guarantee the sanctions that could be instituted now would alter Iranian behavior.
He hailed what he called an "enormous shift" by Russia in efforts to get all countries, notably Iran and North Korea, to "start abiding by certain rules of the road."
Russia, along with China, has long resisted calls for tougher sanctions on Iran but now chides Tehran for ignoring offers made by world powers aimed at defusing the nuclear issue.
Comments will be moderated. Keep comments relevant to the article. Remarks containing abusive and obscene language, personal attacks of any kind or promotion will be removed and the user banned. Final decision will be at the discretion of the Taipei Times.