Hazardous sandstorms blanket China
HEALTH RISK In the latest sign of the effects of desertification, sandstorms blew across large swathes of China and contributed to record levels of air pollution in Hong Kong
Sandstorms whipped across a wide swath of China yesterday, forcing residents to don masks and scarves to protect themselves from the unhealthy grit.
It was the latest sign of the effects of desertification — overgrazing, deforestation, urban sprawl and drought have expanded deserts in the country's north and west. The shifting sands have gradually encroached onto populated areas and worsened the sand storms that strike cities, particularly in the spring.
Winds blowing from the northwest were sweeping sand from the Xinjiang and Ningxia regions, as well as Gansu and Inner Mongolia provinces across China's arid north. The sand and dust were even carried to parts of southern China.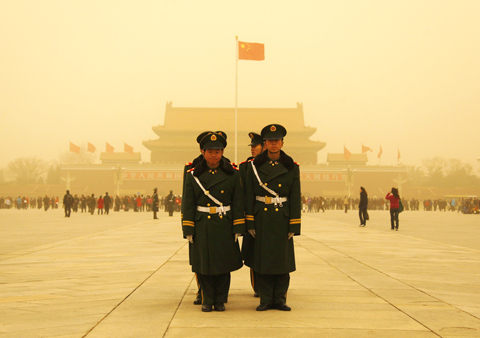 Paramilitary policemen stand in formation in Tiananmen Square during a large dust storm in Beijing yesterday.
PHOTO: REUTERS
The noon newscast on state television showed Hangzhou on the eastern coast, where graceful bridges and waterside pagodas were hidden in a mix of sand and other pollution.
The Central Meteorological Station urged people to close doors and windows, and cover their faces with masks or scarves when going outside. Sensitive electronic and mechanical equipment should be sealed off, the station said in a warning posted yesterday on its Web site.
China Central Television told viewers to clean out their noses with salt water and remove grit from their ears with cotton swabs dipped in alcohol.
It was the second sandstorm to hit Beijing in three days and skyscrapers in the capital were shrouded in a grayish mix of sand, dust and pollution. Residents scurried along sidewalks trying to avoid breathing in the fine particles that can cause chest discomfort and respiratory problems even in healthy people.
The US embassy in Beijing warned that particulate matter in the air made conditions "hazardous," though high winds dispersed some of the pollution and the air quality was later upgraded to "very unhealthy."
Duan Li (段麗), a spokeswoman for the Beijing Meteorological Station, said conditions in the city seemed more severe because a sandstorm on Saturday deposited grit on rooftops, sidewalks and trees. The winds yesterday carried in even more sand and stirred up what was already there.
Conditions were expected to improve by last night, with winds blowing the sand toward the southeast.
The worst recent sandstorm to hit Beijing was in 2006, when about 300,000 tonnes of sand was dumped on the capital.
Hong Kong's air pollution also soared to record levels yesterday, the territory's Environmental Protection Department said, warning that a toxic stew enveloping the region was a danger to the public.
The government agency said it found Air Pollution Index (API) readings in several cases were more than double the level at which it advises the general public to stay indoors.
"Today's API is at record high levels," an agency spokeswoman said in an e-mail to reporters.
Hong Kong's famed skyline and harbor are often shrouded in a blanket of haze, which has been criticized as a public health disaster and blamed for driving some expatriates away from the international financial hub.
The API is a ratio based on the concentration of pollutants in the air, including sulfur dioxide and lead, with a higher reading indicating an increased danger to the public.
In July 2008, the territory's environmental agency recorded air pollution levels as high as 202, well below yesterday's record numbers which at midday ranged from a low of 192 to a record 453 reading at one roadside station.
Five other stations had readings above 400 at midday, the agency said.
"As the sandstorm from northern China is moving southward with the northeast monsoon and is now affecting Hong Kong, the API is expected to reach the 'very high' or 'severe' level," it said in a statement.
People with heart or respiratory problems are advised to stay indoors at an API reading of more than 100. The public is advised to stay indoors or avoid prolonged exposure to heavy traffic areas when the reading is more than 200.
"This is very scary, over 300 is very scary, very polluted," Edwin Lau (劉祉鋒), director of Friends of the Earth Hong Kong, told reporters.
Lau said the territory's pollution problem yesterday was exacerbated by an unusual combination of the sandstorms in China and strong southerly winds, which are blowing particulates into Hong Kong.
"Hong Kong's air pollution is bad already, but this shows we're not dealing very well with the most severe weather situations. It is a very big alarm," he said.
Students at Hong Kong's Bradbury School were kept indoors yesterday.
"We have stopped any outdoor physical activity or playing to safeguard the children," John Ainsworth, a vice principal at the school, told reporters.
Comments will be moderated. Keep comments relevant to the article. Remarks containing abusive and obscene language, personal attacks of any kind or promotion will be removed and the user banned. Final decision will be at the discretion of the Taipei Times.