Sri Lanka orders tighter security after shootings
Sri Lankan President Mahinda Rajapakse ordered police to step up security ahead of presidential elections after a second political activist was shot dead this month, an official said yesterday.
The ruling party supporter was killed on Saturday in the northwestern Puttalam district where several others were injured when they clashed with opposition activists, police said.
Rajapakse expressed his sadness over the second campaign-related death and urged police to ensure a peaceful run-up to the Jan. 26 vote, his spokesman Chandrapala Liyanage said.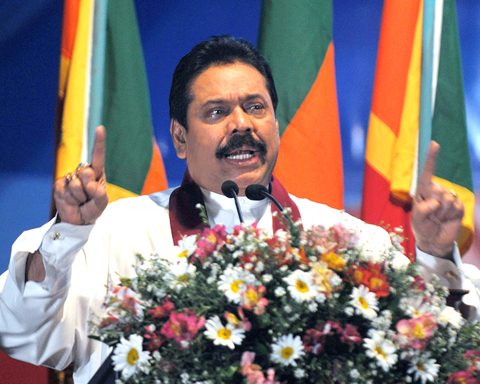 Sri Lankan President Mahinda Rajapaksa addresses a rally in Kurunegala on Saturday as he drums up support for the Jan. 26 elections.
PHOTO: EPA
"The president is deeply concerned about the violence and has already ordered police to make sure that there is tighter security," Liyanage said. "He is also appealing to all parties to ensure there is no violence."
Opposition activist Kusuma Kuruppuarachchi, 60, was the first to be killed in the poll campaign when he was shot in the southern town of Hungama last week.
Police also fired tear gas to disperse thousands of party workers in the eastern town of Polonnaruwa after mobs destroyed vehicles and buildings.
Opposition leader Ranil Wickremesinghe has accused Rajapakse's People's Alliance of inciting violence and using intimidation to swing voters.
The US embassy in Colombo has said it was "deeply concerned" over the unrest.
Rajapakse is facing a tough challenge from his former army chief Sarath Fonseka, who quit the army and entered politics in November.
Fonseka has said that ­Rajapakse accused him of trying to seize power after crushing the separatist Tamil Tiger rebels last year and ending decades of ethnic war on the island.
In previous election campaigns, the Tigers often used violence to stop voting and also carried out suicide bomb attacks and assassinations.
Comments will be moderated. Keep comments relevant to the article. Remarks containing abusive and obscene language, personal attacks of any kind or promotion will be removed and the user banned. Final decision will be at the discretion of the Taipei Times.