French union mulls end to transport strike
French commuters struggled to work for a second day yesterday as rail unions extended a nationwide transport strike aimed at forcing President Nicolas Sarkozy to back down over pension reforms.
Even as Sarkozy appealed for an end to the stoppage, unions again shut down most of the nation's rail network, as well as the Paris metro, forcing commuters in the capital to drive, cycle, walk or even rollerblade to the office.
National rail operator SNCF said it expected only 150 of the usual 700 TGV fast trains that link France's major cities to operate yesterday.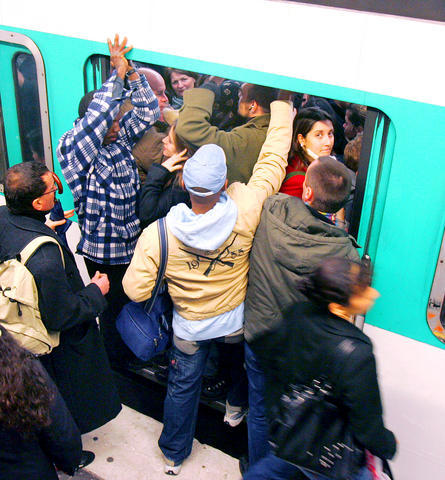 Commuters try to board a crowded metro coach at the Gare de l'Est station in Paris as France entered its second day of strike yesterday.
PHOTO: AP
The six rail and four metro unions announced late on Wednesday that the action, which began on Tuesday evening, would continue at least another 24 hours.
"So long as there are no new elements, we are for continuing the dispute," said Bernard Thibault, leader of the CGT union.
But the leader of the CFDT union, Francois Cherequem, said guarantees offered by French Labor Minister Francois Bertrand meant it might be possible to suspend the strike. His union was one of those that voted to continue the stoppage into yesterday.
Bertrand appeared to take a step toward the unions late on Wednesday in a letter proposing another month of talks with rail management, but with government representatives involved as requested by the CGT.
Sarkozy had asked Bertrand to send out the letter after his minister held a series of talks on Tuesday and Wednesday to try to end the dispute.
"The president has always considered that there was more to gain for all parties in negotiation than in conflict," said David Martinon, Sarkozy's spokesman.
The strike should stop "as soon as possible for the sake of the passengers," he said.
In Paris, several lines of the metro system were at a standstill while others were running at about 25 percent capacity, and rail links to Paris' airports were practically non-existent.
The government has said it will not budge from plans to overhaul the so-called "special" pension system enjoyed by 1.6 million rail, energy and other workers.
Invoking social equity, Sarkozy has begun moves to lengthen contribution periods for these workers from 37.5 years to 40, closer to other public and private sector employees. Currently some railway staff can retire on a full pension at 50.
Singers at the Paris opera and actors at the Comedie Francaise, who also enjoy "special" pensions, forced the cancelation of performances on Wednesday.
The strike came against a background of heightened social tension in the country, with students protesting against a university reform law and magistrates up in arms against plans to reorganize the court system.
Meanwhile, Sarkozy's close ally Prime Minister Francois Fillon called on unions to "call off a strike which serves no purpose, which will never achieve anything for anyone and which is inconveniencing thousands of French people."
Several newspapers, including the left-wing daily Liberation, have predicted that the strike could end quicker than expected, arguing that it was not in the unions' interests to push too hard.
While the government has said it will stand firm on the principle of lengthening contribution periods, it could help the SNCF and other employers provide salary incentives to affected workers.
Comments will be moderated. Keep comments relevant to the article. Remarks containing abusive and obscene language, personal attacks of any kind or promotion will be removed and the user banned. Final decision will be at the discretion of the Taipei Times.