Bush meets Aussie opposition leader
NO CHANGE Labor Party leader Kevin Rudd said after the closed-door talks that he would stick to his proposal on a staged withdrawal of Australian troops from Iraq
US President George W. Bush met yesterday with the man tipped to be Australia's next prime minister, Kevin Rudd, who has pledged to pull the nation's troops out of Iraq.
Rudd, leader of the center-left Labor Party, indicated that Bush had been unable to persuade him to change his mind about Iraq, saying he had stuck to his well-known position on a staged withdrawal.
Bush did not respond to reporters' questions about the talks, but White House national security spokesman Gordon Johndroe said the US leader "had a good session" with Rudd.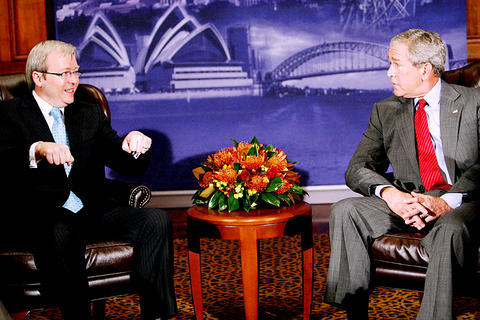 US President George W. Bush meets with Australian Labor Party leader Kevin Rudd in Sydney yesterday.
PHOTO: AP
"They exchanged views on issues in Asia, the upcoming APEC meeting and the war on terror, including Iraq," Johndroe said.
Rudd and his party have a commanding lead over Australian Prime Minister John Howard and the conservative government in opinion polls ahead of an election due by the end of the year.
Howard is Bush's staunchest remaining war ally, and the US leader made a point of expressing his friendship and high regard for the prime minister after they met on Wednesday.
"My own judgment is I wouldn't count the man out," he told a joint news conference. "As I recall, he's kind of like me: We both have run from behind and won."
Bush had said ahead of his trip to Australia for the weekend APEC summit that he would try to convince Rudd it was important for coalition forces to remain in Iraq.
"He doesn't know me and I don't know him, so I look forward to sharing my views and would ask, if he were to win, that he would consider conditions on the ground before making any decisions," Bush said.
Rudd said late on Wednesday, however, that he would not change his position and would implement a staged withdrawal from Iraq if he won the elections.
"That view is that we need to have a staged, negotiated withdrawal of our troops from Iraq, and I have no intention of changing that position," he said.
Howard, in contrast, pledged at Wednesday's joint news conference with Bush that Australia's 1,500 troops involved in Iraqi operations would not be cut or withdrawn.
That won him a firm endorsement from the US leader.
"I admire your vision, I admire your courage," he said.
Howard is one of Bush's last major allies in Iraq in a coalition that has previously included former prime ministers Tony Blair of Britain, Spain's Jose Maria Aznar, Italy's Silvio Berlusconi and Poland's former president Aleksander Kwasniewski.
Rudd told reporters after his own meeting yesterday with Bush that they had agreed to keep the content of the talks off the record.
"The talks lasted for 45 minutes in Mr Bush's Sydney hotel today," he said. "We had a wide-ranging, good-natured, very open discussion."
Rudd, a former diplomat who served in Beijing and speaks Mandarin, said they talked about the rise of China and developments on the Korean Peninsula and Taiwan.
"We talked at length about the history of the alliance between Australia and the United States and about Iraq, Afghanistan and climate change," Rudd said.
Bush has previously made it clear that despite his friendship with Howard, the US-Australia relationship is "bigger than any individual in office."
In turn, Rudd has stressed that he values Australia's close ties with the US and that despite disagreements over Iraq, he is ready to work with Bush.
Asked if he thought he could develop a friendship with Bush similar to that enjoyed by Howard, Rudd replied: "I'm a friendly sort of guy."
Comments will be moderated. Keep comments relevant to the article. Remarks containing abusive and obscene language, personal attacks of any kind or promotion will be removed and the user banned. Final decision will be at the discretion of the Taipei Times.