Chinese-made toys recalled over paint
TOXIC Mattel is asking US consumers and sellers to return 967,000 plastic toys and is recalling another 533,000 from other countries. Beijing is demanding objectivity
More than 99 percent of China's exports are safe, the Chinese government insisted yesterday, amid a US recall of nearly 1 million Chinese-made toys over fears they contained toxic lead paint.
Mattel Inc is recalling 1.5 million Chinese-made toys worldwide because their paint may contain too much lead -- the latest in a deluge of product safety scares that have tainted the "made in China" brand.
The recalled toys made for Mattel's Fisher-Price unit include popular preschool characters like Elmo and Big Bird along with dozens of other items.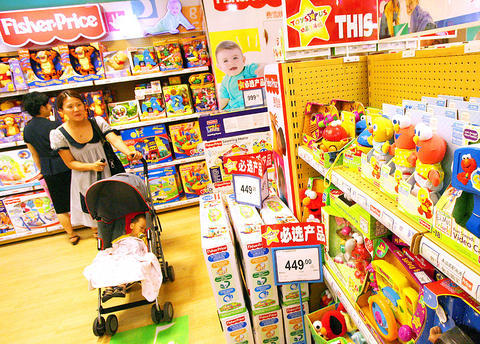 A Chinese woman looks at Sesame Street toys made by Fisher-Price at a toy store in Shanghai yesterday.
PHOTO: AFP
They were made by a contract manufacturer in China using a non-approved paint pigment containing lead, Mattel said on Wednesday.
Lead paint has been linked to health problems in children, including brain damage.
Mattel is asking US consumers and sellers to return 967,000 plastic toys and is recalling another 533,000 from other countries, including Britain, Canada and Mexico.
Mattel's senior vice president of worldwide quality assurance, Jim Walter, said the recall could hit all its markets and traced the problem to a single manufacturer.
"The disappointment here was we had a single contract manufacturer that we had a long-standing relationship with, who did not do what is required by Mattel," Walter said.
The recall comes amid heightened concern worldwide about the safety of China's exports. Many of the previous problem products have involved smaller manufacturers, but now a major company in a sensitive sector has been hit.
"Nobody wants to face that PR nightmare," said Kent Kedl, the Shanghai head of Technomic Asia, which advises companies sourcing out of China. "But the reality is that things slip through the cracks. And the cracks are a little bit bigger here in China."
Walter said the toy maker had launched an investigation. Mattel had stopped producing and shipping toys from that manufacturer, but said it would wait for the findings of the investigation to decide whether to keep doing business with it.
China has fought back against consumer concern by promising tough quality controls but also accusing foreign media of "alarmist" reporting that could stoke a protectionist backlash.
"Over 99 percent of China's export products are good and safe," Commerce Minister Bo Xilai (薄熙來) said in Beijing on Wednesday, according to the ministry Web site.
Bo made the remark on Wednesday while meeting in Beijing with Mexican Economy Minister Eduardo Sojo, the statement said.
"We hope that concerned parties can treat Chinese products objectively, fairly and rationally. Don't let this damage the normal development of trade."
In the US, the Fisher-Price toys were sold nationwide at retail stores between May and August, the US Consumer Product Safety Commission said.
Mattel said US consumers should contact Fisher-Price to arrange a product return.
Mattel said it became aware of the problem in early July and was working with retailers to remove the toys from shelves. It also said it was intercepting shipments to avert further sales.
Of the nearly 1 million products recalled from the US market, Mattel said about 30 percent had reached store shelves.
It declined to identify the manufacturer. In China, offices of Mattel's suppliers referred inquiries back to its head office.
US President George W. Bush has ordered a review of US rules intended to keep out harmful imports following a series of scares involving Chinese goods this year.
The US has stepped up inspections of goods from China after a chemical additive in pet food caused the death of some pets. Toxic ingredients that were also found in Chinese fish and toothpaste exports, while the deaths of patients in Panama were blamed on improperly labeled Chinese chemicals mixed into cough syrup.
Chinese-made toy trains were recalled in the US in June because some may have contained lead paint.
Kedl, the consultant, said China was too important as a manufacturing base for foreign companies to abandon, but they were likely to tread more carefully.
Comments will be moderated. Keep comments relevant to the article. Remarks containing abusive and obscene language, personal attacks of any kind or promotion will be removed and the user banned. Final decision will be at the discretion of the Taipei Times.