France, Libya close nuclear reactor deal
NEW FRIEND A day after Tripoli released six foreign medics, accords were signed for military-industrial cooperation, technical assistance and research cooperation
France and Libya on Wednesday inked a deal on the building of a nuclear reactor for water desalination during talks between Libyan leader Muammer Qaddafi and French President Nicolas Sarkozy, a day after the release of six foreign medics.
Sarkozy had touted his visit of less than 24 hours as a "political trip" to help Libya's reintegration into the international community after decades of sanctions and isolation.
Soon after his late afternoon arrival in Tripoli, Sarkozy and his delegation including French Foreign Minister Bernard Kouchner were accorded an official welcome at Qaddafi's Bab Azizia palace.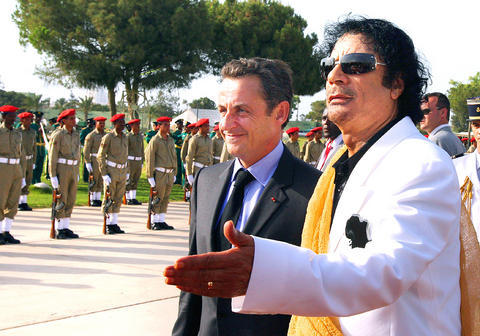 French President Nicolas Sarkozy, left, is welcomed by Libyan leader Moamer Kadhafi upon his arrival in Tripoli on Wednesday.
PHOTO: AFP
Qaddafi and Sarkozy then went into talks while Kouchner and his Libyan counterpart, Abdel Rahman Shalgham, signed a raft of agreements, including a memorandum of understanding to build a Libyan nuclear reactor for water desalination.
The agreement "aims to furnish Libya with a nuclear reactor that makes it possible to meet one of its important needs -- a supply of drinking water," French presidential aide Claude Gueant told reporters at the signing ceremony.
"Drinking water is rare in Libya, so the aim is to allow the desalination of sea water" using nuclear energy, Gueant added.
The two ministers also signed accords relating to military-industrial cooperation, cultural, scientific and technical assistance and cooperation in the field of research, officials said.
The deals came a day after Tripoli's release of six foreign medics held in Libya since 1999 and whose death sentence for infecting children with the AIDS virus was commuted.
Asked if the deals had been linked to the release of the the five Bulgarian nurses and a Palestinian-born doctor, Gueant replied, "No, not at all."
Gueant, along with Sarkozy's wife Cecilia, joined EU officials in Tripoli earlier in the week to press Libya to release the medics, held since 1999.
The medics were flown to Sofia on Tuesday aboard a French government jet after being released by the Libyan authorities. They were then granted a pardon by Bulgarian President Georgy Parvanov, ending an eight-year ordeal.
The pardons were angrily condemned by the Libyan government, which on Wednesday delivered a formal protest to senior Bulgarian diplomat in Tripoli complaining of what it said was Sofia's non-compliance with an extradition treaty signed between the two countries in 1984.
Some observers saw Sarkozy's determination to see the medics released as evidence he wants to boost ties with oil-rich Libya.
He and his wife, however, were accused in the European press of stealing the credit after EU negotiator Benita Ferrero-Waldner had done much of the hard bargaining.
Britain's Times newspaper pointed out that the release of the medics was likely to lead to "lucrative contracts for French companies with the oil-rich African state."
Many papers slammed EU negotiators for folding to "blackmail" and paying "blood money."
Comments will be moderated. Keep comments relevant to the article. Remarks containing abusive and obscene language, personal attacks of any kind or promotion will be removed and the user banned. Final decision will be at the discretion of the Taipei Times.