Author Salman Rushdie awarded a knighthood
Author Salman Rushdie, against whom Iran's revolutionary leader issued a fatwa 18 years ago, was awarded a knighthood by Britain's Queen Elizabeth II yesterday.
The nominations -- transforming him into Sir Salman -- topped a long list of awards bestowed on artists, sportsmen, diplomats, journalists and others in the queen's annual Birthday Honors List.
Indian-born Rushdie was forced to go into hiding for a decade after Ayatollah Ruhollah Khomeini issued a death sentence over his book The Satanic Verses, claiming it insulted Islam.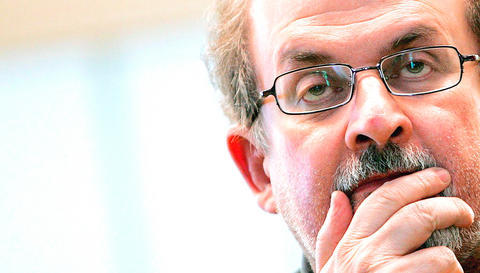 British author Salman Rushdie is pictured on Oct. 18 last year in the Heidenreichstein library in Austria.
PHOTO: EPA
His second novel, Midnight's Children, won the prestigious Booker Prize in 1981 and was named the best novel in 25 years of the prize in 1993. Rushdie is also a fellow of the Royal Society of Literature.
"I am thrilled and humbled to receive this great honor and am very grateful that my work has been recognized in this way," he said.
Other awards in the queen's list go to journalist Christiane Amanpour and Oleg Gordievsky, a former KGB chief who was Britain's highest-ranking defector from the Soviet Union during the Cold War.
Amanpour, the half-Iranian, half-British chief international correspondent for CNN, becomes a Commander of the Order of the British Empire (CBE).
Gordievsky was a double agent and head of the Soviet secret service's London office before his 1985 defection. He escaped to Britain after giving the KGB men tailing him the slip while out jogging.
He becomes a Companion of the Order of St Michael and St George -- the same honor held by fictional spy James Bond -- for "services to the security of the United Kingdom."
Sir Emyr Jones Parry, Britain's ambassador to the UN, received the same honor.
Australian comedian Barry Humphries, known for his alter egos including Dame Edna Everage, became a CBE alongside Michael Eavis, founder of Britain's giant Glastonbury pop music festival, and fashion designer Betty Jackson.
Peter Sallis -- the voice of Wallace in the animated series Wallace and Gromit -- novelist Barbara Taylor Bradford, singer Joe Cocker and Carry On films actress Sylvia Syms all received the Order of the British Empire.
Also see story:
Cricketer Ian Botham knighted
Comments will be moderated. Keep comments relevant to the article. Remarks containing abusive and obscene language, personal attacks of any kind or promotion will be removed and the user banned. Final decision will be at the discretion of the Taipei Times.