Mozambique struggling to recover from Cyclone Favio
DEVASTATED The African nation was beginning clean-up efforts after the deadly storm wreaked havoc along a coastal region studded with exclusive tourist lodges
A huge clean-up operation was under way on Saturday in some of Mozambique's most popular resorts as the southern African nation's fledgling tourist industry struggled to recover from a devastating cyclone.
Casualties from Cyclone Favio appeared to be limited thanks to a warning system and evacuations by the authorities, with initial reports of 10 dead.
Aid agencies geared up to send supplies to the coastal region worst hit by Thursday's cyclone, which was downgraded to a tropical storm as it moved across central Mozambique, bringing more flooding and misery to area which has been deluged since January.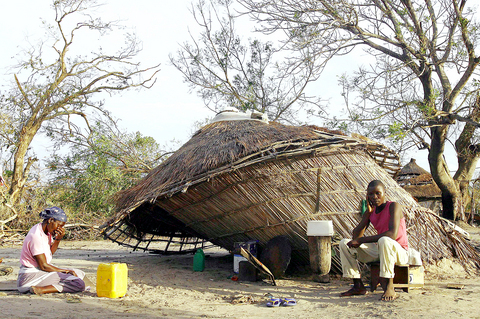 Madeleine, 50, left, and her son Gitou, 23, sit in front of their hut in the Mozambique coastal town of Vilankulo on Saturday. Most of the city was destroyed when Cyclone Favio came ashore south of Beira at Vilankulo on Thursday.
PHOTO: AP
Vilanculos, which used to be an idyllic resort boasting some of Mozambique's most exclusive tourist lodges, was left in ruins, with mighty palms uprooted and the main road cut in half by a meter-deep pothole. There was no electricity and no running water.
The central market, made of steel and tin, totally collapsed as did most other flimsy structures in an area where most homes are built of bamboo and straw.
Traumatized residents started cleaning up and some vendors were back on the street selling vegetables and fruit.
Simone Chivale, a 30-year-old artist who lost his home and all his possessions under the weight of a giant palm tree, said his main worry was about the next cyclone, which was reported to the north of Madagascar. It was unclear when and where it would hit Mozambique.
"What will happen to all these children?" asked Chivale, pointing to children playing in streets littered with debris.
The nearby town of Inhambane and the resort of Tofo Beach were also badly hit. The area has stunning beaches and is popular with divers, snorkelers and big game fishermen because of the array of sea life, including giant mantas and enormous whale sharks.
There were no signs of tourists in Vilanculos and locals said that they had all moved to safer ground.
The government has encouraged the development of the tourist industry as part of the economic revival in an impoverished country which is still suffering from the legacy of colonial rule and civil war.
Authorities said they were still assessing the full scale of the damage and the likely cost of reconstruction. The EU, UNICEF and CARE were among the agencies sending in relief supplies.
Neighboring South Africa sent two government ministers into the disaster area and said it was ready to provide material assistance, including helicopters to transport food to the temporary accommodation centers.
The government said it urgently needed tents for displaced people who are now living in temporary accommodation centers, roof sheeting for the reconstruction of homes and water treatment plants.
Fernanda Texeira, the head of the International Federation of the Red Cross in Mozambique, said on Friday that the number of homeless living in tented camps had jumped almost overnight from 88,600 to 121,000 and that more could still arrive.
One of the biggest fears was that the number of diarrhea cases were increasing with the flooding that also brought a heightened risk of cholera outbreaks, Texeira said.
Favio came ashore south of Beira at Vilankulos on Thursday with sustained winds of 200kph and heavy rain.
Comments will be moderated. Keep comments relevant to the article. Remarks containing abusive and obscene language, personal attacks of any kind or promotion will be removed and the user banned. Final decision will be at the discretion of the Taipei Times.