China applauds pope's new overture
CENTRAL ISSUES Diplomatic relations with Taiwan and the right to appoint bishops lie at the core of the dispute between the Holy See and the government in Beijing
China's state-backed Catholic Church welcomed a newly announced Vatican initiative to repair its ruptured relationship with Beijing and said a promised letter from the pope to Chinese Catholics could be helpful.
Liu Bainian (劉柏年), the often hardline vice chairman of the Chinese Patriotic Catholic Association, struck a conciliatory tone in the wake of the Vatican's announced diplomatic foray.
"I hope and I also believe that the pope's letter will show his love of China's churches," Liu said in a telephone interview on Monday. "I am hopeful that it can improve Chinese-Vatican ties."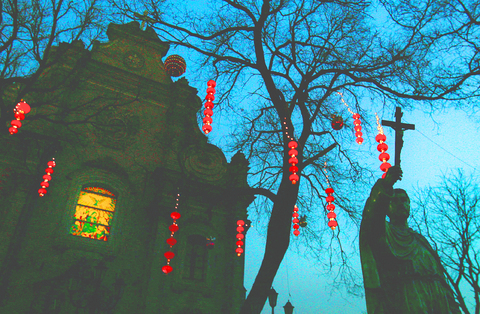 Traditional lanterns decorate the entrance to the Southern Cathedral in Beijing yesterday. China's state-backed Catholic Church welcomed the initiative the Vatican announced on Saturday to repair its strained relations with Beijing.
PHOTO: AP
The Vatican's announcement, made on Saturday after two days of high-level debate on China, said the Holy See sought a dialogue with the aim of restoring diplomatic relations with Beijing.
The announcement also said Pope Benedict XVI was preparing a message for Chinese Catholics.
The diplomatic initiative comes as China is experiencing a religious boom while the Vatican remains hobbled by a half-century-long dispute with Beijing.
China's government-backed Catholic Church refuses to recognize the Vatican's authority while many clergy and ordinary Catholics remain loyal to the pope and have been persecuted for it.
Participants in the Vatican's debate on China policy paid tribute to this "price of great suffering."
Liu glossed over the criticism, saying that the report also mentioned how fast the Chinese Church has grown in recent years -- proof, he said, that the Vatican recognized that China enjoyed religious freedom of belief.
The Vatican debate and the pope's promised letter caught the attention of Catholics at a church in Shijiazhuang, said Zhang Shijiang (張士江), the director of the Hebei Faith Press newspaper, an officially approved weekly with a circulation of 50,000.
The two gestures would "certainly enhance dialogue and mutual trust and eliminate misunderstandings on both sides," Zhang said.
At the core of the Vatican's dispute with China are Taiwan and the appointment of bishops. The Vatican has indicated it is willing to downgrade relations with Taiwan, but Catholic Church tradition invests the pope with the authority to name bishops.
Comments will be moderated. Keep comments relevant to the article. Remarks containing abusive and obscene language, personal attacks of any kind or promotion will be removed and the user banned. Final decision will be at the discretion of the Taipei Times.