EU suspends aid to Palestinians
THE HEAT IS ON Europe cut all aid and donations to the Hamas-led authority, saying it would not continue to back an entity that refuses to renounce the use of force
The EU on Monday increased the pressure on the Hamas-led Palestinian Authority to recognize Israel and renounce terrorist violence by suspending all direct aid to the new government.
Europe is the largest single donor to the Palestinian territories, providing 500 million euros (US$606 million) a year, of which just under half goes directly to the authority. Aid organizations warned that the decision to cut off assistance would simply damage people living on about US$1.8 a day and drive them further into the arms of extremists. Aid accounts for 25 percent of Palestinians' incomes.
But EU foreign ministers said aid for electricity, water, food, health and education would be channelled via agencies close to, but not controlled by, Hamas.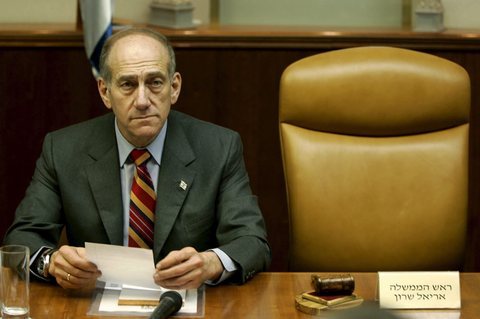 Acting Israeli Prime Minister Ehud Olmert sits next to the empty chair of Prime Minister Ariel Sharon during a special meeting of the Cabinet in Jerusalem yesterday.
PHOTO: AP
Their decision to suspend aid came after the Palestinian Finance Minister Omar Abdel Razek warned that the authority's financial crisis was desperate, leaving him unable to pay 140,000 civil servants. EU ministers dismissed such talk as exaggerated. Jack Straw, the British foreign secretary, said aid had been suspended while "an urgent search for other routes to ensure that public servants like teachers and doctors get paid is undertaken."
He added: "Our overwhelming concern is to make sure that ordinary people's lives are not damaged. At the same time European taxpayers would find it intolerable if they found their money used for terrorists or terrorist operations."
Hamas could resolve the problem by committing itself to non-violence, recognizing Israel and abiding by previous peace agreements with the Jewish state, he said.
So far the signals from Hamas had been contradictory, with the Prime Minister Ismail Haniyeh appearing helpful while the Foreign Minister Mahmoud Zahar continued to talk about wiping Israel from the face of the map.
The new Israeli prime minister, Ehud Olmert, severed all direct contacts with the Palestinians at the weekend and said Israel would freeze relations with foreign officials who met Hamas officials. Mahmoud Abbas, the Palestinian president, said it violated previously signed agreements and international law. Sami Abu Zuhri, a Hamas spokesman, said Israel's step amounted to a "declaration of war."
Fourteen Palestinians, including two children, have been killed by Israeli attacks since Friday night
The attacks are an attempt to halt the firing of missiles from Gaza into Israel.
Comments will be moderated. Keep comments relevant to the article. Remarks containing abusive and obscene language, personal attacks of any kind or promotion will be removed and the user banned. Final decision will be at the discretion of the Taipei Times.