Charles shows off his `green' credentials
ORGANIC FARE The prince visited a pioneering area of California to indulge in his passion of organic farming in what locals saw as a great boost to the region
Prince Charles' tour of Northern California organic farms this weekend revealed something that stalwarts of the all-natural movement already knew: His Royal Highness is a green giant.
So no surprise that Marin County -- a gorgeous swathe of undulating green just north of San Francisco that is a hub of organic farming -- buzzed with talk of cabbages and kings in the days leading up to the visit by Charles and Camilla.
"We're excited because it takes our message into the world," said Helge Hellberg, executive director of the farming association Marin Organic. "It's not just royalty or a celebrity coming, it's somebody who stands for what we are doing."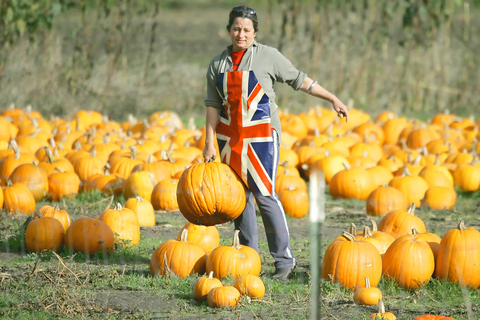 Annabelle Lenderink of Star Route Farms, wearing a Union Jack apron, picks out a pumpkin to serve as a decoration in preparation for the royal visit of Prince Charles and the Duchess of Cornwall in Bolinas, California, on Saturday.
PHOTO: AP
It might be news to many in the US that Prince Charles was organic when organic most definitely wasn't cool.
He has long supported growing food without synthetic chemicals and has his own food company, Duchy Originals, which sells organic produce and other products supporting sustainable farming. The profits of the company go to charity.
For farmers who have toiled for decades to push their way onto supermarket shelves and into the general consciousness, Charles' trip to their verdant fields was a huge boost.
"As a society, we have become completely disconnected from where our food comes from," said Hellberg, who described the royal visit as a "great opportunity."
"Prince Charles acknowledges and understands and embraces sustainable agriculture," he said.
Marin County is in the vanguard of organic operations. All vegetables grown in the county are certified organic, with sales amounting to about US$5 million annually, Hellberg said.
Statewide, there about 2,000 registered organic farms, said Jake Lewin, marketing director of California Certified Organic Farmers (CCOF), where membership has been "growing quite rapidly." CCOF certifies Charles' Duchy Originals products imported to the US as organic and Lewin can vouch personally for the shortbread cookies. "They're scrumptious."
Saturday's tale of the prince and the produce began at the farmer's market in the town of Point Reyes. Then it was off to Bolinas, a small coastal community about 48km north of San Francisco. The royal couple lunched at Star Route Farms run by organic pioneer Warren Weber, who according to the Marin Organic Web site, began the operation in 1974, farming 2 hectares with a horse-drawn plow.
Around 50 people lined up outside Weber's farm to greet the prince, some waiting hours for a quick glimpse of them as they swept by.
Among those who came to catch a glimpse of the royalty was Mary Barror who brought with her a handmade sign that read "Welcome to organic Bolinas."
"I woke up one morning and thought, `I want to do something,"' she said. "And this little voice said, `Make a sign of welcome.'"
Spectators got a thrill later when the royals emerged from the farm and shook some hands in the crowd before leaving.
Comments will be moderated. Keep comments relevant to the article. Remarks containing abusive and obscene language, personal attacks of any kind or promotion will be removed and the user banned. Final decision will be at the discretion of the Taipei Times.