Vulnerable Israeli PM attacks terror
UNPOPULAR The speech, at the beginning of the new Knesset session, lambasted hostile countries and praised the UN, but his Likud party is still trying to unseat him
Israeli Prime Minister Ariel Sharon lashed out against terrorism and praised the world for taking on Syria and Iran, popular positions in Israel -- but rebels in his own party are trying to force him out of office.
In a speech on Monday marking the start of the parliament's winter session, Sharon grouped Iran, Syria and Palestinian militants together as hostile elements that "don't need reasons or excuses [to attack Israel] -- just an opportunity."
Though few in Sharon's Likud Party disagreed, rebels still angry after his pullout from Gaza and part of the West Bank forced an embarrassingly close vote in approval of Sharon's speech -- 51 to 48.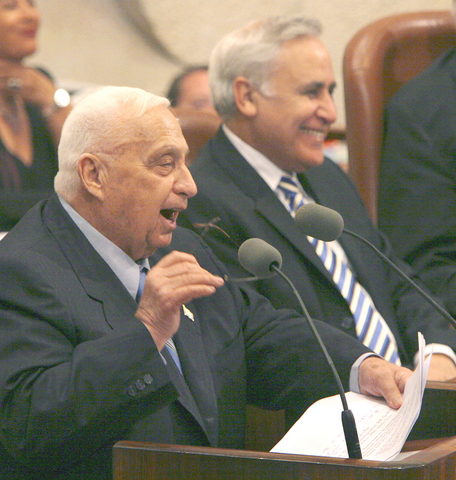 Israeli Prime Minister Ariel Sharon delivers a speech, known as the state of the union speech, to the opening of the winter session of the Knesset on Monday. Next to Sharon is Israeli President Moshe Katsav.
PHOTO: EPA
Unless he can restore party unity against the odds, a snap election could be inevitable, further stalling Mideast peace efforts.
Low-level violence continued yesterday, two days after an informal truce was endangered by an Israeli raid in the West Bank that killed three militants. Before dawn, Palestinians fired two rockets from Gaza toward Israel and Israel responded with artillery fire, the army said. No one was hurt.
In the West Bank, Israeli forces arrested 23 wanted Palestinians, members of Islamic Jihad and Hamas, the army spokesman said.
Palestinian Information Minister Nabil Shaath said the informal truce was still in place. Speaking to reporters late on Monday after meeting visiting Italian Foreign Minister Gianfranco Fini, Shaath said, "We passed a very dangerous week, and we hope that this understanding will continue to be a full cease-fire."
However, a Palestinian Authority Web site quoted Islamic Jihad leader Khaled el-Batesh as reserving the right to retaliate for Israel's "maniac acts."
Israeli officials have said they will not make a deal with the militants, but if their attacks stop, Israel would halt its retaliation.
This week's three-day Muslim observance of Eid-al-Fitr, marking the end of Ramadan, could also be a factor.
Sharon was uncompromising in his speech, demanding that the Palestinians move against militants as part of the US-backed "road map" peace plan.
"There is no way around the demand on the Palestinians to carry out their obligation to dismantle the terror groups," he said.
Comments will be moderated. Keep comments relevant to the article. Remarks containing abusive and obscene language, personal attacks of any kind or promotion will be removed and the user banned. Final decision will be at the discretion of the Taipei Times.