Monsoon rains kill hundreds in India
RECORD-BREAKING A deluge of 94cm in only a day swept through the capital and surrounding region, claiming the lives of over 450 people so far
Rescuers searched with bare hands yesterday for survivors buried under debris and rushed aid to villages cut off by record-breaking rains that paralyzed Mumbai and its surrounding state, leaving more than 450 dead.
Officials said 267 people died in Mumbai, India's financial capital as well as the capital of Maharashtra state, after being crushed by falling walls, trapped in cars or electrocuted when the most intense rains on record swept through the city Tuesday evening. Phone networks collapsed, highways were blocked and the city's airports, among the nation's busiest, were closed.
At least 452 people were reported dead in different parts of Maharashtra, said B.M. Kulkarni, the deputy secretary in charge of the state's emergency control room in Mumbai.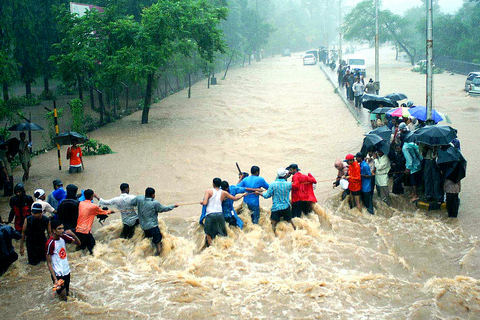 People hold on to a rope to cross a street after heavy rains in Bombay, India, on Wednesday. The strongest rains ever recorded in India shut down the financial hub Mumbai, snapping communication lines, closing airports and marooning thousands of people.
PHOTO: AP
In the northern Mumbai suburb of Saki Naka, relief workers and survivors sifted through rubble yesterday after a small hill crashed on a group of huts, leaving more than 45 people missing and presumed dead.
"I was scared the hill would fall. I kept telling my cousin, `lets leave,'" sobbed Aslam Khan. "But he wouldn't listen. Now it's too late."
Bodies were piled onto trucks and private cars were flagged down to carry several dozen injured to hospitals.
"People ran as soon as the hill started crumbling. But the old people had no chance," said Shabana Shaikh, who lost her parents in the landslide. She said authorities had asked shanty dwellers each year to vacate their decrepit homes.
"But we didn't really expect it to fall," said Shaikh, her clothes caked with mud.
Officials said parts of Mumbai had been hit by up to 94.4cm (37.1 inches) of rain Tuesday, the highest one-day total in India's history. Much of it came over a few evening hours. Photos showed the sprawling city covered with water, with cars choking almost every main road. Mumbai's residents responded by opening up their homes and distributing food to motorists stuck in traffic and people wading through water.
"They were just angels. Women and children were giving food, biscuits to people on the road and even assuring us that it was homecooked," said G. Sawant, a manager at a private infrastructure company.
Residents tied ropes across flooded roads to help people wade through waist-deep water as workers repaired communication networks and towed away abandoned cars and buses to clear the city's gridlocked highways. Train services had resumed and flights were to begin later in the day.
Hundreds of Mumbai residents began returning to their homes early yesterday in the worst-affected parts of the city's suburbs after spending two nights stranded in offices, buses, cars or trains.
State police officials said rescue teams had begun distributing food packets and water to people marooned in villages cut off by flood waters. They were also recovering bodies floating in murky swirling water.
The deluge was unprecedented in Mumbai, a hectic, cosmopolitan city that is home to India's financial and movie industries, as well as some of its worst poverty.
Every year, Mumbai comes to a halt for a day or two due to heavy monsoon rains, which pound the country between June and September and often leave hundreds dead across India. But this week's downpours left the city paralyzed.
"Most places in India don't receive this kind of rainfall in a year. This is the highest ever recorded in India's history," R.V. Sharma, director of the meteorological department in Mumbai, told reporters.
India's previous heaviest rainfall, recorded in the northeastern town of Cherrapunji -- one of the rainiest places on Earth -- was 83.82cm (33 inches) on July 12, 1910, Sharma said.
Comments will be moderated. Keep comments relevant to the article. Remarks containing abusive and obscene language, personal attacks of any kind or promotion will be removed and the user banned. Final decision will be at the discretion of the Taipei Times.