Opposing marches inundate Caracas
DIVISION While backers of the Venezuelan president demanded the US turn over a terror suspect, opponents called for the release of detained coup plotters
Two competing marches crossed the Venezuelan capital Caracas Saturday, as tens of thousands of pro-President Hugo Chavez supporters called for the US to extradite a suspected terrorist.
At the same time, thousands of opponents, brandishing photos of people jailed for their role in an April 2002 coup attempt against Chavez marched to the Ombudsman's office to hand over a solidarity document.
The document alleges human rights violations and judiciary bias -- saying the judges side with government.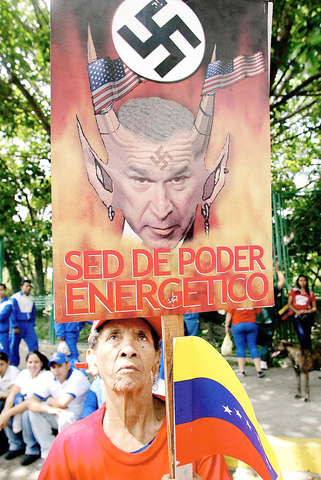 A supporter of Venezuelan President Hugo Chavez holds a banner against US President George W. Bush during a rally through the streets of Caracas, Saturday.
PHOTO: AFP
Called by their president to join in the demonstration, the Chavez supporters wore red hats and shirts in their march to defend state oil giant Petroleos de Venezuela (PDVSA) -- and demand Luis Posada Carriles' extradition from the US. Posada Carriles, a militant opponent of Cuban President Fidel Castro, is wanted on terrorism charges.
While the two marches at times came within blocks of each other, relative calm prevailed.
In Eastern Caracas the two sides came within five blocks of each other, some people pushed, insulted each other.
Caracas Prefect Carlos Delgado announced that 1,800 police had been deployed by the different municipal governments around the capital to guard the pro-Chavez march.
The opposition march, meanwhile, was flanked by the militarized National Guard police.
In statements made Saturday, Venezuelan Vice President Jose Vicente Rangel slammed US officials as "hypocritical" after Washington rejected Caracas' request to detain Posada Carriles.
"They condemn terrorism on the one hand, and on the other they protect terrorists," Rangel said in a veiled reference to Posada Carriles as he led a protest demanding the Cuban-born Venezuelan's extradition.
Venezuela wants to put Posada Carriles on trial for the downing of a Cuban airliner with 73 passengers aboard in 1976. He escaped a Venezuelan prison while awaiting an appeal of his Venezuelan trial.
Venezuela's embassy in Washington said Friday the US had rejected a "preventive detention request with the goal of the extradition of Luis Posada Carriles."
"We have sent a diplomatic note to the Venezuelan embassy [Friday], saying that the request lacked sufficient basis from a legal point of view," a US official told reporters on condition of anonymity.
Comments will be moderated. Keep comments relevant to the article. Remarks containing abusive and obscene language, personal attacks of any kind or promotion will be removed and the user banned. Final decision will be at the discretion of the Taipei Times.