Twin blasts in Indonesia kill 22
TWO ATTACKS President Yudhoyono called on police to arrest those responsible for two bombs that ripped through a crowded Sulawesi marketplace on Saturday
Indonesia's president ordered police to find those behind twin blasts that killed 22 people in central Sulawesi, saying he may cut short an overseas trip due to the security situation, the government reported.
After arriving in Hanoi on late Saturday, the state-run Antara news agency quoted Susilo Bambang Yudhoyono as saying he would not speculate on Saturday's blasts, the worst explosion since the communal conflicts between Muslim and Christian broke out in Central Sulawesi province five years ago.
""I have spoken to the vice president and the chief security minister. If this problem cannot be dealt with, I will return to the country," Yudhoyono was quoted as saying upon arriving in Vietnam from the US, adding that he felt uncomfortable being abroad while people at home were facing bomb threats.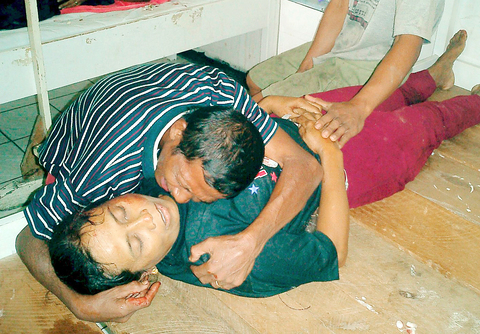 An Indonesian man cries over his wife who was killed by the bomb blast in Tentena, Poso, Central Sulawesi Indonesia on Saturday. At least 22 people died and some 55 others were wounded when two powerful bombs exploded in a crowded market in Tentena, a predominantly Christian town.
PHOTO: EPA
After Vietnam, Yudhoyono is scheduled to proceed with his trip to Japan.
The twin powerful blasts, within 15 minutes from each other, exploded in a traditional market in Tentena, some 1,650km northeast of Jakarta on Saturday morning when crowded of residents were shopping during the weekend.
However, Yudhoyono declined to speculate who carried out the blasts and the possible motive behind the attacks, which took place as many local residents went to the market for weekend shopping.
"I cannot speak about it as I have yet to know who the perpetrators are. But, I have instructed the related institutions to catch the perpetrators. I don't want to make any speculations about it or accusations. Let's wait and see," he said, adding that he did not see any relation between the Poso bombing incident and the recent closure of the US embassy in Jakarta and its consulates general in Indonesia.
Vice president Jusuf Kalla arrived in the central Sulawesi capital of Palu yesterday morning, and blamed the terrorists as being behind the bombings, instead of being carried out by local rival groups of Muslims and Christians.
Central Sulawesi police chief Brigadier General Aryanto Sutadi in a brief report to Kalla yesterday put the death toll at 20 with 53 others wounded, Elshinta private radio reported from Palu.
Government officials said they feared the death toll could rise because 11 of the wounded were in critical condition.
A third explosive device had been found following the blasts,and was defused by a police bomb squad outside a Christian church, local government officials said.
The blasts, the worst explosions since the October 2002 Bali bombings, were the latest in a series of bomb attacks to rock the region in recent months. In November, a powerful blast outside a market in Poso killed at least three people and wounded seven.
Saturday's bombings come after warnings of unspecified terror attacks prompted the indefinite closure of the US diplomatic missions in Indonesia on Wednesday.
Indonesian police said they were unaware of any specific threats against the US embassy but had intelligence indicating that Malaysian terror suspects Azahari bin Husin and Noordin Mohammed Top, the region's most wanted militants, may be planning new attacks.
Indonesian police have accused Azahari and Noordin of masterminding a series of bombings in the country, including the October 2002 Bali blasts, the August 2003 blast at Jakarta's Marriott hotel and a bomb outside of the Australian embassy in Jakarta in September.
"I cannot say the blasts were the work of Azahari's network. But because he has not been captured yet, it is possible that he has recruited new members in the [Sulawesi] region," national police spokesman Inspector General Aryanto Budihardjo said on Saturday.
Poso and nearby areas experienced communal clashes between Muslim and Christian communities that claimed more than 1,000 lives in 2000 and 2001.
Comments will be moderated. Keep comments relevant to the article. Remarks containing abusive and obscene language, personal attacks of any kind or promotion will be removed and the user banned. Final decision will be at the discretion of the Taipei Times.